Recently we've seen great strides being made by Olympus and Panasonic with the Micro Four Thirds system, but they are not the only kids on the block with small form factor cameras and high quality sensors.
Sony equips their new Alpha NEX range of digital cameras with full Advanced Photo System type-C (APS-C) sensors, the same size sensor found in most dSLRs. This sensor is bigger (between 30% - 50% depending who you listening to) than the Micro Four Thirds standard, already a big benefit the Sony has over its Olympus and Panasonic rivals.
Size
The first thing you notice about the Sony NEX-3 is its diminutive size. In fact the 14 megapixel NEX-3 is so small it makes other compact cameras look big. What adds to its size though is the new E-range lens at the front. Unlike the
OlympusPEN E-PL1
the Sony's 18-55 mm lens cannot retract to a slightly smaller size. Still, compared to regular sized DSLRs the NEX is minute, with Sony claiming that it's the smallest interchangeable lens camera in its class.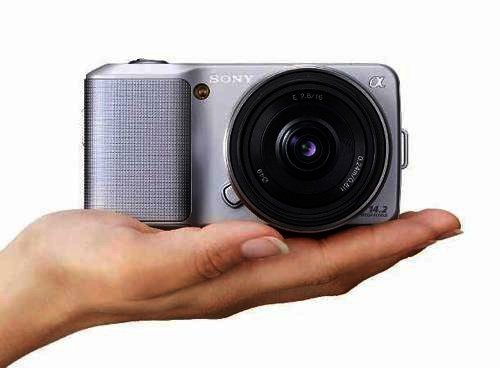 Design
Unlike its bigger brother, the NEX-5, the NEX-3 is made of plastic and although the silver body looks great, things like the plasticy battery flap did little to install confidence.

Sony managed to keep the camera design nice and clean without too many buttons, but the problem this creates is that you have to constantly keep digging through the menu system to change settings. Even a simple mode dial is omitted, so if you want to switch from your current mode to say for example portrait mode, you have to press the soft button three times to make a simple selection.
For amateurs
While more serious photographers might find the lack of quick access to certain key functions frustrating, it is evident that Sony structured the camera for amateur use.
All the different options in the menu structure is well explained plus the camera offers a number of shooting tips to explain the art of photography a bit better. So much so that during certain scene modes they even dedicate one of the three soft buttons at the back to tips.
This move to make things easy for amateurs but comes at a cost we believe, since an entry-level photographer can quickly master certain skills, making these shooting tips less important. Instead we believe quick access to key functionality becomes crucial. And unfortunately the NEX-3 offers frustratingly little of this.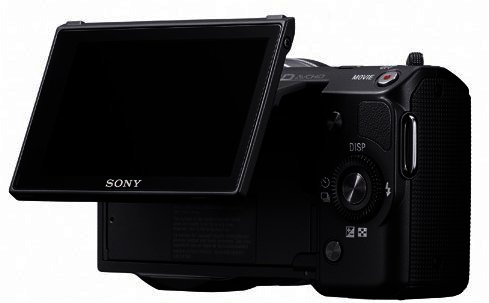 Superb screen
Sony does deserve a round of applause for their superb 3" screen with a delicious 920 000 pixels. Thanks to this high pixel count it makes working off it not only a breeze but a very pleasant experience – both for focusing manually (a tricky business if you don't have an optical viewfinder) and the user interface.
The screen can also fold out to tilt up and down, making its lack of optical viewfinder (just as Micro Four Thirds cameras) a bit more stomachable.

No flash
A lesson it seems that Sony still need to learn is that a flash makes you friends. Olympus did not include a flash with their first range of PEN camera, but quickly moved to include it on the second generation cameras, including the entry-level PEN E-PL1.
To compensate for this lack of flash, Sony offers a number of low light modes including Hand-held night shot, SteadyShot, plus an ISO setting of a whopping 12 800. Still, there are cases where a flash is needed, and for this you need to buy the extra flash accessory.
Functionality
Some other functionality we enjoyed was the high dynamic range shots (the camera takes three almost simultaneous shots but at slightly different light settings to combine them into one pic) and the extremely easy to use panorama mode. Select this mode, release the shutter and the camera starts shooting.
All you need to do is move the camera while shooting and the NEX does the rest. Images are stitched onboard and can also be viewed in 3D, although a 3D Sony Bravia telly is needed. Although it most probably boasts the easiest panorama mode we've tried yet, we would have liked some extra manual control over the process.
Video recording
The NEX-3's 720p video recording mode with stereo sound was also a stand-out feature. The 18 – 35 mm lens makes it easy to zoom in and out while at the same time the camera's auto-focus kicks in to make video recording easy.
Sony also opts for a stand-alone video recording button, a current trend under manufacturers, further enhancing the recording experience.
Conclusion
We really liked the Sony Alpha NEX-3, more so than its competition from the Micro Four Thirds stable, the
Olympus PEN E-PL1
. The NEX-3 is small but felt good in hand, captured good quality pictures (although its lens gets
criticised
) and was a breeze to shoot 720p movies with.
It also comes with a superb LCD screen at the back, plus the larger Exmor APS HD CMOS sensor kicks dust in the face of the smaller Micro Four Thirds sensor.
But the constant digging through the menu structure was seriously limiting and frustrating, lessening its appeal for more serious photographers.
Still, if you can live with constant visits to the menu and no flash, the Sony Alpha NEX-3 deserve some serious attention. It comes with a recommended retail price of R6 499 and that's with the 18-55 mm lens.
High shooting speed, excellent screen, good movie mode.
Takes its time to switch on, no flash, no quick access to certain key functionality.