Just as with the
GT Portable Hard Drive
, Verbatim's Clip-it 2 GB USB Drive continues with interesting design that helps Verbatim's products stand-out from the fray.
The Clip-it is extremely miniature in size, in fact we haven't encountered such an incredibly compact (36 x 12.4 x 4.5 mm, 2 grams) flash drive since our rendezvous with the
Imation Atom 8 GB Flash Drive
(32 x 12 x 4.8 mm) last year.
The trouble with these small little flash disk are that they can be misplaced quite easily. This is where the Clip-it does its name proud, since you can basically clip this device securly onto your wallet, shirt pocket or, like the gentleman in the picture proudly demonstrates, your tie. The design comes courtesy of award winning industrial designer Arman Emami.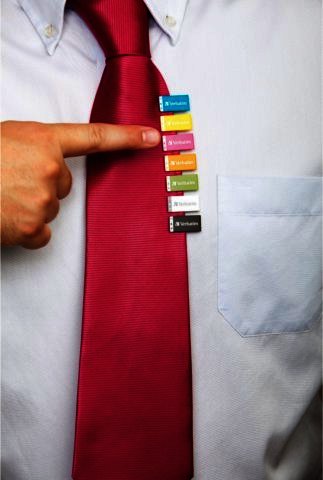 Apart from its functional design, this clever flash drive offers users a good minimum read speed of 10 MB/s and minimum write speed of 3 MB/s. You can pick one up for a recommended retail price of R79 for the 2 GB model and R99 for the 4 GB one.
Extremely compact and practical clip design.
No onboard software solutions for password protection or other security features.