There are certain products that practically beg you to strap on a good pair of hiking boots and go find a nature trail, or even just a whiff of the great outdoors. One such case in point is Garmin's GPSMap 62s outdoor GPS.
The GPS, which differs from on-road navigation devices, is particularly aimed at offroad enthusiasts, i.e. those who intend going hiking, camping, fishing, or, and the current outdoor activity we are hankering after, geocaching.
For the uninitiated, geocaching is a global treasure hunt of sorts, in which participants place and remove small items in containers called caches and make their mark in a log book.
Roughing it
With an outdoor focus, clearly the handheld GPS has to be rugged, and up to the travails of outdoor activity, and the GPSMap 62s is certainly that. For those who like a little bit of history, the GPSMap 62s is based on the design and form factor of an older, venerable device, the GPSMap 60 released way back in 2006.
However, Garmin naturally began improving on its line, introducing a new menu scheme, better screens and then moving away from physical buttons towards all touchscreen controls, as can be found in the most recent Oregon and Montana handheld GPSs. However, the company also continued with its familiar form factor espoused and highly regarded by fans of the GPSMap 60 with its GPSMap 62s.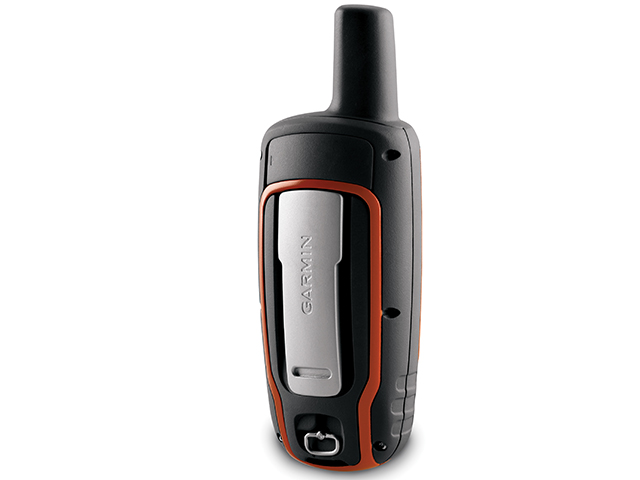 Build quality is excellent, and this is one occasion where the thickness of the device is actually reassuring.
So, what's your profile?
Now, GPSs can be somewhat daunting particularly to novice users, when encountering a device that has a variety of features. Garmin though, has sidestepped this challenge with its profiles feature, which enables you to, at a touch of a button, configure the device according to how you intend to use it. Such profiles include recreational, geocaching, automotive, marine and fitness.
Set it to automotive for example, and you are able at a glance not just to navigate, but also to monitor your maximum and average speed, and create routes on the fly. The other modes similarly bring the most relevant functions front and centre to the screen menu, thus making using the device for your intended purpose quite a bit more straightforward, and quite a lot less confusing.
No dimwit
The GPSMap 62s sports a 2.6" colour display, that actually holds up very well outdoors and in sunlight. You can also adjust the backlight by pressing the power button several times and thus conserve battery life, although to be honest we had little use for half-brightness, and tended to crank backlighting up to its maximum.
It's a good thing, therefore, that the GPSMap 62s accommodates two penlight batteries, including rechargables, because this is not the type of device that you would want to have to plug into a USB port in order to recharge.
The GPSMap 62s is intended to be an outdoorsman's (or woman's) companion, and thus offers a number of useful functions other than just navigation. For example, it also boasts a 3-axis compass, which enables you to obtain a reading without having to lay the device flat, a barometric altimeter, and a guide to times of the rising and setting sun and moon for any day of any month, which can be imminently useful for nature photographers.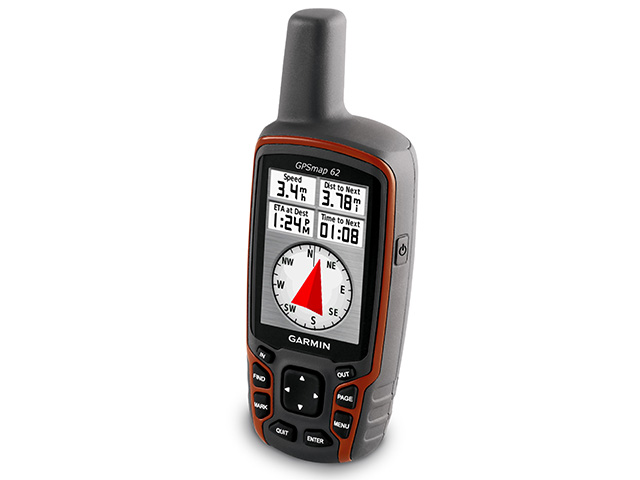 A decent screen enclosed by a rugged body characterise what is on offer here.
Go find yourself
On the navigation side, the device also shows a worldwide shaded relief basemap and offers a no-fuss means of setting and managing your waypoints. It further enables you to wirelessly share routes, tracks, waypoints and geocaches between it and another unit, a nifty feature in theory should you meet fellow hikers or geocaches on a trail and want to quickly exchange data (we have yet to do so).
However, most critical for a GPS destined for the outdoors is how quickly and reliably it can lock onto a satellite signal. In our tests, we found that the GPS fared excellently, bested neither by particularly dense foliage in the shadow of Linksfield ridge, nor by the concrete jungle of nearby shopping centres. This is largely due to the fact that the device boasts a quad helix antenna, Wide Area Augmentation System (WAAS)-enabled GPS receiver as well as HotFix satellite prediction.
Additionally, the location pinpointing was excellent, even in fairly challenging instances where we expected the device to struggle to 'speak' to the satellites.
Move along now
Worth noting is that much of the menu and map navigation on the device itself is accomplished using its D-pad like controls. With this, you move an onscreen cursor to the position on the map and then zoom in or zoom out using dedicated buttons. Despite the fact that we have grown accustomed to just stabbing at a capacitive touchscreen on other devices, this means of interacting with the device didn't present any problems, proving largely quick and responsive.
One area where we could see the benefit of this button-dependant control come to the fore was when wearing gloves, as the GPSMap 62s' buttons are fairly large, prominent and offer a satisfying depth of key press. While its 1.7 GB internal memory may not be much, this can be expanded via its microSD card slot, and it is also compatible with paperless geocaching.
To the point
As a dedicated outdoor navigation device, the GPSMap 62s does its lineage proud, both in general performance, and in evoking a desire to venture off the beaten track in search of adventure. More importantly, it certainly seems like the kind of device that could survive the great outdoors and live to tell the tale, which is not something we can say about too many smartphones or phablets these days. It has an RRP of R4 500.
Rugged, Solid build, Changeable batteries, Responsive and quick to attain a fix on one's location
Screen could be brighter at maximum