Navigon has gained a fair amount of ground in the GPS (Global Positioning System) arms race. Now with the release of the new Navigon 40 series the company has developed a range of devices to suit different user needs.

The Navigon 40 series GPS devices are available in either Easy, Plus, Premium or Premium Live configurations, meaning users can choose if they want to pay more for certain features. The devices are designed to be a mid-range GPS solution, falling under the Navigon 70 series with bigger screens.

We tested the Navigon 40 Premium device, and we're happy to report that it performed to our expectations, while also surprising us on a couple of fronts.

Design

The devices in the 40 series features a 4.3" touch-screen display. The display was clear and colourful enabling us to see the entire map without any hassles. The touch-screen functionality worked well enough, although we struggled to press some of the smaller buttons at times.

When it comes to style Navigon has defenitely got the jump on Garmin, with the Navigon 40 sporting an attractive black finish that seamlessly blend with your car's dashboard. A standard mounting rack is included which worked well and at least during our experience, didn't slip from the windscreen.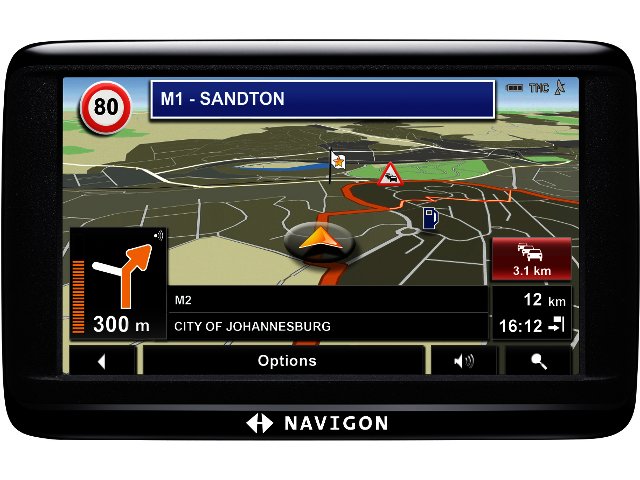 Features

The Navigon 40 series aims to go back to the roots of simple navigation. The devices doesn't feature any 3D display options as standard, unlike most of the new top-range Navigon devices which have recently opted to include 3D portrayals of cities. These 3D interfaces, while pretty and fun to use sometimes detracts attention from driving. These displays can also be confusing, recreating a sort of old video game feel while pasting a ton of additional information across the screen.

For this reason we found the Navigon 40 Premium much more enjoyable, it offers users a no hassles GPS solution while also not slouching on the features side.

Navigon is paying close attention to two new features of the 40 series, with the first an updated version of the Active Lane Assistant, a feature that helps drivers keep their bearings in heavy traffic situations. Previous Navigon devices such as the Navigon 3300 max already featured this technology, but now drivers are presented with a small 3D animation showing them exactly in which lane they need to be when turning.

The feature is only available on select intersections such as large highway bypasses or other major roads though. Hopefully in future updates Navigon will include Active Lane Assistant capabilities to more roads.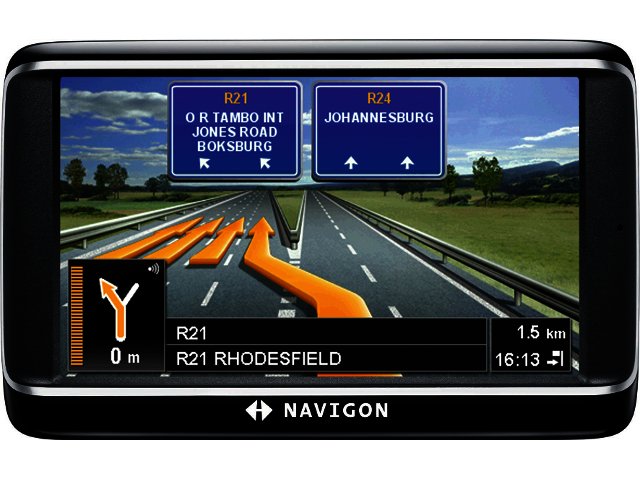 One Click Menu

The other notable addition comes in the form of the One Click Menu. With a tap of the touch-screen users are presented with three possible Points of Interest (POI). The three default categories include petrol stations, restaurants and parking. If these aren't useful enough, you can change the default POI listings from within the menu, choosing one of 27 different categories.

The interactive buttons for POI's strewn across the display really adds an element of depth to an otherwise straightforward GPS. Tapping the virtual buttons brings up a small window displaying the name and address of the POI. Driving down Duncan street in Pretoria for example we were able to receive directions to all the nearest petrol stations in the vicinity easily and unobtrusively. This feature is particularly useful when you find yourself in an unfamiliar area.

Hands-free

The Navigon 40 Premium also sports hands-free capabilities and comes equipped with Bluetooth technology for pairing devices to the GPS. Up to two mobile phones can now be paired to the device simultaneously, useful for individuals who own different phones for home and work for example.
By pairing a smartphone with the Navigon users can make calls by using the GPS's built-in microphone and speaker. Phonebooks and recent call listings can also be accessed, ensuring users can keep their attention where it's meant to be, the road.

Bluetooth pairing has a knack of being a headache but with the Navigon 40 Premium we were easily able to pair the GPS to our smartphone and import the phonebook in less than a few minutes. Calling was also easy and worked well and although the built-in mic and speaker didn't offer the best audio clarity in the world, it was more than good enough to have a conversation.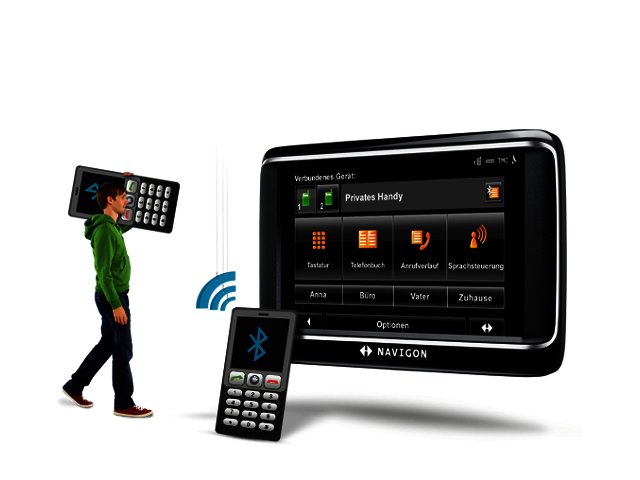 Traffic updates
Traffic updates are also available for the 40 Premium, these are provided via a RDS-TMC system to reach the GPS in the same way that FM radio signals do. These are then detected via the car's power adapter, so there's no need for costly subscriptions or registrations. The traffic updates allowed us to view all incidents in a 60 km radius via the Options menu, from traffic jams to accidents, each incident features its own icon so users can easily see what they're about to drive into. When an incident takes place on your route the Navigon will inform you automatically and if one is available, will suggest an alternative route.
Signal problems
The only real criticism we have of the 40 Premium is that it sometimes struggled to receive a clear GPS signal, a potential nightmare if you're in a hurry and don't know where to go. Navigation cut out on occasion to be replaced with a 'searching for GPS signal' screen before reconnecting a few minutes later.

Conclusion

The Navigon 40 Premium is one of the most impressive GPS's on the market today, giving users an easy-to-use, no hassles GPS equipped with a plethora of features that they can use to quickly get from A to B without having to pop out the old SA road map.

The Navigon 40 Easy and 40 Premium will both be available in South Africa from September. The GPS we reviewed here, the Navigon 40 Premium, has a recommended retail price of R2199 and when buying the 40 Premium or Easy customers will also receive an 80% discount on their Navigon FreshMaps map updates (usually costing $99.99 over two years).
Live traffic updates as well as interactive POI's makes using the 40 Premium on the road very easy.
Occasional signal loss occured on our test device, something which is expected from GPS devices from time to time but hardly ideal.