Last year we reviewed the Navigon 40 Premium GPS, a very handy traveling companion with a ton of features to ensure you reach that far off destination in one piece. Now we're taking a look at the device's little brother, the Navigon 40 Easy, a more beginner friendly device that'll get you from A to B in the simplest manner possible.
Design
According to Navigon the 40 Easy is "designed for beginners, equipped for experts," meaning this in-car navigator should give users the GPS usability they desire without all the bells and whistles that sometimes serve to annoy more than help.
Like the rest of the devices in the 40 series, the 40 Easy comes equipped with a 4.3" touch-screen display. As was the case with the 40 Premium, the screen was vivid and colourful enough for us to clearly see what was going on, even whilst keeping one eye on the road.
As far as usability goes the touch-screen performed well, although sometimes we had to press a button once or twice more to illicit the required response. Overall the touch display performed its duty well, definitely better than that of the Garmin nuvi 1410.
The 40 Easy sports the same style choices as the 40 Premium, with an attractive black finish covering the device. A standard Navigon mounting rack is included, which in our experience is one of the better systems, not tumbling from the dashboard during our testing at least.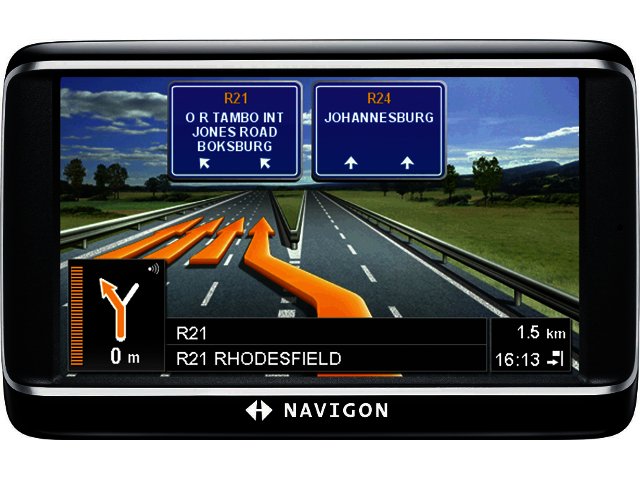 Features
The Navigon 40 series aims to keep things simple, a good thing in the GPS world as far as we're concerned. Navigating is done very easily, users simply select 'new destination' on the touchscreen upon which they can choose to enter an address directly, search for a POI (point of interest) or enter the exact coordinates if available.
Users then simply enter their desired destination using the on-screen QWERTY keyboard upon which they can start following the on-screen and audio instructions from the device. Three different voices are supplied as standard (in English), and more can be downloaded via the Navigon website.
Moving on to some less standard features, we see that the 40 Easy also contains some added features to give you that edge in rush hour. One of the most useful of these is Navigon's Active Lane Assistant, which displays a small dynamic traveling animation in the lower right corner of the screen. This visual representation will, with the help of an orange arrow, help you see exactly in which lane to be in, and will also warn you of impending lane changes well beforehand, a very nice feature to have in bumper-to-bumper traffic.
Another feature known as Reality View Pro is also present, capable of showing a full screen view of an upcoming exit, along with actual motorway signs as they appear in real life.
MyBest POIs
Another nice, albeit not as critical feature on the 40 Easy is Navigon's MyBest POIs. This allows you to keep track of favoured destinations along your route. Users choose their three favourite points of interest (filling stations, parking garages and restaurants are the standard options), after which the GPS will graphically display the location of these on the screen as you drive by them in the real world.
The distance to the nearest POI can also be displayed, and users can opt to set it to display three specific POIs, such as a user's three favourite fast food joints for example. If the display starts getting a little full and distracting, users can also switch off the notifications, switching them back on when needed.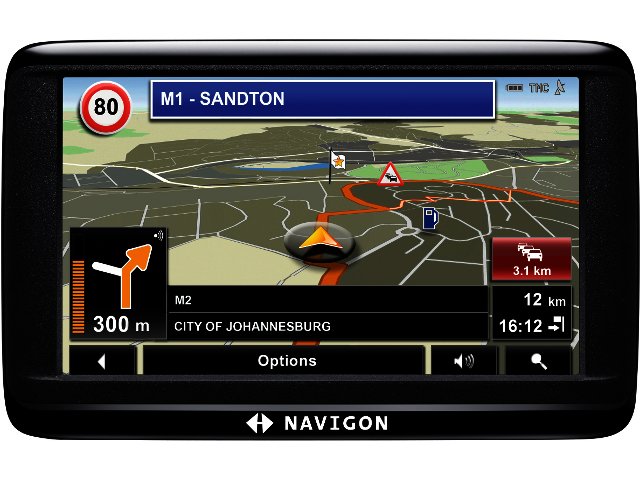 Traffic updates
Surprisingly enough, the 40 Easy also includes TMC traffic updates provided via RDS-TMC technology and sent to the device via FM radio signals. The TMC antenna required to pick up the signals is also built into the device's charging adapter, so you don't have to do anything but plug it in as usual.
There are also no costs involved for the user, although the reception strength does vary from time to time (as reception of FM radio stations also do). Overall though it is an extremely useful feature and worked the same as on the 40 Premium, allowing us to view traffic incidents in our area checking for accidents, jams or roadworks (of which you'll probably find all three in SA).
Conclusion
The Navigon 40 Easy managed to impress us for most of our time with the device, it's easy to use and to the point, allowing it to function as intended without confusing you with useless information. If you prefer though, you can add extra info to the display and it includes a surprisingly rich feature list to boot, making sense of the company's "designed for beginners, equipped for experts" slogan.
Our only real criticism of the device is that signal problems can crop up, be it while using the traffic receiver or simply in normal A to B driving.
The Navigon 40 Easy is available to South Africans right now at a recommended retail price of R1299. If you move quickly however, Incredible Connection is holding a limited time only sale of the device for R999 a piece.
Reliable user interface, Active Lane Assistant, Traffic updates
Slight reception issues