Running with a smartphone with a tracking app such as Endomondo or Runtastic is great. That is until massive 5" devices such as the Samsung S4 started popping up, and these 'bricks' eat into your PB. If this has happened to you, then the TomTom Runner GPS sportswatch merits a closer look.
It might not be as stylish as the TomTom Nike+ collaboration of a few years back, but the Runner is a fair bit easier to use. Both the controls and GPS unit itself are found in a little four-way pod below the screen which is effortless to control while running. Just be careful, this unit can pop out of the wristband and drop to the ground when you take off the watch.
The watch face is pretty much utilitarian and uninspired. While running it will display a number of options as the main info, including distance, pace, time, and heart rate. You can also select secondary options for the left- and right hand corner, but these are so small that it is basically worthless while running.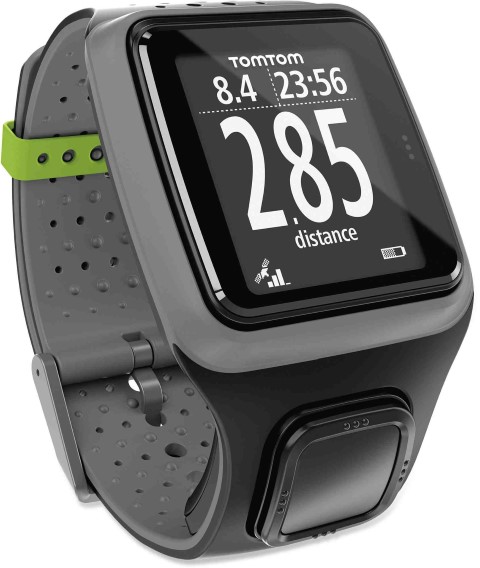 Firmware update a treat
Our initial impressions of the Runner were slightly on the low side, up until a firmware update brought the latest version. Now the Runner comes across much better, fixing on satellites very quickly, providing a slight press delay before pausing your run (for those accidental knocks), and offering a stopwatch function.
Apart from the watch body that pops out of the wristband, the biggest frustration is the little information on display when it comes to your history on the watch itself. Initially only the date of your runs and the start time of these are displayed. You have to click on each to actually see the distance ran and time – a frustration, especially with the eat-as-much-as-you-can info displayed on smartphones. For your complete run info, including route, the Runner has to be connected to your PC and uploaded to the so-so TomTom Mysports website.
Finish in sight
In our opinion, TomTom's Runner will be most loved by the entry-level to mid-range runner, looking for a watch that can track runs, and maybe a bit more (pacing, run-against-yourself, goals). It does what it set out to do, at an OK price. We also liked the fact that, unlike some other sportwatches, the Runner is not too big. RRP: R2 100 (R2 700 with heart rate monitor), or if you also cycle and swim, try the Multisport (wider strap, bike mount) for R2 900.
Easy to use, A good companion for 10 or 21 km runs, Not too big
Body pops out too easily out of wristband, Too little info on display in run history