Also read: Fitbit Versa 2 – Six tips and tricks you need to know
FULL DISCLOSURE: The Versa 2 was received as seeding unit from Fitbit
If you were to buy the Versa 2, you should familiarise yourself with its limits. This is a smartwatch that will help you monitor key aspects of your health, including your heart rate, steps, sleep, and activity. It does these things really well, and with the size and weight of Versa 2, it's easy to forget it's on your wrist, even when sleeping.
However, the more I've used the Versa 2 for things like running, the more it's clear that this is not aimed at those that hit the road often or are pushing their different fitness activities. It's primarily due to the Versa 2 not including GPS, a feature I was hoping they would add, plus certain ways Fitbit displays your activities through the app.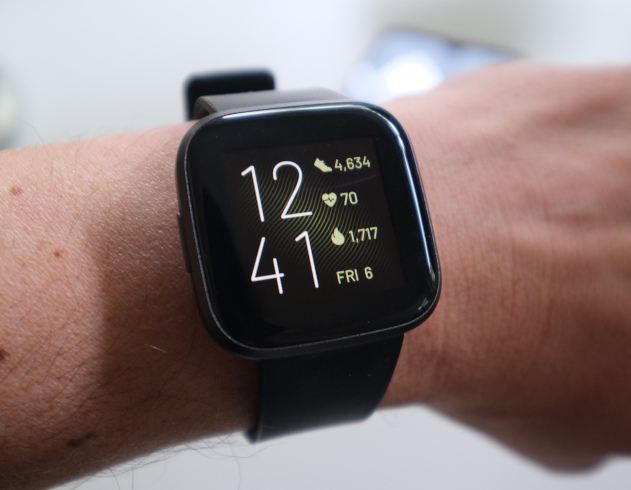 At the launch event, Vincent Lamoureux, Fitbit's director of new markets, noted that they believe the average Versa 2 user would not need GPS, and that it would also cut down on battery life. This might be the case, but it seems like they have missed a trick, since many of the other smartwatch manufacturers do offer GPS. Running with your smartphone to use the assisted GPS functionality should not be a requirement.
Key improvements
Regarding the improvements on the Versa 2, perhaps most importantly the battery life has been upped, going from four to five days. There's also a firmware upgrade promised said to take it to take it up to a solid six. No doubt it's six days you want, since competition from Huawei and Samsung already extend to seven plus, although the Apple Watch still suffers from almost daily charging.
Another important feature added is the always-on monochrome display. If you're new to a smartwatch you'll notice that there's usually a bit of a wrist-flick motion involved to get the screen to wake-up and display. Although it becomes less of an inconvenience the longer you use it, the Versa 2 now allows the clock face to remain always on.
I like this, but it does cut down on your battery life to a recharge every third of fourth day depending on your activities. Also, only two clock faces are provided as options, but with the new firmware update five more will make an appearance. With a personally selected clock face so important to the style of the watch, the question should be why can't all watch faces translate to the always-on screen?
Screen is better, but not much
Another improvement on the Versa 2 is the 1.4" screen, which is now both (slightly) larger and more saturated thanks to it being AMOLED. One thing you'll notice is that the Versa 2 only provides one button on the left-hand side of the device, instead of the three on the original. In a way I miss the extra two on the right-hand side since it provided programmed shortcuts to, in my case, starting a run and a flashlight app for night-time.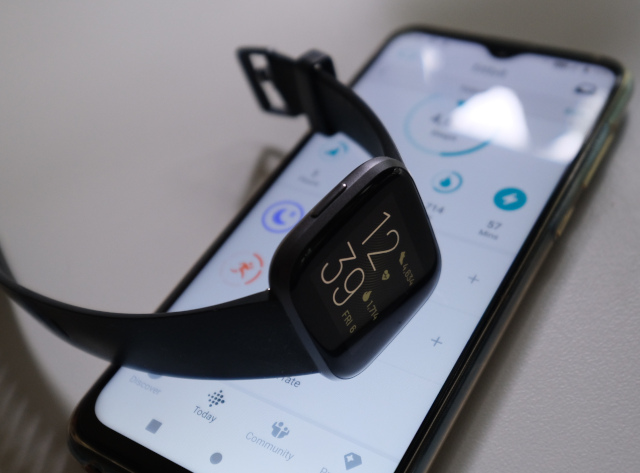 The one button on the Versa 2 leaves South African users in a bit of a lurch, since it provides access to either Amazon's Alexa or Fitbit Pay. South Africa is not as set up with Alexa as for example the States, while Fitbit Pay is a great addition if you're banking with FNB. If you don't then the left-hand button is wasted, since those are your only programmable options.
Sleep tracking still tops
I still love the Versa 2's sleep tracking, and I think the sleep score addition is great, with your night's rest scored out of 100. One complaint I previously had was with the Versa's screen waking up while you're turning in your sleep, hitting you with a bright light in bed. Fitbit fixed this with a Sleep mode that deactivates all incoming notifications and turns the screen off – and it can be scheduled to stop and start as you prefer.
Spotify is getting more popular in SA, and although you can control your playlist on your phone through the watch it's only if you have Spotify Premium. The Versa 2 doesn't actually support offline playback from Spotify, like Deezer does, so so much for that. You can upload your own music files, but when was the last time you were into contact with an MP3?
Text-to-speech interesting
On the notification side Android users are able to use the onboard microphone to speech-to-text replies to incoming messages. This is a bit of a hit and miss affair; for quick replies it works quite nicely, although if you're pedantic about 'two, too or to' or American English, you're not going to like this. It also gets more difficult to use if you want to send longer replies. Unfortunately, you cannot use the Versa 2 Dick Tracy-like to take calls since it does not have a speaker, unlike the Huawei Watch GT 2.
The Fitbit app is really good with displaying all your relevant daily data in an easy-to-view and understandable manner. From the home screen you can easily see all your steps, hours slept, heart rate and active minutes, allowing you to dig deeper if you click on these.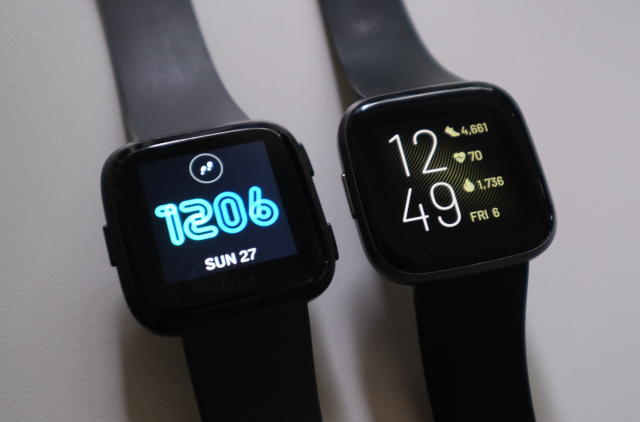 The first Versa (left) next to the Versa 2 (right)

One thing that has become clearer with the Versa 2 is that somehow Fitbit needs to tidy up the menu system. Since some of the menu options are on the app, and some of the watch, one's left with a confused mess of what to change where. The added drop-down menu when you swipe down on the watch brings along 'Quick Settings" making it even more difficult to keep track your settings.
Hot or Not?
As a fan of the original Versa, I was excited to hear what's in store for v2. On release, however, the Versa 2 came across as a bit underwhelming. Having used the Versa 2 now for more than a month, it's yet to blow me away. However, the Versa 2 remains a solid offering, whether you are new to the smartwatch game or not. It's really good at what it does, however, if you are looking for more fitness orientated features, it's best to look elsewhere.
Here's the question: Will it be best to go for the Fitbit Versa 2 at R4k, or shop around for the Versa or even Versa Lite for R3k? The main reason I would spend a bit more on the Versa 2 is for the improved battery life. If those extra days make a difference, then go for it. That said, usually the price difference between the Versa and Versa 2 is R500, which should make opting for the Versa 2 a given.
Does what it does really well, improvement in battery life
No GPS, not really for those looking for a running focussed watch, not really the big improvements people were looking for in the upgrade