The Versa 3 smartwatch from Fitbit is what the Versa 2 should have been, mainly due to GPS that is now finally part of the setup, plus a few extras thrown in for good measure. Here are the things to love about Fitbit's latest, and a few that bothered.
GPS, finally
The inclusion of GPS means you do not need to connect your phone to your watch to track your runs or walks. It's a feature found on most other smartwatches, with Fitbit late to the party on this one. In general, the GPS locked quickly although there were a couple of instances where I had to wait a minute or two.
Fitbit is good with general health tracking but they still need to learn a bit about making the most of the watch's running functionality. For one, there is no way to check your runs/exercise history on the Versa 3 itself – you need to work through your phone. Secondly, one could argue that the importance of the duration of your run is second only to how far you've gone. However, Fitbit does not display this info on your Exercise tab in the app where you can quickly view all your activities – only distance, pace, average heart rate and the totally inconsequential zone minutes. You need to click on the activity to see this.
Thirdly, when running with an always-on display, the watch face dims for a split second when you turn your wrist to look at your info. Finally, the new touch button on the side can be finicky and does not always work when touched, which is a pain when trying to end your run. All this makes it difficult to recommend the Versa 3 if you are starting to get serious about running.
New Metrics
Much has been said about the Versa 3's SpO2 tracker that cannot measure oxygen saturation on demand but only during the night. With Covid-19 still present, the ability to measure this on the spot seems like a wasted opportunity for the brand. You can see the past few nights' measurements in the Health Metrics tab on the app, and as Fitbit notes, your night-time Sp02 is usually lower than daytime, which makes one wonder if this can actually be used as an indicator that you might be coming down with Covid-19.
Nonetheless, Fitbit does include a few extra measurement statistics displayed under the Health Metrics tab on the app. Here you'll find Breathing rate, Heart rate variability and Skin temperature all measured at night. Fitbit provides Learn More options to better understand the metrics of each, and although some argue there's not much to gain from these metrics, it's still good to see Fitbit upping their feature list.
Free Premium for three months
I'm not a fan of coughing up for a service on a device that you paid for, for data that you, as the owner of the data, should actually have free access to. Nevertheless, when buying Versa 3 you get Fitbit Premium for three months. Premium further breaks down your sleeping data, while also providing access to Guided Programmes. This includes workout plans such as Intro to HIIT, Run Training or Push-Up Prep, for which the Fitbit Coach app is required. Health focussed options include ones such as Mindful Eating, Kick your Sugar Habit or Understanding Calories. It's worthwhile to explore these programmes when getting it for free (some are now on offer for free from Fitbit during the current pandemic), but I would not subscribe only for this and sleep analysis.
I wanted to get the Meditation Timer (which runs alongside the Breath Control companion programme) and Snore Detect beta, but both apps were strangely not available for the Versa 3 from Fitbit's own app store.
Google Assistant
South Africans will be happy to hear about the inclusion of the Google Assistant on the Versa 3, as opposed to Amazon's Alexa. You do need a Google account to use Assistant and have the Google app running on your phone for it to work.
To get Google Assistant you would have to install the latest firmware updates. This is a hit and miss affair and I really struggled to update. It's also a process that can put your phone out of action for 20 minutes.
Calls on the watch
The latest update also allows for answering calls on the Versa 3 itself - a feature you'll find handy if your phone is in a pocket or bag. Although the speaker might be low for a noisy outdoor environment, it works quite well indoors plus those I talked to did not have trouble hearing me. Of course you also have access to Fitbit Pay that works for FNB or Discovery Bank, if you want to tap and go.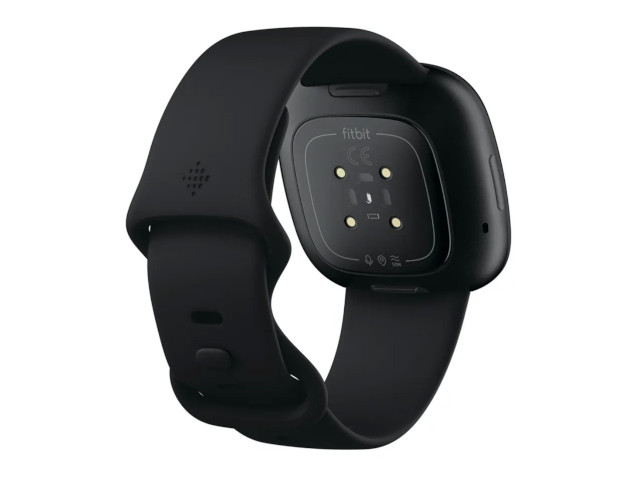 The Strap
While not the biggest bother, I was never comfortable with the new strap. Contrary to most watches', this one tucks through the buckle and underneath the other side, not on top. Doing so makes it difficult to determine size at first try since it adds height underneath, plus it will sometimes pop out of the hole that secures it when pushing it in. Fitbit, however, did make it easier to change the straps due to a new coupling mechanism.
Touch Button
A new haptic touch button replaces the physical button on the older model and it's really difficult to love. On first press it can be easily missed, while at times it simply felt unresponsive. Once or twice while sleeping I could also feel the button go off while pressed against my hand.
To buy, or not to buy?
For me, the Versa range is synonymous with unobtrusive tracking of sleep, heart rate and activities, since the watch itself is quite small and the app works well. The same holds true for the Versa 3. However, there is a lot of competition out there, and what might have worked in 2018 does not work now. At R5 000 (about R1k more than the Versa 2 retailed for at the start, about R1 500 now), Fitbit also does not hold a significant price advantage over competitors, not counting Apple or the latest Samsung Watch3.
With the pros and cons listed above, is it worthwhile getting the Fitbit Versa 3? If you still own the original Versa, the Versa 3 will be worthwhile, and yes, maybe even for the Versa 2 if you really, really need GPS. However, Fitbit's once great features such as sleep tracking, heart rate measurement and battery life have now been matched, or in some cases surpassed, by the competition.
For new users, Fitbit might have done just enough to make the Versa 3 a viable purchase thanks to the latest firmware update that brings Google Assistant and answering calls from the watch. However, despite the inclusion of GPS, those who are thinking of a more serious running routine will be best off looking elsewhere.
GPS finally included, Interesting metrics, Can take phone calls on watch, Google Assistant
Not the best watch for runners, Haptic button a pain to use, st