Alex Ferguson, Jose Mourinho and Pitso Mosimane - it seems like there has never been a better time to be a football manager than right now. The new Football Manager 2011 from Sega is set to go on sale on the 5th of November, so if you're a FM (football manager) addict, now would be the best time to pay attention.
Just like the FIFA franchise there is a new FM title coming out each year. Developers Sports Interactive have never been shy to revamp the FM games, introducing an entirely new interface last year. The 2011 instalment retains the basic interface layout from FM 2010, but features improvements in several other areas.
Gameplay
Football Manager 2011 is a game that is probably only going to appeal to hardcore football fans plus avid simulation fans. The game tasks the player with becoming the manager of his/her chosen football team and leading their team through all the trials and tribulations associated with being successful in the gruelling world of professional football.
Players should not expect to find
FIFA
or Pro Evolution Soccer gameplay in FM 2011. The game does sport a nice 3D engine in which games are shown, but playing the game is largely left up to the players on the field, the catch being that you have to choose who to put on the field in the first place.
As always you have an astounding amount of options to deal with when it comes to managing teams. From hiring coaching staff to dealing with pesky agents, to recruiting new players to talking with the media and managing the budget, every aspect of being a football manager has been worked into the game.
The game functions on a turn based mechanic, with every turn in the game accounting for one in-game day. Players have all the time in the world to make any decisions or changes they like after which they click on the 'continue' button located at the top right of the interface to progress the game by one day.
Each game day players will be confronted with new tasks, negotiations, player issues, staff issues, news, press conferences or talks with management, ensuring that there's always something to do. The game has a counter which lets players know when their team's next match is scheduled, so make sure to finish team preparations before it's too late.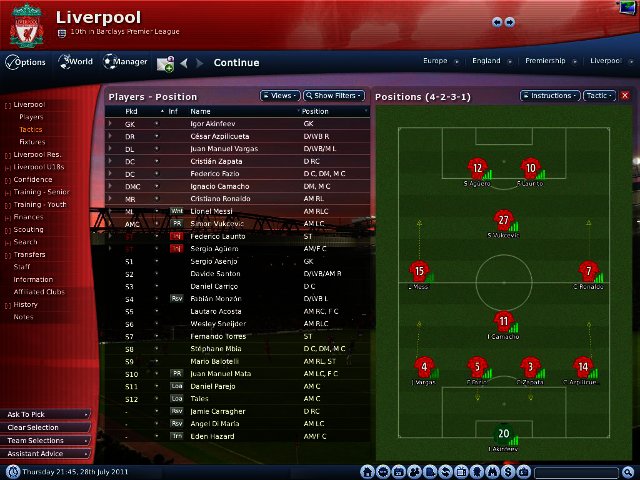 New features
Sports Interactive have really pushed the envelope in regards to the contract system in FM 2011. For the first time players can negotiate contracts with players in real time and they can look forward to not only dealing with the player, but also with the player's agent. This makes contract negotiations a much more in-depth affair, with different agents having different personalities and so requiring various approaches to deal with them.
The developers actually did their research by by working with a number of real-life football agents, gaining insight as to how these negotiations can be made as realistic as possible in-game, with different agents requiring different negotiations.
In addition to the added negotiations features, players will also be able to communicate with their entire management team in a much more intimate way. A host of new boardroom and backroom requests are available to players as they deal with their own and other clubs offers and requests. Luckily, unlike today's English coaches, you are not tasked with dealing with the sexual exploits of your key players.
And for the first time ever, a new player interaction module will allow managers to engage players in private conversations, each player also featuring their own personality to understand. The private conversation option works on a multiple choice system such as that found in many popular RPG's, with the player having to decide on the appropriate response from multiple choice answers.
Work those legs
One of the main new features in FM 2011 is the games' revamped training system. A new 'match preparation' tab is now available, which allows managers to give specific training information to players. Managers can now tell players on what area of the game they need to work on improving, you can for example tell them to focus on improving their passing game instead of going for an all out offensive style.
You can also focus individual players to work on specific skills, telling a promising new striker to concentrate on a certain element can be very beneficial or detrimental to your later efforts, so make these decisions wisely.
Game day
When the big day finally arrives players have a surprising amount of options at their disposal to make sure the game goes their way. From giving pre-match team talks to individually addressing players to deciding when and how replacements enter the game, game day has become a very busy affair.
Or if they prefer, players can leave the game up to the players and coach, and rather sit back and enjoy watching their team play. The 3D match engine which was introduced in FM 2009 is present again, also sporting a slew of updates. The developers have included 100 new animations, more player emotions, new player models, new stadiums (including Soccer City), pitch textures, improved lighting, floodlit night matches and more goal celebrations (those are the best to watch). While you won't be able to control the movements of individual players like in other football titles, this by no means equates to a boring match experience.
After the players have entered the field the game starts off like any football match and goes on to progress through both halves of the game at a slightly accelerated pace. The players will largely be doing their own thing on the field, but it's still very interesting to watch as they fight for possession against the opposing team, especially once you get to know and develop a bit of affection for certain 'star' players.
Throughout the game you can decide if you want to send up a certain replacement during the game, or you can leave it up to the coach. You can also tell players on which game aspects to focus. Most of the in-depth tactics takes place before match day though, when you decide what kind of strategy and formation the team will adopt for the upcoming game.
Another nice addition is the fact that fans at different stadiums will react differently to the presence of your team. When playing a home game you can generally expect fan support but when entering enemy territory prepare for some boo's and hisses.
After the game is done you have the option of giving a post match team talk and chances are you will also have to address a press conference regarding the game the next day, either getting ridiculed or praised, depending on your performance.
Throughout the game the player also have the option of pursuing new career opportunities at other clubs if they wish. Just be careful, entering negotiations with other clubs can have negative consequences if your staff, players or the management of the club finds out.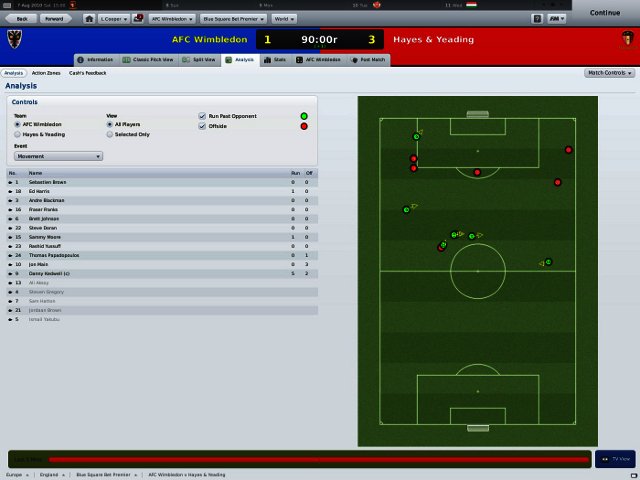 Conclusion
While Football Manager 2011 will only really appeal to a select group of gamers, and maybe more importantly, hardcore football fans, it is definitely a very comprehensive and highly enjoyable simulation game. It drips with possibilities and will literally be able to keep fans busy for years to come.
The game will be releasing on the 5th of November and will be available on the PC and Mac, with a download only option available for the PSP version.
The game takes in-depth management to a whole new level, the sheer number of options available to the player impressed us the most.
The game won't appeal to all gamers, but will particularly strike a chord with football and simulation fans. If you're not either of these, we suggest giving FM 2011 a skip.