We're not really big fans of in-ear headphones here in the TechSmart office, partly because they have a tendency to drop out all too easily. Luckily TDK's EB900 in-ear headphones are beasts of a different nature, or should we say a different material, since the earbuds are made of something called Comply Memory Foam Tips. If you've ever used earplugs you'll know that these expand in the ear canal, making for a snug fit. Ditto for Comply, since you press it down before you insert an earphone, while it then expands in-ear, effectively cutting off external noise.

Sound quality

TDK utilises 8.5 mm micro-drivers for sound, and compared to other earphones we were able to pick up a higher frequency range, with music sounding much clearer. In certain songs a number of previously unheard instruments registered, while the volume also came across louder on the TDKs. Bass was impressive, a good sign since this usually suffers on cheaper headphones.

Comply ear tips

As stated the EB900's Comply ear tips do an excellent job of keeping external noise out. Don't try to use them in the office if voice communication is essential. Do use them if you just don't give a damn.

If you'll use these while exercising you'll be happy to know that the EB900s tend to stick in your ears quite well. Usually in-ear headphones don't last us more than a few metres out on a run, but the EB900 were fine for longer runs, requiring only minor adjustments.

The fact that you are sticking these relatively deep into your ears might not appeal to some. Cord noise also tended to be a problem, meaning that if you touch the cord the sound reverberates in your ears.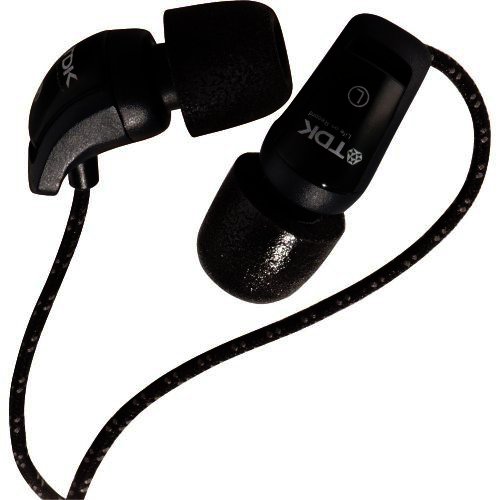 Braided cord

Talking of which, the TDK's braided cord gets the thumbs up. TDK reckons it contributes to less tangles, and although we still managed to get it knotted up, it does manage to give the headphones a quality feel. Cords also tend to wear and tear close to the 3.5 mm jack, with TDK countering this with an extended rubber casing covering this delicate area.

Conclusion

TDK did a very impressive job with their EB900 headphones. Sound quality was very good, and the Comply ear tips did a superb job of keeping external noise out. With a quality cable rounding off the set, and a carry bag for transportation, we feel the R499 asking price for the EB900s is money well spent. They are available from Spectrum Multimedia on 011-807-0707.

Pros: Very good sound, Comply ear tips cuts off external noise, braided cord.
Cons: Some might not like sticking it into ears, cord noise.
Very good sound, Comply ear tips cuts off external noise, braided cord.
Some might not like sticking it into ears, cord noise.