We've all been in that situation where you'd like nothing more than to play that amazing new song on your phone to your friends. The problem is that, in most cases, phones' speakers' sound quality is horrible.

Now though an impressive portable speaker solution is available that will allow you to take advantage of that music bank in your pocket, wherever you might be.

X-Mini

We are of course referring to the X-Mini, the so-called "original capsule speaker." Thanks to Edutain Distribution the X-Mini range of portable speakers are now available in South Africa, and we recently had the opportunity to test the X-Mini V1.1.

Portable speakers don't exactly have the best reputation, known for delivering compromised sound that is either too soft, too distorted, or a mixture of both. Manufacturers Xmi Pte seems to have found the magic formula with its X-Mini though, with its innovative Bass Xpansion System (BXS) delivering a much fuller and more powerful audio experience.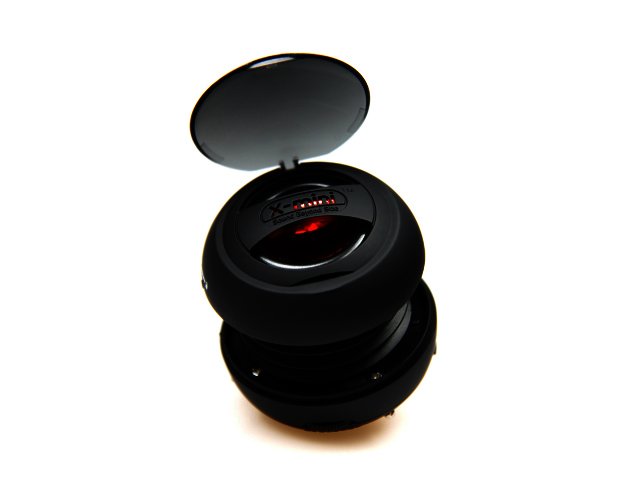 Small size, big sound

We were seriously impressed when we connected the X-Mini to a Nokia X6 smartphone for the first time, since this speaker really pumps out some incredible decibels. Cranking both the phone and the speaker's volume up to full we were able to hear the X-Mini clearly, even from adjacent rooms, and with the doors closed.

The speaker's sound itself, aside from being loud, was also highly impressive for a portable device, delivering a rich and full audio experience. The loudness and bass helps to get the message across, but don't expect 5.1 surround sound quality, there's still a slight amount of interference at high volumes.

Design and usability

The tiny 52 mm speaker is capable of an output of 2.4 W and weighs a paltry 52 grams, making it highly portable. Capable of being carried around comfortably even in your pant pockets the tiny speaker unfolds when it's put into use. Users simply twist the X-Mini to unlock it and its BXS system will unfold, looking a bit like a tiny concertina connecting the two main parts of the device.

A small plastic flap at the top protects the speaker itself from damage, and is flipped open when playing. The X-Mini V1.1 is also very easy to use, with an on/off switch and volume slider being the only controls present.

A built-in 3.5 mm audio cable is used to connect the speaker to your music player, and is neatly stored in the bottom of the device. A separate cable is also bundled, with a USB port used for charging the device as well as a modular Buddy Jack, allowing users to connect multiple X-Mini's to one another and create a true portable night club. This cable also allows users to charge the device (from a PC or notebook), whilst playing music at the same time from your connected iPod, MP3 player or smartphone. The X-mini speakers are of course suited to use with your notebook if you currently can't live with its tinny sound while playing movies or music.

As far as battery life is concerned the X-Mini is one of the more impressive devices we've tested in a while, with up to 12 hours of playback available on a single 2 hour charge time.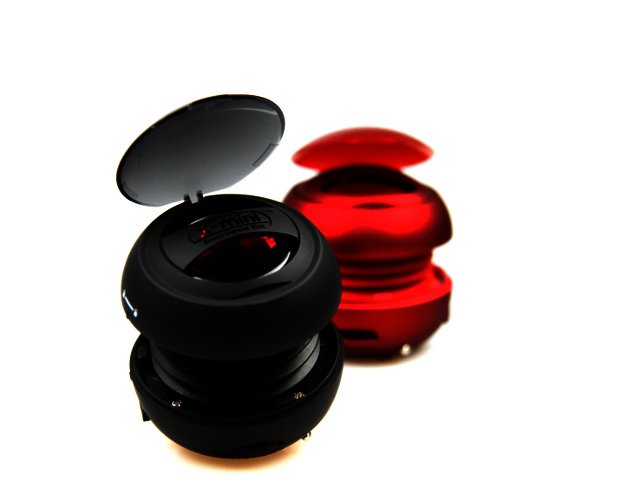 Conclusion

All in all, we were seriously impressed with the X-Mini V1.1, the device is sleek and stylish, just a tad bigger than a golf ball and delivers sound which we never thought possible for such a small speaker. The X-Mini is also compatible with almost any portable device, including the iPhone, iPod, MP3 players, notebooks, PSP and any smartphone that features a 3.5 mm audio jack (virtually all that's needed for it to work).

The X-Mini range, while fairly new on the South African market, has won eight international awards, including two red dot design awards over the past couple of years.

The surprisingly loud X-Mini V1.1 is available for a recommended retail price of R195 and is available at major retailers or from edumall.co.za.
The X-Mini's BXS system enables the tiny speaker to deliver an astounding amount of bass and volume.
An included carry bag would have been useful.