Projectors have a notorious reputation for being expensive, hard to move around and a hassle to get working properly, but the new pocket projector from 3M, the MPro 150 is set to address all those issues and more.

Design

The MPro 150 is about as small as projectors get and as the name implies it can fit easily into most pockets, unless you're a fan of really tight jeans. It measures in at 20 mm x 6 mm x 13 mm (H,W,D) and weighs just 0.2 kg.

The MPro 150 combines several applications into one exceptionally portable package which frees the user from carrying around a notebook.

The device itself sports an attractive design, nothing too fancy, but pretty enough as far as projectors goes. A series of buttons make controlling the onboard graphical user interface (GUI) easy and also controls settings such as volume and brightness.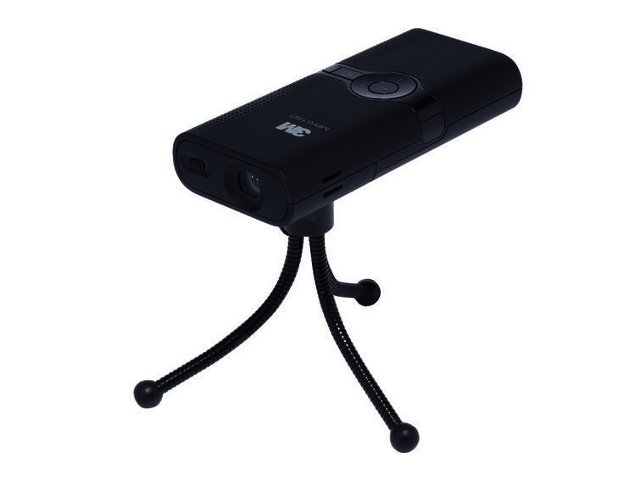 Features

The MPro 150 comes standard with 1 GB internal memory, allowing users to plug it in and start file transfers immediately. For those that require more storage space a 2 GB microSD card is also included.

The device supports Microsoft Office applications such as Word, Power Point and Excel as well as Adobe PDF reader, giving users access to a wide variety of file types. It also supports video and audio playback making it a useful device for some entertainment as well.

The MPro 150 allows users to project images to up to 50" at a brightness level of 15 lumens at 640 x 480 resolution. We tested movie playback on the device by connecting it to a laptop and running a high definition (HD) movie from the computer and the quality and simply the ease of use really impressed us. Brightness levels aren't the greatest in the segment, so make sure to darken the room before using the MPro 150 if you want a clear picture.

As far as audio goes the MPro 150 is both an MP3 player and audio presentation tool. A standard 3.5 mm audio jack means connecting headphones and using the device as a music player is easy and a pair of 0.5 W integrated stereo speakers makes presenting to an audience easy as well.

The device can connect to RCA, VGA or composite source ports and features a USB connector for data transfer.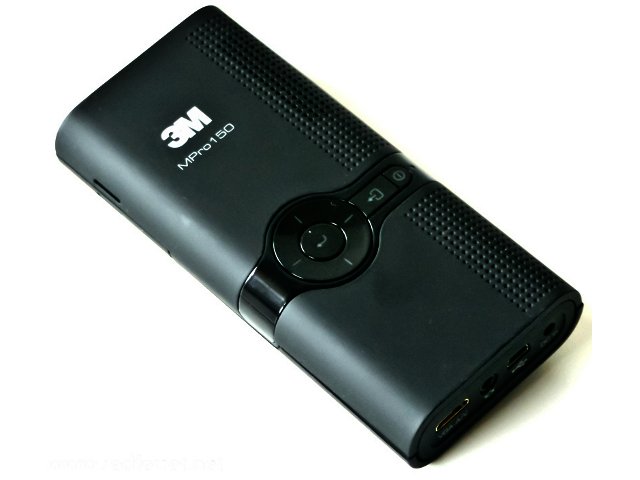 Interface

One thing we did not like about the MPro 150 was its lack of instructions. The manual that ships with the device is tiny (only 7 pages), and apart from showing you how to charge the battery and turn the device on it doesn't really help much. Compare this to the massive 127 page warranty information booklet and things start getting a little confusing.

Luckily the device is very easy to use so fiddling around with it for a while should help users to become familiar with most of its features. Using the menu system is easy and users can choose to display presentations, documents, PDF files, photos and movies by selecting the corresponding icons on the menu. There is also an option to browse through all the files on the device and a favourites icon will show you the most recently accessed files.

Loading times were a little tedious overall and after the device has been running for a while an internal fan kicks in which creates some extra noise but it's quite crucial to keep the device cool, especially if it's being used for a long time period, such as when playing a movie.

An integrated flip stand along with a tripod that comes bundled with the device makes getting a perfect angle easy and a leather carry bag is a nice addition.

Conclusion

The 3M MPro 150 pocket projector is an amazingly handy device for the executive on the road or if you simply want a useful little projector for watching movies on your wall. Whether it's for business or pleasure, the MPro 150 should get the job done. The 3M MPro 150 is available from www.webantics.co.za for R4195.
The MPro 150 is very easy to use and automatically connects to your devices without the need for drivers or additional equipment.
Brightness levels not nearly as good as regular projector, slightly long loading times and a manual that's basically useless may detract from the user experience.