Multi-display setups aren't exactly a new thing in the tech world, but they've traditionally stuck with a two or three screen setup at most. Samsung on the other hand is pursuing the road to visual perfection with its massive new Syncmaster MD230X6 display configuration, sporting a total of six monitors.
The SyncMaster displays works via ATI's Eyefinity technology to create a sharp and almost seamless panoramic display experience. It allows users to attach up to six monitors to a single stand, synchronized to form a massive overarching display experience; or six individual desktops perfect for a wide variety of work applications.
The setup is aimed at those who want the perfect panoramic display experience, whether it is for insane gaming action or a boost in productivity.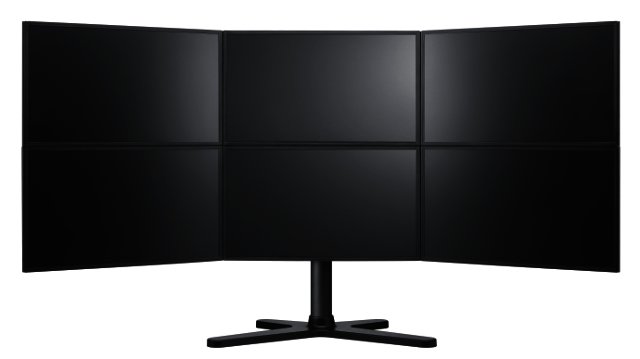 Monster display
The setup consists of six 23" LCD displays arranged in a three above and three below configuration. The bundle we received in the office came with a mean rig that was sent to us straight from
rAge
and functioned via ATI Eyefinity technology, found on all of the company's new GPU's. The Eyefinity technology allows for the display to be stretched across multiple screens and also provides the muscle to actually display whatever you'd want to.
After the image is stretched across all six screens the total resolution came to a whopping 5760 x 2160, a veritable feast for the eyes. Each monitor also features 1080p HD support, an 8 ms (millisecond) response time and a dynamic contrast ratio of 150 000:1 alongside three input ports namely VGA, DVI-D and a Display Port.
Overall the monitors delivered a very crisp and good looking visual experience, wide angle view is also supported, meaning the images appear razor sharp from any viewing angle.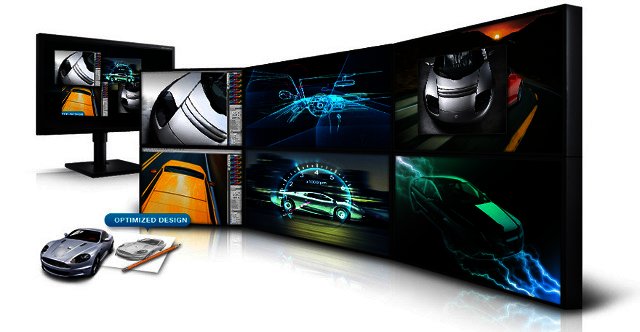 Not quite borderless
A thin bezel allows the Samsung MD series to grant an almost seamless viewing experience. The bezel has a width of only 15.2 mm, and while it is small it did manage to obstruct our view on a few occasions. The bezel generally doesn't bother in everyday or working use but during gaming it became a little more annoying.
Playing the first person shooter Crysis on the system, which looks gorgeous by the way, we found the centre bezel perfectly obstructed our aiming reticule in the game, making it very difficult to get accurate shots. The displays have been designed with more of a work and productivity focus in mind though, so this shouldn't bother too many consumers. Strategy games looks much better on the system incidentally.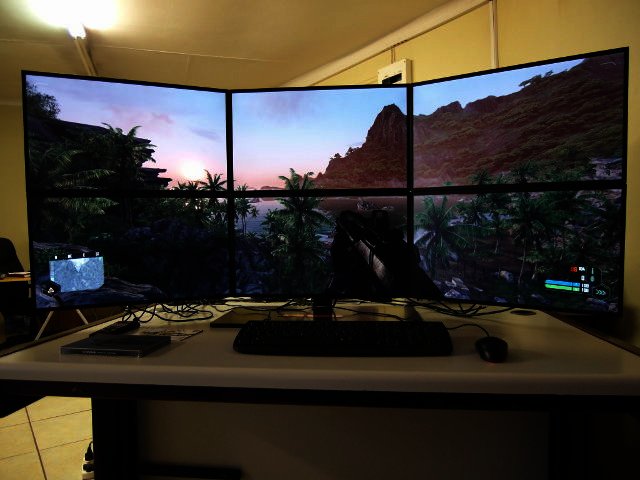 Setup
While it does take a bit of time to get the Syncmaster MD230X6 up and running, the end result is definitely worth every drop of sweet and dropped screw. Users don't have to worry about needing multiple power outlets available as a daisy chain can connect all six displays to a single cord.
The displays can also be easily adjusted to create a wrap around effect which boosts immersion tenfold, if not more.
Samsung is leaving choice up to the user by releasing the MD series in different display configurations. If you want you can stick with the single display MD230 at the start and when it's time to really multi-task the MD230X3 includes three displays while the MD230X6 is the ultimate option, including six high quality displays.
Conclusion
The Samsung Syncmaster MD230X6 is a crazy display setup that will appeal to hardcore gamers and technophiles, but perhaps more importantly to those who need multiple displays to increase their work efficiency. For whatever purpose it's used, this is a dream display that will tickle anyone's fancy.
A huge panoramic display area with six high definition monitors speaks for itself in terms of pros and cons.
The bezels weren't quite as thin as we would've liked, causing some annoyances when playing games.