Alongside the release of Windows 8, Acer has introduced a few new devices that have done much to turn heads. Its new Aspire S7 ultrabook certainly made us do a double take.
As far as design, the S7 is, at least in our opinion, one of this year's hottest ultrabooks and maybe even the best looking Acer ever. The unit comes wrapped in white Gorilla Glass 2, very neatly lined with an aluminium border and keyboard. We've seen a lot of sleek curves on recent notebooks, but the slightly more straight edge approach of the S7 is very appealing. This might not have worked on a larger machine, but the Acer's astonishingly thin 12.2 mm frame (1.3 kg) carries it off with aplomb.

At 12.2 mm thick and weighing 1.5 kg, the Acer Aspire S7 is a blessing to carry.
Lovely screen and keyboard
Such an elegant body is complimented by a beautiful 13.3" full HD (1920 x 1080) LCD screen. This display provides well-saturated colours and excellent viewing angles, while it's also good to know that, seeing that it's a touchscreen it's very resistant to smudges. It was also as responsive to touch as most tablets, and although not be as bright as Samsung's Series 5 Ultra Touch, was more than sufficient for most needs.
The chicklet styled keyboard similarly merits a mention. In the past, Acer keyboards and ourselves weren't the best of friends, but with the S7, we got along merrily. Surrounded by a sea of aluminium, the minimalistic approach works well, with no added shortcut buttons, nor for that matter F-function keys, provided.
The keys are suitably large and a pleasure to type on, with the added benefit of being backlit. One or two buttons are under sized, but it was not much of a hindrances.
Unfortunately, while the multitouch touchpad is appropriately large and well-placed, it is very sensitive and finicky, especially when using two fingers to scroll down webpages. Luckily it did respond well to the swipe-to-the-right action to pop out the Windows 8 Charm Bar, but in general it was more of a miss than a hit. Our recommendation? Either use the touchscreen to control your cursor, or the Bluetooth mouse Acer provides.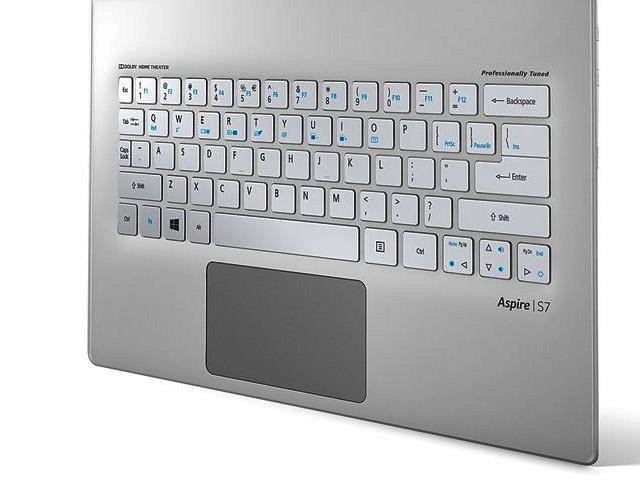 This is the best keyboard from Acer yet.

Great performance,
While the S7 is stylish on the outside, inside it growls with an Intel Core i7-3517U running at 1.90 GHz and 4 GB of RAM, providing some of the hottest performance from an ultrabook this year. In Futuremark 3DMark06 it outclassed the rest of the ultrabook pack, granted that not many included an Ivy Bridge i7. Its score of 4972 was in-line with Asus' U36S notebook, outpacing the Asus Zenbook UX31 ultrabook with its second generation i7-2677M processor.
To handle a spot of gaming is the Intel Graphics 4000, which is sufficient for casual play, but won't take the stress of, for example, Crysis 2 (
review
).
As great as it is to have the excellent Core i7 onboard, we can't help but wonder what a Core i5 could have done. The reason? The impact that the i7 has on both the price and battery life of the S7.
But the battery life...
The chink in the Acer's armour is unfortunately its underperforming battery life. Lasting about four hours it is quite unflattering next to HP's business-focused Folio 13's (
review
) 8½ hours, at least beating the
Mecer
JW6's (
review
) paltry 3½ hours. (
Tested playing a movie full screen on repeat, Wi-Fi on, brightness on half
). We've seen very decent battery life from Acer's
TravelMate
series in the past, and a Core i5 instead of the i7 might just have added an extra hour or two to put it more in line with some other ultrabooks available.
The less-than-a-work-day battery also means that you need to drag a quite unsightly (but at least white) and close to 4 m power cable along. If your mission is less than four hours long, you can actually slip the S7 into the lovely slim carry case Acer includes.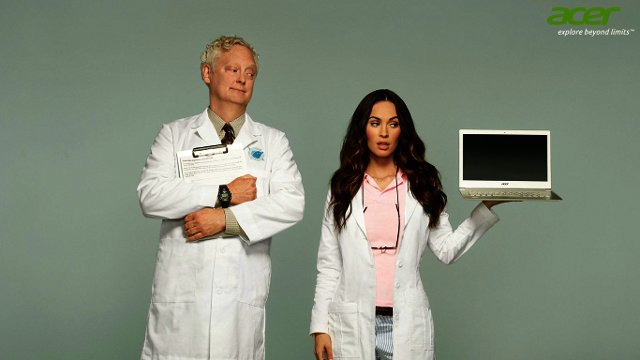 Stare as much as you like Megan, it's not going to transform.

Ports and all
Concerning ports, the thin frame of the S7 left Acer with two problems, namely where to include the LAN and the VGA ports. For both you receive special adaptors, with the LAN adapter plugging into one of the two available USB ports, and the VGA adapter fitting snugly in the micro-HDMI port.
It's not the perfect solution seeing that you don't always want to carry adapters along, but for an ultrabook of this width there are unfortunately some sacrifices, with only two USB ports being the other.
It is slightly negated by the fact that both USB ports are USB 3.0, while the one also offers charging of devices even if the ultrabook is in sleep mode. Furthermore, Acer includes a Bluetooth mouse, which means a USB dongle is not needed, freeing up one port.
Both USB ports are unfortunately very close to each other, with an SD card reader located slightly further down. Your micro HDMI, 3.5 mm audio jack and power button are located on the left hand side, also featuring a dainty AC in.
As far as sound is concerned, it is sufficient in most cases, while the noise generated by Acer's dual cooling system's fan is far from troublesome. It kept the machine cool and we did not pick up distinct warmth from the palm rests.
Escorting the i7 processor in keeping things running very smoothly, is the S7's 256 GB solid state drive. It's the full drive and not just cache, which means you receive all the benefits that solid state offers, including faster boot-up times, quicker starts of programmes and improved general performance.
Seeing that Microsoft dropped the Windows 8 Start menu, we loved the fact that Acer included a little desktop button that helps with turning your PC to hibernate/sleep/off.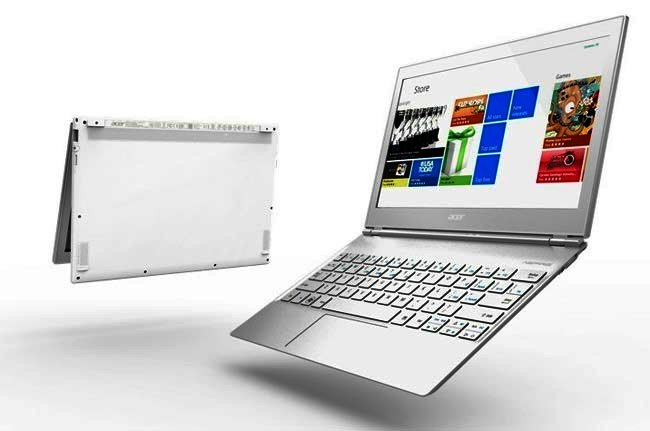 The Acer S7 comes with a stunning white and aluminium design.
To the point
The Acer Aspire S7 retails for a very expensive R25 000, by far the most expensive ultrabook we've reviewed yet. This is another reason why we feel that an i5 processor might be better suited, since it should bring the price down to more acceptable levels. Unfortunately, we can't see it fall below the magical R15 000 (or even more magical sub-R10 000).
It's a shame, since the S7 ultrabook is without a doubt the best looking Acer we've reviewed yet, and a major step in the right direction from the Taiwanese manufacturer. With an excellent touchscreen, a user friendly keyboard and elegant design, it's easy to recommend, it's just a shame about the battery life.
Pros
Excellent design
Gorgeous touchscreen
Solid keyboard
Full SSD
Cons
Touchpad is finicky
Battery life at about 4 hours should be much better
Very expensive
Excellent design; gorgeous touchscreen; solid keyboard full; SSD
Very expensive touchpad is finicky; battery life at about 4 hours should be much better