Amongst the influx of Windows RT-based tablets now making their way to market, is Asus' VivoTab RT. The big question is whether tablets can successfully make the jump to Microsoft's newest operating system and still win users over.
On the surface (absolutely no pun intended), Asus' latest convertible tablet, the VivoTab RT, looks quite similar to the company's Transformer Prime (
review
) and Transformer Pad Infinity tablets, also consisting of a tablet with a dockable keyboard.
But whereas those esteemed devices boasted Android as their OS of choice, the VivoTab RT is based on Windows RT, which offers a wholly different experience as compared to Android.
Welcome similarities

However,hardware wise there are a few similarities that users will appreciate. These include excellent build quality and a bright (600 nit), sharp 10.1" screen, as found on Asus' Android counterparts. Resolution on offer is 1366 x 768, and on this screen size, it looks fantastic.
Additionally, much like on the Transformer Pad Infinity (
review
), the screen is quite glossy. While this does invite reflections, at least when the screen is off or in use outdoors, it also ensures that details displayed on the screen look sharp, clear, contrasty, and 'pop' off the screen.
As with all glossy screens though, the tablet's screen will attract its fair share of fingerprints, and we recommend keeping a soft cloth handy; either soft chamois or a cloth easily obtained at an optometrist works very well to remedy this.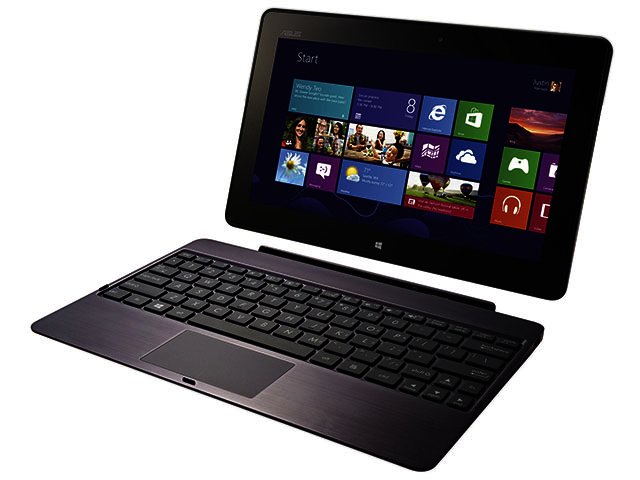 Is it a tablet? Is it an ultrabook? Is it a mini Zenbook of sorts? Yes, to a certain extent, on all counts.
Fine design
The 525 g tablet is not just light and solid, it also attractively and ergonomically designed, as its rounded edges make it comfortable to hold. Additionally, Asus has seen fit to make the slot used to connect the tablet to its keyboard dock slightly more recessed, which addresses one of the few complaints we had with the Transformer Pad Infinity (
review
).
Holding the tablet in one's hand therefore is a pleasure; the ergonomic shape ensures that resting it in one's hands for long stretches is comfortable, while the premium build only adds to the overall satisfaction of using the tablet for extended periods.

The screen further has a very roomy bezel, offering the perfect balance between providing enough space to comfortably hold the tablet without accidentally touching the screen, or feeling cheated of screen real estate.

Perform for me
On the specifications front, the blood and guts of the system is somewhat familiar, as Nvidia's Tegra 3 processor, clocked at 1.3 GHz, and 2 GB of memory, accounted for the device's quick and smooth performance. Our review model offered 32 GB of storage space, and this could be further expanded via the microSD card slot.
In general use, the VivoTab RT was a pleasure. Browsing the web, watching YouTube videos, playing a game (in this case, Cut the Rope), catching up on the latest news on a newsreader (News360), downloading apps and writing a document on the included Word app were accessible and presented no issues.
Alas, it was not possible to perform comparative benchmark tests on the tablet, as neither SmartBench nor AnTuTu are currently available on the rather sparse Windows store.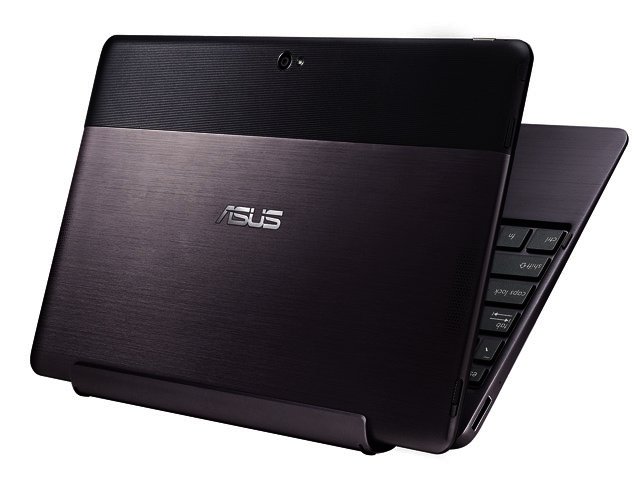 We loved the solid hinge which neatly accommodated the tablet, turning the entire package into a
small and portable Windows 8 RT machine.
Hardware temptations

Further helping matters along is the VivoTab's dockable keyboard (included), which is, in a word, outstanding. While the chiclet keys might be small, as befitting a keyboard built for a 10.1" device, they also boasted some of the most satisfying depth we have seen on a portable device for quite some time. This made typing on it a pleasure; we seldom missed our mark even when typing at a decent speed.
The trackpad, though small, is usable, and should it pose a problem to those with large hands, it can be supplanted by plugging a mouse into the single USB 2.0 on the keyboard dock. The audio on offer, was clear and faultless, if not the loudest. Also available is a very good 8 megapixel back camera and 2 megapixel front snapper for video conferencing.
Is this Windows a winner?

While we have been somewhat confounded by Windows 8 on notebooks of late, Windows RT (the mobile version of Windows 8, designed specifically for tablets and mobile devices utilising the ARM processing platform) fares considerably better.
The OS actually feels more intuitive on a tablet than Windows 8 does on a PC, perhaps because it is not weighed down by decades worth of familiarity as is the case on Windows 8 on notebooks, and thus didn't have us constantly bemoaning the absence of the Start menu. Nor did we encounter the same idiosyncrasies that we did on the full version of Windows 8, which we were most relieved to see.
For the most part, Windows RT worked well here. We had no problem closing apps using just a finger tap, for example, while on a tablet, Microsoft's tiles-orientated system presented a logical and a 'clean' way of accessing information.
Additionally, scrolling and swiping through tiles was fast and responsive on the VivoTab, certainly comparatively smooth, although not as quick, as compared with the excellent Android Jelly Bean Nexus 7 (
review
).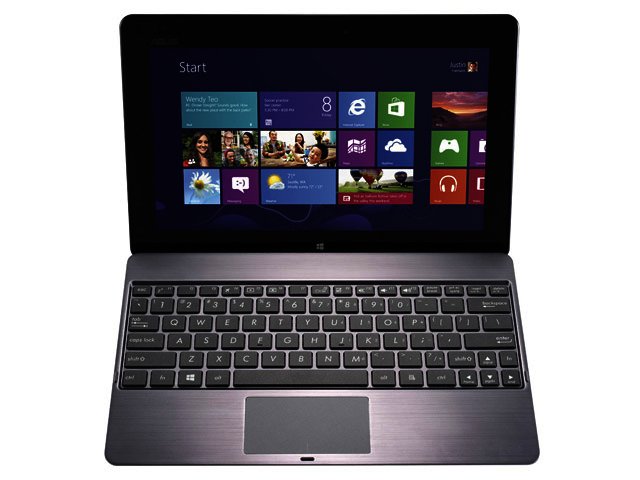 The VivoTab RT boasts one of the nicest keyboard docks we have seen in some time,
even if those with large hands may want to use an external mouse.
Windows Desktop mode is pretty much the Windows desktop that many have become accustomed to, albeit with no Start menu. Navigation here felt instantly familiar, which will likely be reassuring to long-time Windows users.
The bigger problem is that at the present, the Windows Store has too few apps, although hopefully this will be addressed as more developers come to the Windows 8 party. This is particularly important for Windows RT, as you cannot install your legacy PC (previous versions of Windows) programs on the device.
However, we liked the fact that unlike downloading apps on the iPad, downloading from the Windows store only requires you to enter your Windows Live account username and password once, and then you can download to your heart's content.
To the point

Despite the fact that the operating system is different, the VivoTab RT delivered on all the fronts that we have come to expect from a tablet, and, when docked, added a solid keyboard and mouse-based experience as well.
While we may not be completely sold on Windows 8 just yet, Asus' offering has gone a long way towards making the transition that much easier and hassle-free. As one of the first of the company's implementations of Microsoft's vision, Asus has excelled with flair, because the VivoTab RT is a fine tablet in its own right.
It has a RRP of R7 800 for the 32 GB version, and R9 000 for forthcoming 32 GB 3G version. This certainly places it in the upper end of the pricing scale when compared with other 9.7 or 10" tablets, which is also worth bearing in mind.
Pros
Excellent build
Beautiful screen
Comfortable to hold and use for long stretches
Excellent keyboard dock
Cons
Audio not the loudest
Screen particularly susceptible to glare
Excellent build, Beautiful screen, Comfortable to hold and use for long stretches, Excellent keyboard dock
Audio not the loudest, Screen particularly susceptible to glare