It's not often that a notebook, or mobile device for that matter, honestly blows us away. Many notebooks which we review fall somewhere between being mostly good to excellent. There are a rare few notebooks and mobile devices that genuinely awe us and blasts through our weary 'seen it before' jadedness and makes us truly long for the item in question, but these only seem to come along once in a blue moon. Asus' Zenbook UX31 is one such rarefied device. It excels in just about every key area, and taken as a whole, is almost perfect (more on that later).
Design
To start with, as befitting its namesake (the meditative practice of
Zen
Buddhism), the design on the device is elegantly beautiful and uncluttered to the point of being inspirational, with every aspect seemingly serving a purpose.
Its solid aluminium body, when closed, looks like something that may have come out of Area 51, balancing simplicity of design with a modern, futuristic aesthetic that previously only Apple managed to pull off. Additionally, a subtle circle motif on the cover heightened the Zenbook's attractiveness when closed, and reminded us a little of a
Zen garden
The well thought-out design also carries through to when the notebook is open. Its simplistic silver and black colour scheme only highlights the small touches, such as the number 1 and 6 keys, whose lettering are enclosed in small black circles.
Beyond the elegant, subtle curves of the notebook's 13.3" frame, the most remarkable and most noticeable feature of the Zenbook is how thin and light it is. It's the first
ultrabook
we've received for review, and to give you an idea of how it feels in hand, four medium weight magazines weighs more than the ultrabook; while closed, it is as thick as an A4 288 page paper notebook.
More specifically, the Zenbook is 3 mm thick at its front at 9 mm at its back, as compared to the still very thin Samsung Series 9's 15 mm. Additionally, this ultrabook weighed the same as the
Samsung Series 9
– a barely noticeable 1.3 kg that made it a pleasure to tote just about anywhere.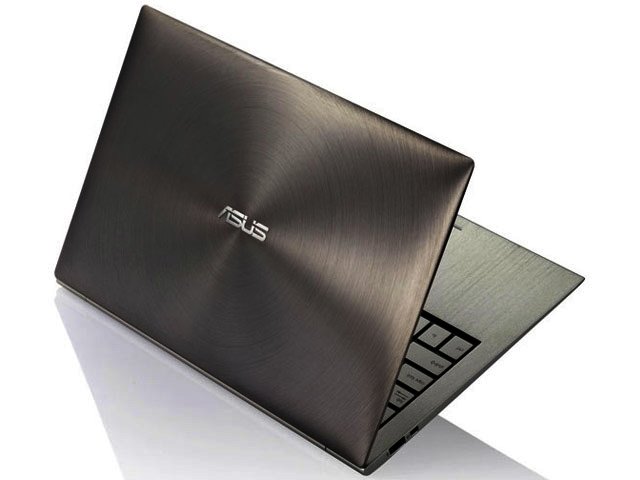 The Zenbook's design is tangible proof that sometimes less is more.
Showstopper of a screen
However, the Zenbook's appeal extends beyond its appearance. The 13.3" screen impressed us mightily, boasting a 1600 x 900 resolution that offered up excellent clarity that was outstandingly sharp and clear indoors and still visible outdoors in direct sunlight. It is a fairly reflective screen, although we found this was considerably more so outdoors in direct light than in normal working conditions.
Colour saturation was similarly superb, while the display offered up excellent rendition of colours and detail across the highlights, shadows and midtones of images shown on the screen.Additionally, the Zenbook's screen also offered up a generous range of viewing angles, making it conceivable for more than one person to view at a time while offering each a respectable view.
Beyond the surface
While design and display was superlative, some of the equally impressive aspects of the Zenbook came from that which lay below the surface. To start with, it packs an second generation Intel Core i7 2677M CPU running at 1.8 GHz and 4 GB of RAM.
Despite the high end processor, we were pleasantly surprised by how little heat it produced. Even when working on it and having it running next to us for the better part of the day, the underside of the Zenbook never became uncomfortably warm, while the palmrests remained cool to the touch, a well-known feature of Asus notebooks.
The Zenbook's graphics are not delivered by a discrete solution, but rather the nonetheless perfectly competent integrated Intel HD Graphics 3000. However, it is not really suited to intensive gaming sessions.
Performance wise, the notebook offered 3681 3D marks in our 3D Marks 6 test, beating both the i5
Samsung 9 series
' score of 2955 and the i7 (first generation)
Asus U43J Bamboo's
score of 3400, but still found itself bested by
VAIO Z's
score of 4577 marks.
Nonetheless, in actual usage there was certainly no complaint from our side. Opening and running multiple programmes, browsing the web, playing videos and working on office was fast and responsive, and made the Zenbook a joy to use for common tasks.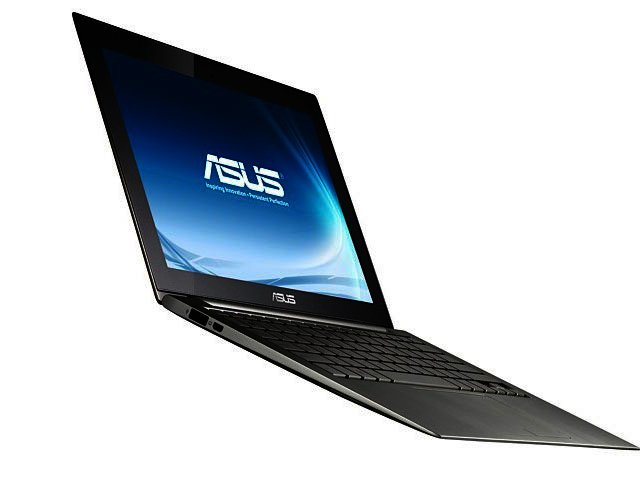 For the most part, this slender beauty offered flawless performance.
Boot Times and battery life
As we've seen with other notebooks running with Solid State Drives (SSD), the Zenbook is fast off the mark. It took only 13 seconds to boot up from an off state, and an additional 8 seconds to load windows and be ready for work.
From sleep, it took 5 seconds for the notebook to wake up and be ready for action. This is not surprising, considering the presence of its 256 GB SSD, but it is still commendable nonetheless. In situations where almost instant responsiveness makes a large difference (such as meetings, lectures, conferences) this feature makes the Zenbook imminently useful in a way that far outstrips its larger notebook counterparts.
By comparison, the
Samsung Series 9
took just under 20 seconds to boot from powered off, and 3 seconds to wake from a sleep state.
On a full charge, the Zenbook offers a standby time of seven days and twenty three minutes; with Wi-Fi on and screen at maximum brightness while playing video we got just under a commendable five hours (4 hours, 42 minutes). While pushing brightness down to a still very usable 50% gave us closer to 6 hours.
Key components
Typing on the Asus Zenbook was not surprisingly, a pleasure. Although the keys have a shallow press, their gently rounded corners made sliding from one key to another a quick and smooth operation. Although the keys did require a 'firm enough' press to register, we did not find this to be an issue, even when typing as quickly as we could. Additionally the keys lent themselves to fast typing, which is particularly useful for those who intend to take notes in meetings or lectures and who need to be able to keep up with a fast-paced discussion.
The chiclet keyboard further ensured that the keys were well spaced and easily identified, which made typos from hitting the wrong key an infrequent occurrence. While a separate numpad is not onboard, to be honest we hardly missed it. We were also happy to see that the backspace, shift and enter keys were the size we expected them to be, rather than smaller than usual.
The 10.5 mm by 75 mm trackpad was similarly responsive, with no fall off at its corners. While the trackpad was almost flush with the surrounding palmrest, there was enough of a difference in its indentation and its texture to distinguish it from the rest of the notebook's base.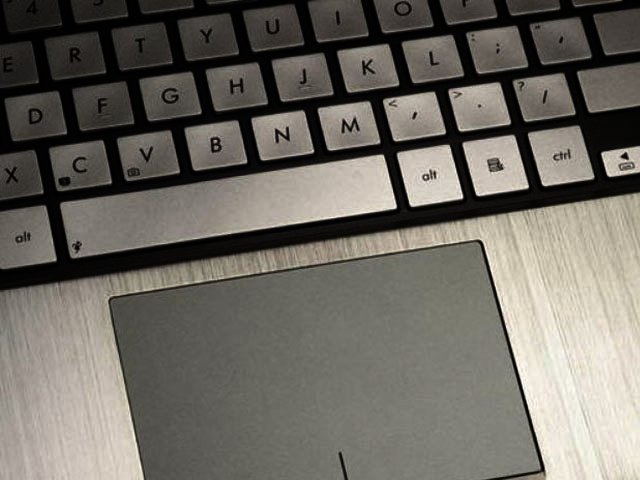 While keys are a bit shallower than other notebooks, we had no problems when typing.
Music to our ears
Despite its slender frame, the Zenbook can certainly deliver some powerful sound, thanks to the presence of the excellent onboard Bang and Olufsen audio. Cranked up to full volume we were actually pleasantly surprised by both the loudness on offer as well as the clarity of the sound – with no discernible distortion when listening with and without headphones.
Listening to music on the Zenbook was much like watching
Jackie Evancho
perform, where you don't expect that kind of sound to come out of that size frame, yet somehow it does. This had a similarly positive impact in playing and watching videos; with the screen rendering videos brilliantly while the sound enabled us to watch them without having to plug in headphones to compensate for poor speaker quality.
The less im(port)ant stuff
In order to make an ultrabook so thin though, there needs to be a sacrifice somewhere, and on Asus' Zenbook, this sacrifice comes from the optical drive and ports – which are evenly distributed over the left and right hand sides of the machine.
A micro HDMI port, one USB 2.0 port and one USB 3.0 port along with a headphone out jack, are all that is on offer here, as is an SD/MMC card reader on the left hand side. There is no optical drive, which was hardly surprising, since neither the MacBook Air, the
Samsung Series 9
, nor the
Lenovo ThinkPad X1
, which have similar dimensions, have one. To Asus' credit though, they have seen fit to include VGA and Ethernet adapters in the box.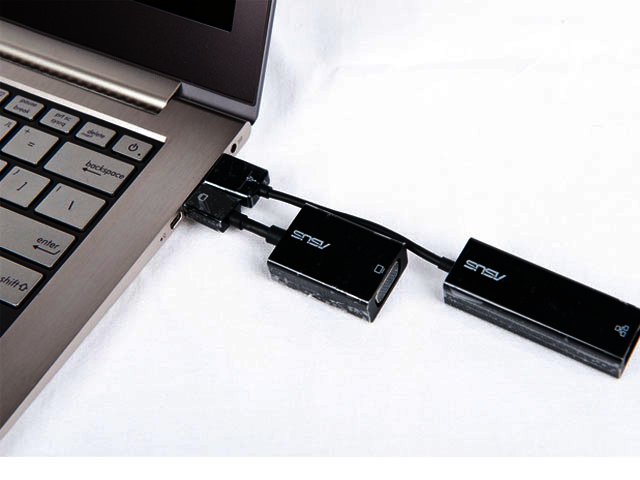 While minimal ports grace the Zenbook, adapters for VGA and ethernet connections
are included.
One feature from perfection
At the very beginning of this review, we pointed out that Asus' first ultrabook was almost perfect. The one and only feature we would have liked to see on the Zenbook's keyboard was keyboard backlighting. It's a feature we loved on the
Samsung Series 9
, and believe should be mandatory on notebooks that so perfectly lend themselves to quick and accessible typing while on the go, as the Zenbook's weight, thinness and fast boot times clearly does.
Despite this omission, there were a number of small features included with the notebook that clearly showed how much attention to detail Asus had given its ultrabook offering. Amongst these was a sturdy and attractive notebook sleeve, and a tiny power supply that was a far cry from the power bricks we have had to become achingly accustomed to. We particularly appreciated the fact that the powercord has a small light on the jack that connects it to the computer that shows when power is being received from the mains.
To the point
In our final analysis, there were far more reasons than not to be in awe of Asus' Zenbook. It managed to accomplish that rarest of responses – namely to wow us and make it an ultrabook that has set the bar very high for others to even match, never mind beat.
The Zenbook managed to truly impress us in just about every key area, delivering almost everything we could ask for from a thin and light notebook, apart from a backlit keyboard. A beautiful screen, speedy processor, superb sound and overall attention to detail make this notebook a winner. It retails for a recommended R16999.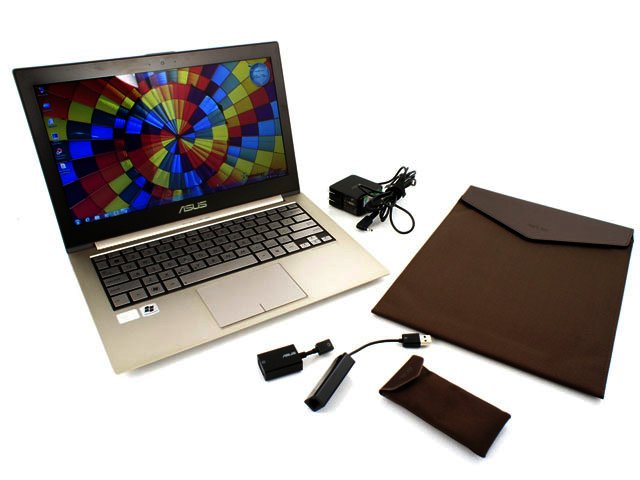 The sum of its parts - the complete package as found in the box.
Pros
Beautiful design
Exceptionally thin and light
Solid performance across the board
Stunning screen
Cons
No backlighting on keyboard
No dedicated graphics card
Beautiful design, Exceptionally thin and light, Solid performance across the board, Stunning screen
No backlighting on keyboard, No dedicated graphics card