The thin-and-light notebook market is currently experiencing a bit of a boom, thanks to machines that do not sacrifice performance despite having a skinnier frame. Joining these is the ThinkPad X1, Chinese computer giant Lenovo's thinnest notebook yet, measuring 17 mm and weighing a very manageable 1.72 kg. Although it's not the lightest thin-and-light out there, Lenovo has managed to trim enough of the excess fat that can turn a notebook bag on the shoulder into a medieval torture device.
Despite its thin frame the X1 feels like a solid device, featuring carbon-fibre rollcage protection and now also a 13.3" Corning Gorilla Glass protective screen. Although slightly more reflective than we would have liked, this scratch-resistant enhanced glass does make one feel a bit more relaxed about those bumps and bruises that can often lead to a (very expensive to replace) cracked screen. Its resolution of 1366 x 768 confirms a business, instead of multimedia, approach.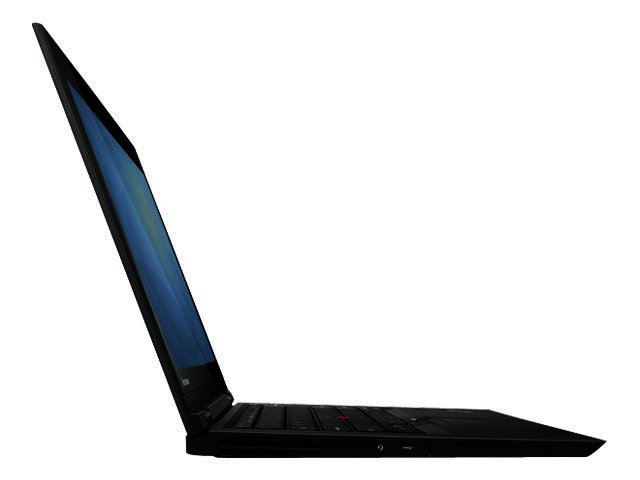 The X1 is Lenovo's thinnest ThinkPad yet, measuring 17 mm.
Core i5 means business
Doing duty in the engine room of our test machine is the second-generation Intel Core i5 2520M dual-core processor running at 2.5 GHz. It should deal more than perfectly with a broad range of business tasks such as large spread sheets and the likes. That said, if you're thinking about doing graphical work or even some gaming on this machine, think again, since it does not include an AMD or Nvidia processor, rather making use of the less powerful, but more battery friendly, Intel Graphics HD 3000. Predictably it did not set the world alight in benchmarking tests involving intensive graphics, but it still provided a creditable 3620 in Futuremark 3DMark06, less than the
Asus U36S
thin-and-light's 4875 but better than the
Toshiba R700
's 1954.
Onboard is a solid 4 GB of DDR3 RAM, while we were slightly dissapointed to find a regular hard drive in our model (320 GB), rather than an Solid State Drive (SSD), although there are models available featuring the more reliable and faster SSD.

It's a shame that more oomph is not provided in the graphics department, since the X1 offers very good sound thanks to onboard Dolby Home Theatre V4 and a useful volume rocker on the side of the keyboard.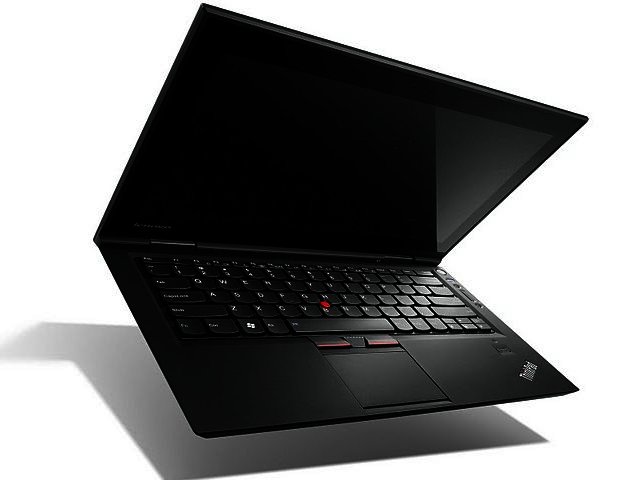 The X1 has a superb keyboard, but we coulld not find the "hover" capability as pictured.
Superb keyboard

Talking of which, one of the strong points of any ThinkPad is some of the best keyboards you'll ever have the opportunity to type on. Exactly the same is true of the X1's redesigned chiclet-style keyboard, with this spill-proof keyboard certainly one of the best, if not the best, we've had the privilege of working on.

Thanks to the right amount of tactile feedback, large keys that are almost impossible to miss, and slight contours on the keys themselves, the X1's keyboard makes your fingers feel like they are dancing rather than typing. The fact that Lenovo dropped the above-the-screen-light of the old ThinkPads, instead now opting for (in our opinion) the better backlit option, just adds the cherry on top. Check out the video below to see what went into designing the X1's keyboard.
The mousepad is another story. Although it is clearly distinguished from the palmrest, we don't like its unified design that does not separate pad fom buttons, or left button from right (just as on the
Samsung Series 9
). When on the web we use the mousepad's sidebar a lot to scroll up and down - in the X1's case this was a hit-and-miss affair, since it worked sometimes, but mostly with great effort. Our simple advice - get a mouse or learn how to properly use the ThinkPad's red little trackpad.

Ports

As inspiring as the keyboard design is, so confusing is Lenovo's port positioning choices. Despite a solid offering of options, Lenovo opted to include the majority of them on the back of the machine, making it very difficult to quickly access these when needed. Only one SD card slot and one USB port are located on the sides of the device. This USB port and mic/earphone jack are hidden away under a plastic flap, which, if the review unit was ours, we would have promptly torn out since it hinders. At the back of the device you'll find a USB 3.0 port, an e-Sata/ USB port combination, a 1.4a HDMI port, RJ45 LAN and a Mini DisplayPort. No DVI port is included which can prove a problem when you work with old projectors.

Our unit also included integrated 3G broadband, once again present at the back.

Battery

Much is said about the RapidCharge technology Lenovo has built into the X1. As the name implies, this helps to give an initial fast charge to the battery, and in our tests the battery went from 9% to a good 67% with a 20 minute charge. It teeters off from there, with a full charge taking about 40 minutes.

Battery life was less than expected from a thin-and-light and especially a business model such as the X1, lasting no more than three hours (test done having screen at 100% brightness, playing movies in VLC and connected to a Wi-Fi network).
If you are away from a power source, rather buy the additional Slice battery (pictured above).

The company's decision to go for a built-in battery instead of a removable one also hinders, since in our experience a battery is one of the first things to be replaced on a notebook. An extra Slice battery can be purchased, which Lenovo believes can provide up to 10 hours of life.

Conclusion

Despite these shortcomings, we would feel more than comfortable with the ThinkPad X1 in our notebook bag. It might not be the lightest thin-and-light on the market, but with a very solid feel, uncompromising performance, a damage-resistant screen and one of the best keyboards on market, the X1 did much to impress us. Our version with Intel Core i5 processor retails for R14999.
Pros: Excellent keyboard, reinforced Gorilla Glass as screen, very sturdy build, decent performance.
Cons: Ports situated at the back, poor battery life, no stand-alone GPU.
Excellent keyboard, reinforced Gorilla Glass as screen, very sturdy build, decent performance.
Ports situated at the back, poor battery life, no GPU.