The IdeaPad U300s is the first ultrabook offering from the world's second largest PC manufacturer. Does it crack a TechSmart nod?
In short, yes. We are particularly fond of the Lenovo's design, with its sleek brushed aluminium shell hiding a metallic grey bezel and keyboard panel. At just 14.9 mm thick (the thinnest out of all the ultrabooks we've tested) and with minimalism written ever so tidily over the package, it's an appealing machine in anyone's books. Moreover, its weight of 1.3 kg should make many a shoulder a happier place.
Performance
There's no worrying about performance, since the Lenovo packs one of Intel's second generation Core i7 processors (2677M @ 1.80 GHz), with 4 GB of RAM onboard. A point worth remembering is that this processor falls under the ultra low voltage category, which means that even though it's a second generation Core i7, it scored less than certain regular notebook Core i5 processors on benchmarking. It performed pretty much the same as the Lenovo
ThinkPad X1
, reaching 3392 on Futuremark 3DMark06 (X1 - 3620) and 1114 on Passmark (X1 – 1091). This was also in line with the Asus Zenbook, which uses the same processor.
Like most other ultrabooks, the U300s only offers onboard Intel HD graphics, which does not really cater for the latest games.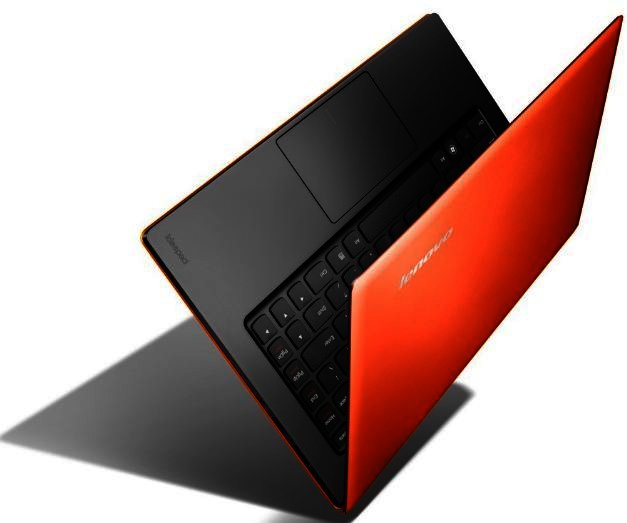 Unlike the Lenovo ThinkPad range, we're not sure if the IdeaPad U300s will be able to withstand a fall like this.
Thanks to its 256 GB SSD drive and good ventilation system, the U300s was dead quiet in operation, with a slight amount of heat noticeable on its bottom. During benchmarking, it did get warmer and noisier as time progressed, but not to the point of being truly intrusive.
The SSD also provides impressive boot-up times, ranging from +- 23 seconds till the desktop screen displays, and about 30 seconds till the cursor stops spinning and you can start working.
Screen
With a resolution of 1366 x 768, the U300s's 13.3" screen is HD-ready but not full-HD, a feature that would have made the machine a lot more desirable, but also have upped the price. Video and pictures displayed well, although we would have preferred to see it being even brighter and slightly less reflective.
One facet we did not like was the flexibility of the screen's hinges. Pick the U300s up and the screen will move out of position. Although the brushed aluminium provides a solid feel to the device, the limpy screen does makes one wonder about the stability of it as time progresses.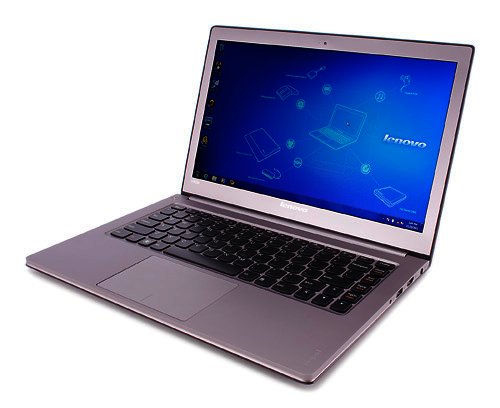 A very decent keyboard following in the Lenovo ThinkPad X1's footsteps.
Ports
If you've come to look for a multitude of ports, the U300s will point you in another direction, since on this slim body you'll only find 1 x USB 2.0 and 1 x USB 3.0 ports, while an HDMI port also makes an appearance. It's not a lot, and we especially missed an SD card slot to quickly transfer pictures from cameras, but this is on-par with similar offerings from HP and Asus.
Furthermore, there's a small little button on the top right hand side of the notebook, which, when pressed takes you to OneKey Recovery to help with system backups and recovery.
Keyboard
The U300s might be part of Chinese manufacturer Lenovo's IdeaPad range (aimed at the consumer market), but it definitely took a few typing lessons from their business focused ThinkPad notebooks.
Much like the ThinkPad X1, the U300s's chicklet-styled keyboard is impressive, offering just the right amount of pressure with a key size that is not too small. Unfortunately it's not backlit, a feature we've grown very fond of in the office.
Touchpad
Just as the
Samsung Series 9
notebook, the Lenovo's whole touchpad is touch sensitive, including the two mouse buttons. We're in two minds about this, since on the one hand since if you're not careful your cursor will move when clicking, missing the spot you wanted. That said, you can double click on the whole touchpad and not just the mouse buttons - convenient since you don't have to move down to click.
Furthermore it is multitouch enabled, meaning you can zoom in and out of webpages, but it does not include an area on the right to scroll up and down webpages. Amendment: Using two fingers to swipe down will move the screen up or down - very handy.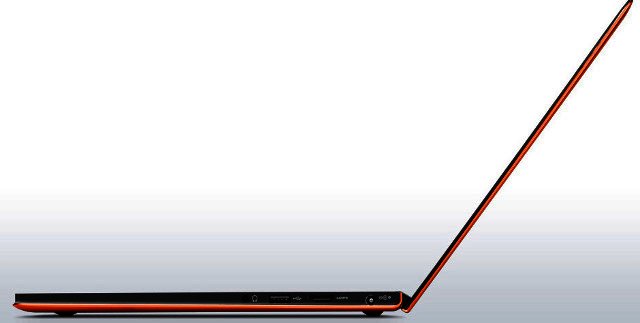 Open up and say: "Ahh." A side view of the Lenovo U300s.
Battery life
The U300s did not particularly impress with battery life, with the ability to play two full 90 minute movies with minimal tasks performing in the background. If you're going to only work on documents, email and some slight web browsing you'll get more hours out of the Li-Po battery.
Although Lenovo notes that the U300s includes RapidCharge technology, unfortunately, it was not as impressive as the Lenovo X1, since the battery recharged from 5% to 48% in 30 minutes - not particularly mind-blowing.
Luckily, as we've seen with the Samsung Series 9, Lenovo blessed us with as smaller power supply, and not the brick usually associated with notebooks. It gets a definite two thumbs-up when travelling, in tune with ultrabooks' ultra-portable motto.
To the point
At R13 000, the Lenovo IdeaPad U300s is cheaper than
Asus' Zenbook
(R17000), but more expensive than the
Acer S3
(R10 000), which reflects our overall impressions of the units. The highly elegant U300s certainly makes our mouths water at the prospect of what Lenovo has in store on the ultrabook front for its ThinkPad range.
Pros:
Great looks; keyboard works a treat; provides all the benefits of an ultrabook.
Cons:
Too much flexibility on the screen's hinges; battery life could have been better; next time add an SD card slot.
Great looks; keyboard works; a treat provides all the benefits of an ultrabook
Too much flexibility on the screen's hinges; battery life could have been better; next time add an SD card slot