The most pervasive issue with most notebooks is that once you buy one, you are stuck with how it looks, whether you grow tired of it or not. On the Dell Inspiron N5110, the company has sought to address this issue by enabling users to change the appearance of the top of their notebook at least, as they may so desire.

Even so, when we first read about this ambition, we wondered how well it would work and whether the notebook's top cover would seem loose or noticeably detachable from the rest of its body.

Thankfully, this is not the case. The notebook cover is attached firmly enough that it feels like a solid, immutable part of the N5110, rather than coming off as being finicky and unhinged. Additionally, a variety of solid tone coloured lids are available, along with more creative, intricately designed ones. Even so, with the default, plain black lid, the notebook balances a sleek style with a rather smart appearance, and has notably rounded corners that give it a pleasingly streamlined design.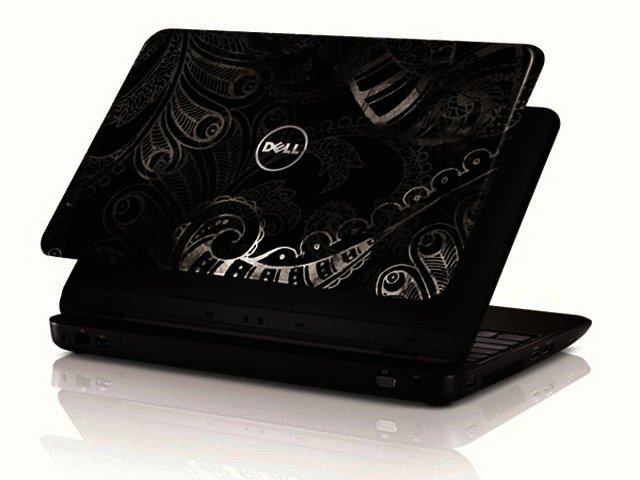 A range of lids are available, from different single tone colours to more elaborate designs
Features

Beyond its mutable cosmetic appearance, the N5110 has a number of other features in its favour as well. The first of these is the presence of Intel's Sandy bridge Core i7 processor, along with 4 GB of 1333 MHz DDR3 dual channel memory, which is upgradeable to a more future-proof 16 GB. A 640 GB hard drive is also onboard to meet storage needs, along with a DVD rewriter optical drive, which can be upgraded to a Blu-ray drive.

A bright, glossy 15.6" screen with a resolution of 1366 x 768 pixels provides noticeably saturated colours, and we found it to be clear and sharp, and very much to our liking, whether watching movies, surfing the internet, viewing and editing pictures or just doing general tasks. The included graphics card is nVidia's capable Geforce GT 525M for light to moderate gaming (the Inspiron N5110 is not a gaming notebook though).

Additionally, the keys of the chiclet keyboard were all the size we expected them to be, despite the fact that the keyboard also boasted a full numberpad, and were universally a pleasure to type on. Kudo's have to be paid to Dell for ensuring their large spacious trackpad wasn't offset so far to the left as to become uncomfortable – a pet peeve of ours and our one small gripe with the Sony VAIO VPC-EH18FG.

This enabled us to comfortably place the notebook on our laps, rest both palms on the palmrest and type to our heart's content without feeling as though our left hand constantly on the verge of sliding off the palmrest. It's a small issue, but for those who, like us, do a great deal of typing and like to rest their hands when tapping at the keys, it can become a dealbreaker. Unfortunately though, the keyboard is not backlit, which would have been a welcome feature.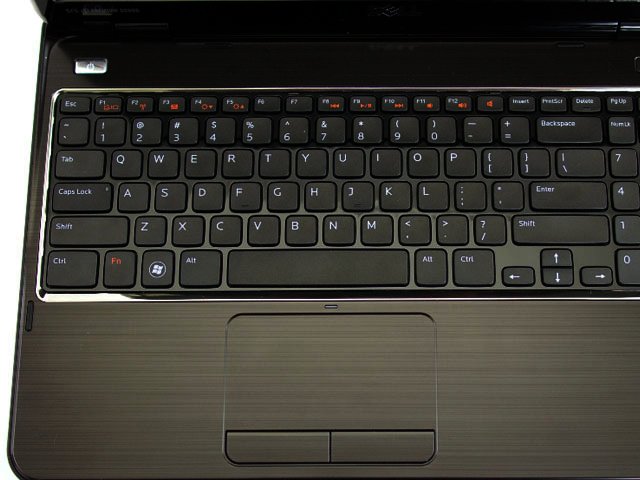 The Inspiron N5110's keyboard was a pleasure to type on.
Surprises ahead

Also present on the N5110 is an HDMI port, and a generous smattering of two USB 3.0 ports, one USB 2.0 and a USB 2.0 port with E-SATA and Power Share capabilities and an SD/MMC card reader, all of which are equally spread out around the left, right, and back of the notebook.

Another pleasant surprise feature-wise on offer is WiDi, which enables one to wirelessly transmit movies to their TV or play back Blu-ray 3D movies with the optional Blu-ray drive. There are additionally dedicated hotkeys on the top of the keyboard, the first of which launches Dell's support centre, where users can run a PC checkup, access their service tag, perform backup and recovery tasks or schedule a hardware scan to ensure their included hardware is running as it should be.

Another handy hotkey launches the Windows Mobility Centre, where users could adjust their display brightness or switch to an external display, adjust their volume controls and sync settings, check their remaining battery life (which gave between three and ten hours depending on screen brightness, wireless usage and which power mode was being used) and turn the integrated 802.11n Wi-Fi on or off.

Additionally, from this one centralised location, users could further enable or disable facial recognition, activate or deactivate Bluetooth and turn the touchpad on or off. We found this to be a convenient way of centralising often accessed settings, and a useful addition to the keypad.

That's not the only small touch we liked about the N5110 software wise though. The notebook, like many other Dells, has an icon dock of sorts, which displays icons for music, photos, video, games, documents, the web and commonly accessed shortcuts. While it is not the Apple Mac's enviably stylish dock, it is one of the better ones we've seen for Windows, and we certainly appreciated having the option of having all of the above within easy reach on the notebook's desktop.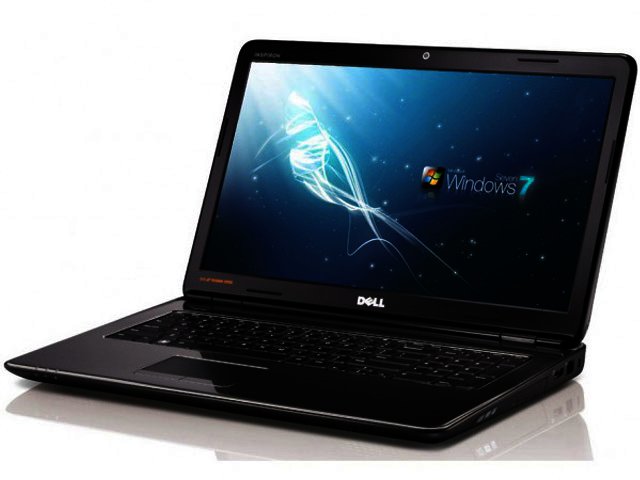 The notebook boasted a bright, glossy 15.6" screen.
Performance

Given that the N5110 packs a Core i7 processor, we expected the benchmarking tests to reflect this, and to an extent, they did. The N5100 scored a perfectly respectable 5625 3D marks in 3D Mark 6, even though it was considerably lower than another Core i7 notebook, the Asus N53SV, with its score of 9433. It further delivered a PassMark of 1059.9 and a score of 335 in our Heaven benchmark. Nonetheless, much like test scores aren't the singular determining factor of a student's overall prowess, the benchmarks are not necessarily the be all and end all of the value of a notebook. In this regard, and in general usage of the notebook, we found the N5110 to be a capable, comfortable and perfectly able computing companion.

Positives and Negatives

Despite being sizeable enough, the N5110 is not overly heavy at 2.65 kg, and lends itself to being carried around during a day without undue strain. While the hard plastic provides it a solid enough build, there were certain areas of the casing that seemed less heavy in comparison to the rest of the casing, most notably the left hand side of the palmrest.

Despite this, the notebook felt neither cheap nor insubstantial. Additionally, while the base of the notebook remains relatively cool while under load, the same could not be said for the left hand side of the palmrest, which become noticeably although not uncomfortably warm (a problem also on the Dell Studio 1558), while warm air was pushed out of the left hand side of the notebook when the fans were working.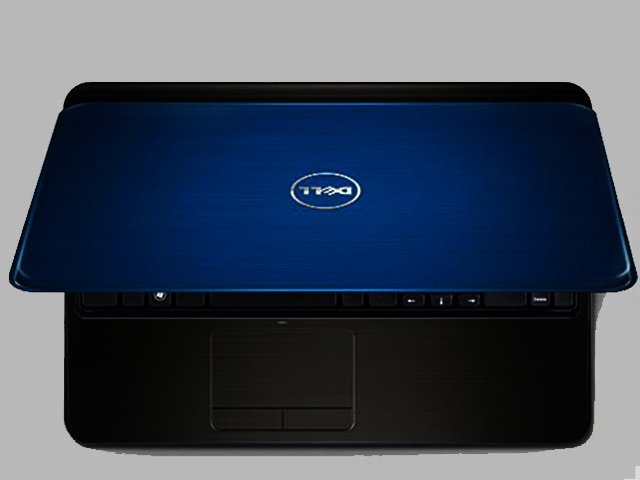 The left hand side of the palmrest became noticeably warm after a while.
Conclusion

Even so, for a mid-range notebook which is priced just below the R10 000 mark, the N5110 generally impressed. As an all purpose notebook, with a sharp screen, some added software features and a full keyboard, it offered an above average experience.

Better yet, the ability to change the cover of the notebook offers a greater flexibility and creativity in customising the appearance of one's computing companion, and that is enough to make the N5110 stand out for all the right reasons. The Dell Inspiron N5100 has a RRP of R9999.

Pros

Customisable notebook lids
Bright, sharp screen
Convenient software and hotkeys

Cons

Left hand palmrest gets warm
No backlighting on keyboard
Customisable notebook lids
Left hand palmrest gets warm