The ThinkBook range is Lenovo's attempt at luring the SME market. The company believes these users typically buy consumer notebooks due to their looks and price, but struggle when the purchase does not come with extended service and warranties.
The ThinkBook 15 then falls between the serious business orientation of their ThinkPad range, and Lenovo's consumer focused IdeaPads. In a sense this means looks on the one hand and work-performance on the other. Does it hit this sweet spot?
Style
Straight out the box it's easy to see why the ThinkBook 15 will fit well in any meeting room - if that's still a concern with many people currently working from home. With a sleek grey metal look, the notebook features a stylised ThinkBook logo on the bottom left hand corner of the cover, and a discrete 'Lenovo' placed below the keyboard to the side. Although the cover is aluminium, the rest of the unit is made from plastic. At 1.7 kg it's far from ultrabook weight, and it's fair to say you won't zip open your notebook bag to check if it's inside. That said, it's a 15.6" screen that provides the extra weight.
Screen
Talking of which, this bright 15.6″ Full HD IPS screen on the ThinkBook 15 comes with both the good and not so good. The bezels are narrow enough not to bother, coming in at an 83% screen-to-body ratio. Full HD (1920x1080) does this setup well although the viewing angles did bother, with discolouration happening if not viewed from a 90-degree angle.
Moving down to the keyboard, the ThinkBook 15 includes a numbers pad for those dealing with Excel on a daily basis. The chiclet-style keyboard has a decent press and I didn't struggle to type, even though it unfortunately does not come close to the comfort of Lenovo's legendary ThinkPad's keyboards. It's also not backlit, with one aspect in particular a pain – there's no on/off lights on the microphone and mute buttons, meaning you don't always know the status of these in online meetings just by glancing.
Keyboard and Specs
Above the screen is a discrete webcam (720p) with slide-over cover (ThinkShutter) to shut out any snooping from outside sources. The Dolby audio of the speakers is sufficient but will not kick the office party into gear. With the dual-array Skype-certified microphone clear communication during Zoom meetings were a given.
Specs-wise the ThinkBook covers pretty much what's expected for a SME-focussed unit, without giving it superpowers. For my review unit, this included the quad-core Intel Core i5-10210U SoC that performed amicably alongside 8 GB of DDR4 RAM and a 512 GB SSD. It's a setup that will easily glide you through the workday, but you need to keep it under seven hours, since the battery lasts between six and seven hours. It should be possible to wring out a bit more if you adjust screen brightness and performance settings.
Ports
Thankfully, Lenovo did well in providing loads of ports on the sides, including an Ethernet socket, HDMI, 2x USB-C 3.1 (one being DisplayPort + Power Delivery), 1x USB 2.0, 1x USB 3.1 and a 4-in-1 card reader, catering for both the old and the new.
One bit of bother is the fact that the power connector is too close to the Kensington lock slot, which means you can't charge the device and have it locked at the same time - a concern for South African users. Lenovo included a fingerprint unlock button on the power button, which helps with login security.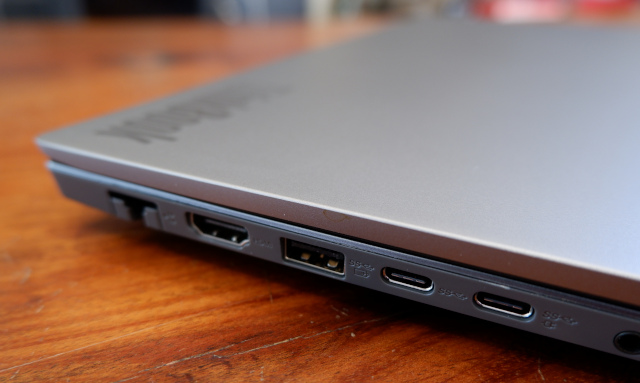 Software
Onboard you will find Microsoft Windows 10 Pro, while I really enjoyed Lenovo making computing much easier through their Vantage software. It's a one-stop shop for system updates, warranty details, security details and migration assistance, offering tools for hardware diagnostics, personalised hardware settings and auto-install of critical updates. Basically, Vantage is a one-stop shop for making sure your PC runs perfectly, making it easy to check up on everything from one convenient location.
As far as warranty is concerned, this is what Lenovo provides locally: The Thinkbook 15 carries a standard three year local/International carry-in warranty, which can be upgraded at purchase to Premier, Onsite, Accidental Damage Protection (ADP), Keep Your Drive (KYD) support.
Final thoughts
The Lenovo Thinkbook 15 ticks the majority of boxes needed for a notebook aimed at the SME market. It's a good-looking machine that gets the job done, thanks to decent specs (including an SSD), great ports, an added number pad, Vantage software and full HD screen. That said, little niggles such as viewing angle concerns, battery life under eight hours, and a lack of lights on certain buttons, take away from the overall score.
The Thinkbook 15 can be found online starting from R15 000 and upwards, which seems reasonable for what's on offer.
Stylish for an office device, decent specs, great port options, an added number pad, Vantage software and full HD screen
Viewing angle concerns, battery life under eight hours, a lack of backlights on certain buttons, lock and power input too close to each other