While it seems as though almost every manufacturer is rolling out its version of an Android Honeycomb tablet of late, it would be easy to forget that Motorola's XOOM was actually the world's first Honeycomb tablet. On its surface the XOOM is actually quite attractive, with its black screen and silver accents around three quarters of its diameter, and while it's also on the thicker and heavier side at 708 g, its anodized aluminum composition lends it a solid, utilitarian and even rugged, feel. As plagues every touch-screen to date, the XOOM's screen attracts fingerprints quite readily, and these are no less or more noticeable than other 10.1" tablets that have passed through our hands, and recorded their every mark.

Beyond a quick, flashy opening montage, the XOOM boots up rather quickly, and is ready for use within four seconds. However, Motorola seems to have done little to the stock Honeycomb user interface – it's straight forward enough, but seemed a little ordinary when compared to Samsung's TouchWiz overlay. Nor were there any attractive widgets placed on the device out of the box that showed off how attractive Honeycomb actually can appear, and left us with a distinct feeling of viewing a vanilla device. Luckily nothing a little customisation can't fix.

What turned out to be our pet peeve, and the first issue that caught our attention by virtue of its function, was the placement of the power button on the back of the device next to the left speaker. This had us hunting to find where to switch it on the first time we used it, and felt counter intuitive to modern devices (which house the power button along the sides or top of the device). This gripe aside though, we did become used to the XOOM, and actually enjoyed the weight and the solidity of the tablet, which felt like it didn't need to be handled with kid gloves.

Additionally, at 167.8 mm x 49.1 mm x 12.9 mm, while thicker than the Galaxy Tab 10.1, it was also a little smaller, due to less of a black bevel around the edges. While the screen sizes are exactly the same, the XOOM felt like a smaller tablet in our hands, and ironically, a little more portable despite its weight.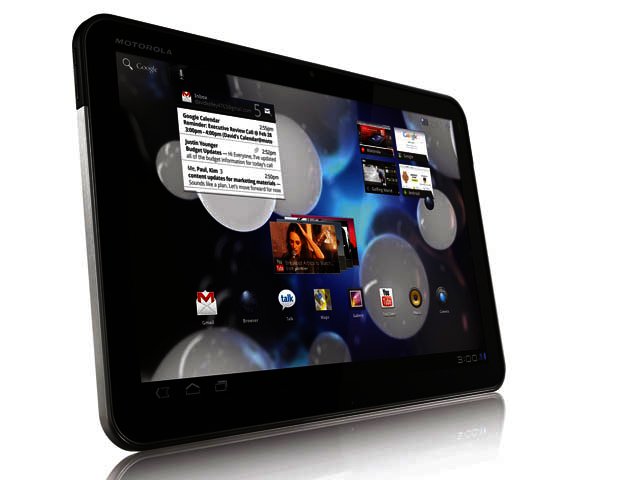 The Motorola XOOM provides a solid experience of Android Honeycomb
Performance

As we have come to expect from 10.1" tablets, the XOOM boasts the 1 GHz Tegra 2 dual-core processor, which coped as well as expected with all the general tasks we could throw at it. It provided smooth transitions between pages when navigating, and was responsive when using pinch to zoom. Additionally, the XOOM blistered through applications such as YouTube, Google Maps and the occasional game and enabled us to browse the internet and open multiple tabs without a hitch. Even so, no Android tablet though can match the smooth experience of the
iPad
, and the XOOM was no exception.
On Smartbench 2011, the XOOM returned a score of 2638 on the productivity index - which is notably lower than the Galaxy Tab 10.1's score of 3368, below that offered by the Acer Iconia Tab A500's 3682, and even lower than the
EEE Pad Transformer's
score of 3115. On the Smartbench 2011's Games Index, the XOOM narrowly bested the
Galaxy Tab 10.1's
score of 2377 with a score of 2444, but still fell short of the
Acer Iconia Tab A500's
score of 2509. Nonetheless, while the XOOM was not the fastest or most responsive in the pack, it would not be fair or accurate to call it sluggish.
However, while we do wish that the 10.1" WXGA (1280 x 800) screen would have been a bit brighter at its maximum setting, and matched the
Galaxy Tab 10.1
's, it was nonetheless adequate enough to be comfortable to read and view, but did not hold up quite as well in direct light. Indeed, placing the two together side by side showed a vast difference in how both 10.1" tablets treated colour, with the Galaxy Tab offering noticeably more saturated and richer colours.
Features and foibles
The one area where the XOOM does stand out is in the inclusion of both an onboard microSD slot and micro USB port, which is something that some other Honeycomb tablets (like Samsung's 10.1) still inexplicably lack. This adds a degree of onboard expandability to the XOOM's 32 GB capacity, and in our mind, future proofs it a little better from a media player perspective. That's a good thing, since playing media on the device was a pleasure. Video was crisp, images were sharp and well defined and the sound on the XOOM was excellent, offering, crisp, loud, clear sound even when set below maximum volume. We did find that the volume buttons could have been made a little more noticeable, as black buttons against a black body tend to get easily overlooked, and the XOOM's volume control buttons were on the small side.
The Motorola XOOM is a solid, attractive tablet

On the Grid

One of the appeals of the Android OS is the ability to customise your home screens and move icons and widgets around to your heart's content. On the XOOM, highlighting a program icon also reveals the grid placement where icons can be dropped, or where they will automatically lock to. With a five megapixel rear and two megapixel front facing camera, HD 720p playback, up to ten hours battery life and 802.11n Wi-Fi, the XOOM has all the right features for a tablet of its class.

While it is not the most stylish tablet, nor is it the most responsive or boast the best screen we've seen to date, nonetheless, if there was a tablet we would feel comfortable taking with us to the beach, or into rough terrain, the XOOM would be it. Its overall impression left us with the feeling that we were holding a device that was solid, dependable and reliable, and one that would easily withstand less than ideal environments or adverse circumstances. The big question is: while it was the first tablet to sport Honeycomb, can it withstand the ferocious environment that is the tablet space?

Conclusion

Since the Motorola XOOM's global release, we have seen the likes of the Acer Iconia A500, Asus Transformer and Samsung Galaxy Tab 10.1, which means that the XOOM has a fair amount of competition now. While its build and obvious quality is commendable, we suspect that the next generation of XOOM's will need something extra to differentiate it more or help it stay ahead of the tablet pack. It retails for R6599.

PROs
Has a microUSB and microSD slot
Rugged, durable build

CONS
Awkward placement of power button
Has a microUSB and microSD slot, Solid, durable build
Awkward placement of power button