Windows 8 tablets seem to be growing and maturing into their skin, with the latest evidence of this coming from Lenovo's ThinkPad Tablet 2.
To start with, the tablet feels like the kind of product one would expect from Lenovo – well built, solid and subtly blending a bit of a conservative business aesthetic with sophisticated chicness. Put simply, the 600 g tablet both looks and feel smart and striking. In the ergonomic stakes, the 10.1" tablet has smoothly rounded corners, and the left hand side of the device (when held in landscape orientation), which holds the included stylus, boasts a lovely curvature.
This means it is a pleasure to hold and work on, aided by the presence of a tactile Windows button at the base to switch between the Metro interface and the desktop.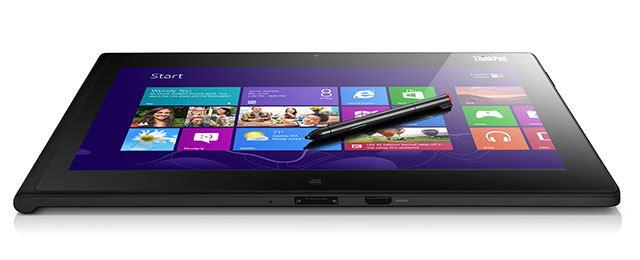 The tablet's stylus/digitiser pen slots firmly in the device's upper lefthand corner and is mostly useful, except in desktop mode, where we found its accuracy to be finicky.
Speed thrills
The former actually works very well – the tablet is fast, responsive, and we dare say Windows 8's swipes (from the far right to open the Charms bar and upwards from the bottom for additional functions) showed no lag whatsoever. Additionally, the performance here is particularly good, thanks to its Intel Atom processor Z2760 (@1.8 GHz) and 2 GB of memory.
Whether watching a movie, playing a game or turning pages on the Kindle app, we had no complaints. Although the screen resolution is 1366x768, we were nonetheless impressed by the sharpness and very good contrast on offer, which made watching movies in particular a treat.
Where the tablet really scores from a productivity point of view is that it has a full-sized USB ports neatly tucked away behind a small plastic covering. We found this to be a boon for accessing flash drives on the go, or supplementing the tablet's 64 GB (56 GB usable) hard drive when we wanted to access media without cluttering up that storage space. This is complemented by a microSD card slot as well.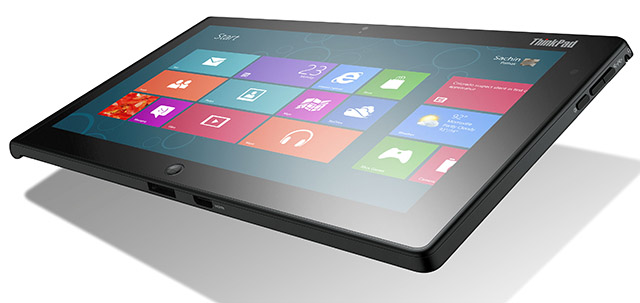 The tablet is for the most part anergonomic pleasure to hold and use, although its volume and power buttons do tend to get lost against its chassis.
Small nuisances
If we had to find fault though, we still found navigating the desktop troublesome, and while the built-in stylus is great to have, we found its accuracy to be finicky, which made electing particular files a hit and miss affair.
Additionally, we would have preferred if the volume, power and auto-rotate toggle buttons were made a bit more distinguishable – finding these in the dark is a bit of a challenge, as they are not very pronounced, and being black, blend in with the tablet's chassis. In terms of volume output, it was decent, not exceptionally loud but we could still comfortably watch a movie sans headphones nonetheless. While our review model was WiFi only, apparently there is a 3G version available too. In terms of battery life, the tablet lived up to its claimed ten hours, an attribute we suspect was enabled by the processor.
These, however, are small niggles. As far as 10" Windows 8.1 tablets go, the ThinkPad Tablet 2 is dare we say one of the best 10" Windows tablets we have come across to date. RRP: R10 000.
Fantastic build, USB port a boon for expandable storage and watching movies, Sharp screen, Great performance and battery life
Stylus quite finicky, Buttons get lost in the chassis, Windows desktop on a tablet still a hit and miss affair