We may not have seen as many notebooks and ultrabooks this years as in times past, but we have seen is an increasing number of interesting, and sometimes even innovative form factors from manufacturers who were clearly trying out new designs to accommodate Windows 8's touchscreen capabilities.
The latest, which comes from Sony, checks both the interesting and innovative boxes on that list. From the exterior, the ultrabook looks similar to many others, except for one detail – a crease line running down the centre of the lid. This has its practical application, as you discover once you lift the lid.
Much like on Acer's Aspire R7 (review), this hinge enables you to view the screen as one would on a traditional notebook or flip the screen and drag it over the keyboard to concentrate on web browsing, for example. Furthermore, users can also flip the screen entirely so that it is facing the other direction, with the keyboard and trackpad behind it; particularly handy when one is watching a movie. Finally, one could use it in a tablet orientation for those who prefer to do everything using the touch interface. The question is, however, whether people would actually be inclined to use these various configuration options, or rather just stick with using the ultrabook as they would conventionally. That, however, would depend entirely on user preference.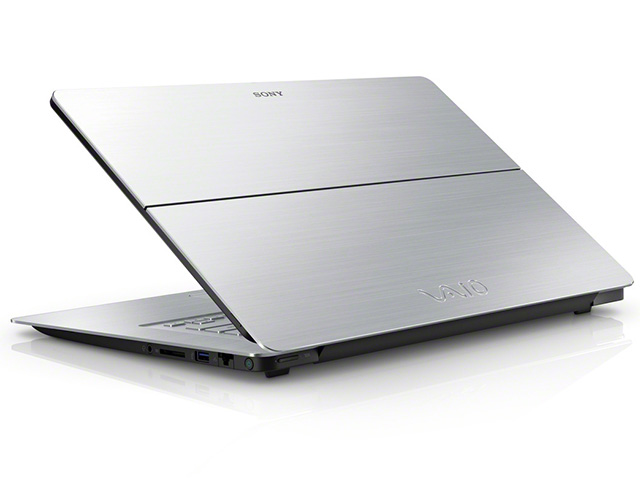 Coming as no surprise from Sony, the ultrabook is beautifully styled, and certainly looks the part of a modern, appealing device.
Dressed to impress
Granted, it could argued that Acer's Aspire R7 does a similar thing. The most apparent difference between these two notebooks though is that the VAIO keeps its trackpad beneath the keyboard, unlike Acer's offering. While Acer's design was certainly different, on this front we tended to prefer the VAIO's traditional trackpad placement.
The design difference found on our review model's all black VAIO ultrabook doesn't end with just the screen though. The aluminium base of the notebook is also quite distinctive; with thin, chamfered edges that lends it a sleek, stylish and somewhat futuristic aesthetic, and reminded us a little of the Samsung Series 9 900X noteback (review) from 2011.
While comparisons between Acer and Samsung's offerings come to mind, to its credit Sony's ultrabook looks and feels different to and unique from both. Additionally, and no surprise here from Sony, the build quality both looks and feel top notch, and certainly conveys a sense of being a premium product. Indeed no creak or flex from the keyboard and display respectively was evident.
Screening here
Another area where this ultrabook stands out in the 15.5" screen itself, which is a pleasure to behold, thanks in no small part to its full HD (1920 x 1080) resolution. Indeed, colours are bright, clear and saturated on the screen, while also exhibiting some very good contrast. This is despite the fact that the display is not overly reflective, something that we particularly appreciate (we still maintain that if screens are so reflective that you can effectively shave in front of it, something has gone awry).
What this means of course, is that the VAIO practically begs to be loaded up with photos and movies, and does a great job at rendering both. Indeed, it's not just the screen that is up to the challenge; the ultrabook is capable of seriously loud sound output that practically reverberates across the entire frame, although the audio does get a little distorted at the very top-end.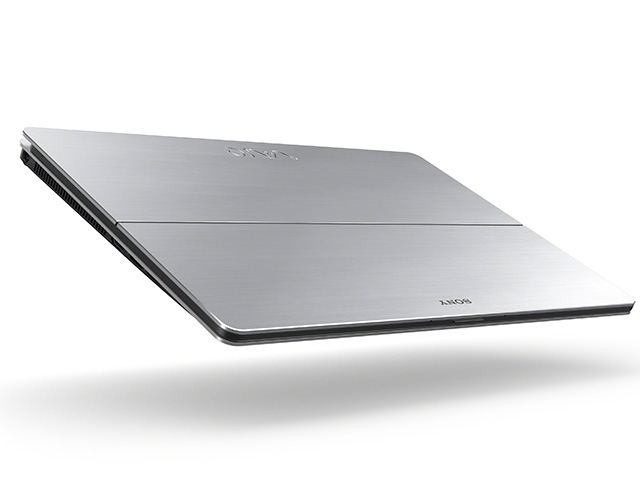 The first clue that this is no ordinary ultrabook is the crease running down the top of the ultrabook cover; in fact, a hinge that enables users to flip the screen into various configurations.
Performance pickle
So how does it perform? Well, in general tasks, very well in fact. Indeed, this was hardly a surprise, since under the hood purrs the Core i5- 4200U CPU, accompanied by 4 GB of memory (which is alright, although we would have liked to have seen more) while a Nvidia Geforce GT 735M handles the graphics and a capacious 1 TB drive caters for storage.
Inexplicably though, the ultrabook point blank refused to render complete benchmarking scores, despite the fact that we downloaded and installed the latest versions of our favourite benchmarking applications (Heaven and 3D Marks among them). Ultimately, we concluded that this was not the fault of the hardware, but rather seemed due to a problematic Windows 8 installation.
Alas, we can't talk about a notebook nowadays without also mentioning Microsoft's operating system, which was as intrusive, annoying and marred by erratic behavior as ever. Our test unit was not yet updated to Windows 8.1.
Key components
Moving on, the chiclet keyboard itself is a bit of a double edged sword. On the one hand, it boasts some lovely backlighting (something which is always a welcome sight on a notebook or ultrabook). On the other hand though, keypress is particularly shallow, while the keys themselves seemed noticeably smaller than you would normally find. Granted, this might just be to the liking of some users; for those who prefer deep and springy keys, well, this VAIO certainly doesn't deliver.
More disturbing was the sink that the keys were set in, which seemed to waver with the slightest touch. If anything this felt like the ultrabook's Achilles heel, and reminded us, not too favourably, of the wafer-thin backplates that some manufacturers tend to use on their smartphones.
Alas, considering the high-quality build of the rest of the machine, it was all the more glaring and noticeable, and just as unwelcome as a portly streaker at an otherwise exciting rugby game.
Two USB 3.0 and one USB 2.0 port, an HDMI port and an SD card slot round off the VAIO Fit 15A; yours for R16 000 for the i5 version and a pricey R18 000 for a Core i7 processor.
Beautiful screen, Striking design, Innovative hinge works well
Disappointing keyboard, Sound distorts at high end, Expensive