The first and easily most distinctive quality that struck us when opening up the Toshiba Satellite L755 was its appearance. The notebook is graced with a weave-like hexagonal pattern across its silver lid and palm rest, and attractively complements its black and silver colour scheme.

This lends it an undeniably classy appearance, and immediately caught our eye. Adding to this, we also appreciated its reassuringly solid build.

Despite being made of hard plastic, the L755 felt firm and well manufactured. While not the heaviest notebook we've tested by any means, at 2.5 kg, the 15.6" device still has a slight heft to it. Nonetheless, we still found it to be light enough to comfortably carry, both in a notebook backpack and notebook briefcase style bag.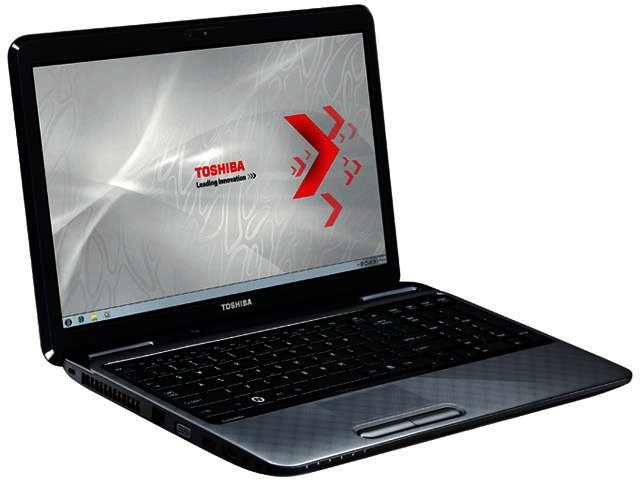 Toshiba's Satellite L755 is an attractive, classy looking notebook.
Delving Deeper

Beyond the initial favourable first impressions, we were interested to see how the notebook stacked up with regards to other, more important features. The first of these to come under scrutiny was the screen. On this front, the 15.6" display, which offered a 1366 x 768 resolution, continued to win us over.

While some glossy notebook screens tend to dish up more than their fair share of reflections, the L755's screen managed to balance offering up glossy sharpness and clarity with not being overly and distractingly reflective. Additionally, the LED backlit screen, when cranked up to full brightness, was simply beautiful to behold and watch movies on.

Key Concerns

The next area of exploration was the keyboard and trackpad. On this front, there were both positive and negative aspects. While Toshiba have managed to include a handy numeric pad, this has been at the expense of a full sized space bar, as well as resulting in a slightly smaller backspace, enter and left shift keys. Other than that though, we found the keypress depth to be adequate and comfortable enough to type on. However, the keys, while not being a true chiclet layout, are squarely shaped without the slope that some keyboard users find helps make typing more pleasant.

Of greater concern is both the placement and the depth of the trackpad. Once again, our pet peeve on notebooks, that of a trackpad that is situated a little too far left, made an appearance. This though, seems to be becoming more frequent amongst a number of notebook manufacturers, and we may just have to get used it.

Nonetheless, it is still preferable and feels more natural to us when trackpads are located in the centre of the palm rest, and invite us to rest our hands on both sides of the palm rest with the trackpad in the centre. In its favour, the palm rests and base of the notebook never become overly warm, which while a small point, was welcome nonetheless.

The other concern though, was that the trackpad has very little depth, and blends into the base of the keyboard a little too readily for our liking.This didn't affect its performance however, as the trackpad was unfailingly responsive, with no dead spots at the corners. Additionally, the two mouse buttons at the base of the trackpad were prominent, easy to access and firm to touch.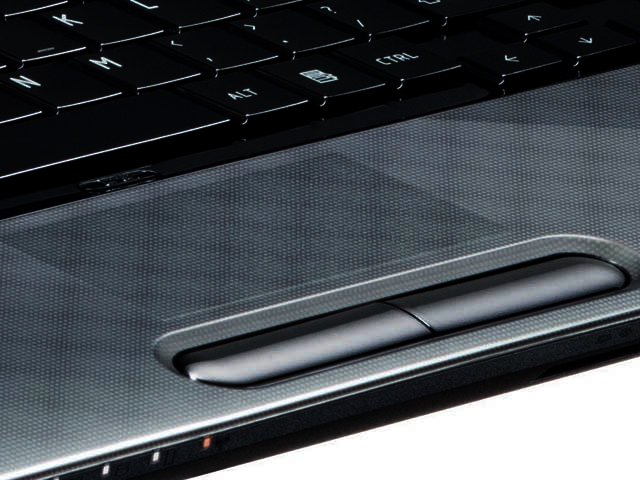 While the trackpad is a little too level with the notebook's base, the mouse buttons were large and a pleasure to use.
Performance

Bearing in mind that the Satellite L755 is a mid-range notebook, with a recommended retail price of R6999, we were keen to see how well it performed. It was here that the notebook really started to shine. To start with, it packs the very decent Intel Core i5-2410M processor, which is clocked at 2.3 GHz, and a 640 GB hard drive. While the notebook comes with 4 GB of DDR3 memory, this can be expanded to 8 GB.

Joining it is the capable Nvidia GeForce GT 525M graphics card, with CUDA Technology and 2 GB of video memory. Additionally, the available graphics memory can be further expanded using system memory, by employing the company's TurboCache technology. This means that graphics memory can be pushed to a maximum of 3.8 GB with 4 GB system memory installed, and up to 4 GB with 8 GB system memory, (with the pre-installed 64-bit operating system).

In general usage (opening and closing windows and applications, browsing the internet, watching videos) we found the notebook to perform flawlessly. The i5, while not top of the range, is still a very capable processor, and 4 GB of memory is certainly up to most demands placed on a computer by the average user. In this respect, for a mid-range offering, we found the notebook to offer above mid-range performance.

In our benchmarking tests, the notebook also offered satisfying results, delivering a score of 6776 in 3D Marks 6, just a little below the Acer Aspire 5742G's score of 6857 but still besting another Core i5 notebook, the Asus U36S's score of 4857. It also offered up a Passmark score of 1277, and a score of 266 in our Heaven benchmark.

Longevity and Sound

The notebook's battery life was adequate, offering up to four and a half hours on a charge, depending, as usual, on usage patterns. Sound was above average, and although not the loudest when cranked up to full volume, remained free of distortion when music was played through the notebook's speakers. On a good quality pair of headphones (in our test, a pair of Sennheiser PX100's), sound was even better, offering appreciable base and richness.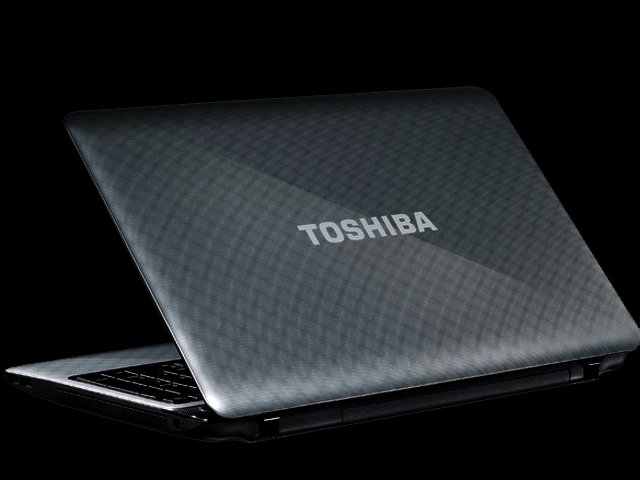 One thing we loved about the notebook was its inclusion of a Blu-ray drive.
Added Extras

The next notable and appreciated surprise on the notebook was the inclusion of a Blu-ray drive (remember, this is a mid-range notebook, it is not part of Toshiba's pricier, entertainment focused Qosmio range). This alone made a compelling argument for the notebook, particularly for those who want a Blu-ray player but don't own or have no interest in purchasing a PlayStation 3 or dedicated player.

For these users, an HDMI port is essential, and thankfully, the Satellite L755 does have one onboard, for outputting Blu-ray movies to one's TV. It is joined by two USB 2.0 ports and one USB 3.0 port which supported Sleep and Charge. This enables users to use the notebook to charge their devices while the notebook is hibernating, in sleep mode or even off. Additionally, a multi-card reader can be found on the front of the notebook, just beneath the trackpad.

To the point

For the specifications and performance on offer, not to mention the included Blu-ray drive, the L755 is very aggressively priced. While the notebook may be let down slightly by a keyboard and trackpad that would benefit from some tweaking, and optimally the addition of backlighting, the L755 is still a beauty of a mid-range offering. We thoroughly enjoyed using it and found our first favourable impressions in this case to prevail.
The Toshiba Satellite L755 has a RRP of R6999.
Pros: Beautiful Screen, Impressive specifications and performance, Included Blu-ray player, Competitive price.
Cons: Flush trackpad
Beautiful Screen, Impressive specifications and performance, Included Blu-ray player, Competitive price
Flush trackpad