Vodacom is looking to give a lot more South Africans a way to access the internet, first starting with the
Vodafone Webbox
earlier this year, enabling users to connect by way of their TV sets without having to worry about a PC.
Now the company has made the
Vodafone Webbook
netbook available locally, bringing a simplified device to local users that can be easily used to connect to the web.
Design
This
Ubuntu Linux 10.04
-operating netbook is ultra portable, weighing less than 1 kg. The Vodafone Webbook boasts a 10" (1024 x 600 resolution) LCD display, which offered a better viewing experience than we expected, with text remaining crisp on email and webpages. The display size does a good job of fitting in websites, so that you don't have to scroll across the breadth of the page too often.
Our unit had a sleek matt white cover, which did a great job of hiding fingerprints, while the body is constructed out of hardened plastic. This did not look like it was particularly fond of taking a knock, while the small hinges in particular did little to inspire confidence.
In terms of sound the netbook's speaker, located at the bottom of the unit, is certainly not the best we've found on a netbook. Sound was paltry, with distortion at the highest level, and without much bass to speak of. It is suited to watching a movie whilst lying on the bed or listening to music whilst surfing the net at your desk, but certainly won't substitute your boombox when you want to have your room engulfed by your favourite tunes. There is a 3.5 mm audio jack though if you want to personalise your listening experience.
Keyboard and touchpad
You can edit and create documents via the slightly smaller than average keyboard, which is actually easy to get used to. That said, the smaller size coupled with the lack of space in between individual keys does not assist you with comfort on extended typing sessions - a common problem on netbooks. The touchpad was more responsive than we expected, but doesn't offer multi-touch gesture support, the likes of pinch-to-zoom within the browser or photo viewer.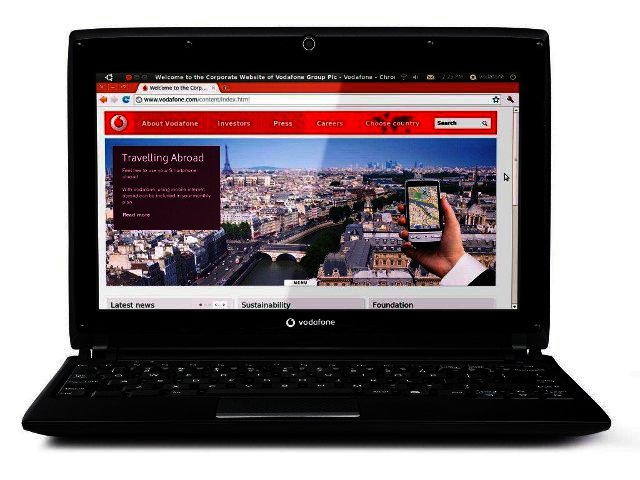 Underneath the hood and Performance
At a low-cost of R1499 (including VAT), you wouldn't expect the Webbook's specs to set the netbook world alight, and this is indeed the case. Powering the device is a Freescale 800 MHz Mx515 ARM Cortex A8 CPU, with this ARM-based chipsets a much more common site on
smartphones
. The inclusion of this processor has undoubtedly assisted in bringing down the cost of this device, but has also affected its performance.
You do get a very reasonable boot-up time of around 55 seconds to a minute, but for general performance the netbook is sluggish. Whether you're starting the Firefox web browser (version 5.0) or viewing your photo collection via the File Manager, there is a very noticeable lag. But for its sub R1500 price-tag, it's a consideration you need to feel comfortable living with.
Notably, the Webbook delivered nearly 5½ hours of battery life when only playing movies, at the same time as being connected to a Wi-Fi network.
Storage capacity does not fare much better than the processing performance (or lack thereof), since the Webbook only has 4 GB of internal flash-based space.
What's on offer in Ubuntu Linux
The majority of the storage space is used for the easy-to-use Ubuntu Linux operating system, and preloaded apps such as the Mozilla Thunderbird email application and OpenOffice 3.2 for document viewing and creation. Mozilla Firefox handles the web browsing duties (you can download alternative such as Google's Chrome browser), which has been branded as it takes you to the Vodacom page when opened.
You also have access to the Best of South Africa infotainment portal, which provides you with links to some of the best local news and entertainment sites including
Beeld
and
Business Day
, as well as
Cricket South Africa
,
DStv
and
5fm
.
The space that the OS and apps take up (around 2.4 GB), leaves just 1.6 GB of storage space, which might be adequate for all your documents and apps, but definitely not for your multimedia files as well, meaning you won't be able to upload all your movies, series and music to this netbook.
The Vodafone Webbook offers a VGA front-facing camera as well as a built-in microphone and users can employ the Cheese Webcam Booth app to capture photos and record video. Unfortunately the photos come out looking really grainy and pixelated, with the videos not fairing much better.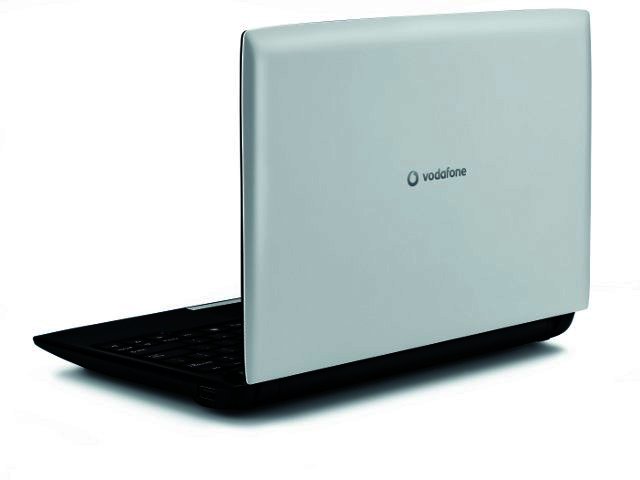 Pros and extras
This lack of storage space sees you relying on USB flash disk drives to access your multimedia, as there are two USB 2.0 ports (one on each side) on the netbook, as well as on cloud-based storage solutions the likes of Microsoft's
SkyDrive
and
Dropbox
.
To access these cloud-based storage services, the Webbook comes equipped with Wi-Fi connectivity to connect to a company or home network, while you can also purchase the device with a Starter Pack that includes a Vodacom USB modem for connectivity on the go.
The Starter Pack includes a USB modem, data SIM card and 100 MB of data per month over a period of 12 months. Alternatively, you can opt to take the netbook on a Vodacom contract for at R189 on a standard My Meg 500 for 24 months, or the Top Up option that includes a modem and 100 MB of data per month for three months at R169 on a Top Up 135.
Final word
Vodafone's Webbook will provide many local users with a way to access the web. Its specs may not inspire mind-boggling netbook performance, but are respectable when you consider the purchase price.
We think it could have done with a bit more storage space and processing oomhp, and our advice would be to go to a Vodashop and actually play around with the Webbook to see how you feel about its performance.
The Vodafone Webbook is available at Vodacom World and all participating outlets at a very good recommended retail price of R1499 as a standalone device, or you can get it with a prepaid Starter Pack at R1899 (including VAT).
Pros:
Affordable solution
Very portable and lightweight
Excellent battery life
Ubuntu is simple to use
OpenOffice feature for document and spreadsheet creation

Cons:
Sluggish performance with noticeable lag
Speakers lack sound-oomph
Very limited amount of storage space
Affordable solution, very portable and lightweight, excellent battery life, Ubuntu is simple to use and the device is preloaded with plenty of useful apps such as OpenOffice.
Sluggish performance with noticeable lag, speakers lack sound-oomph, very limited amount of storage space.