A number of the desktop replacement notebooks that entered our office recently were aimed squarely at the gaming market. This usually means unusual designs, with the units looking more like UFOs that landed instead of a regular notebook. HP's extremely stylish Pavilion dv7 notebook offers a more traditional approach to design, while not skimping on performance.

The dv7 unit that arrived at our office (6b51ei) features an aluminium brushed-metal chassis with an almost dark-brown tint. Opening up the notebook you'll find the full sized Chiclet-styled keyboard with number pad, surrounded by the same brushed-metal, stylishly outlined with a silver-finish. It's a classy look for a very high speced notebook, with the dv7 strong on both performance and entertainment.
All out performance
As far as performance is concerned, the dv7 sports a very powerful 2nd generation Intel Core i7 processor. The i7 range of processors is at the current top of the Intel consumer processor stable when it comes to performance, with the Core i7 2670QM, running at 2.20 GHz, definitely no slow poke. Combined with 8 GB of RAM it makes for a flawless computing experience, but the clincher is the AMD Radeon HD 6770M (2 GB DDR5) graphics card that's also onboard. In combination, the CPU and GPU will make short work of video or 3D graphics work, while also providing very solid gaming performance.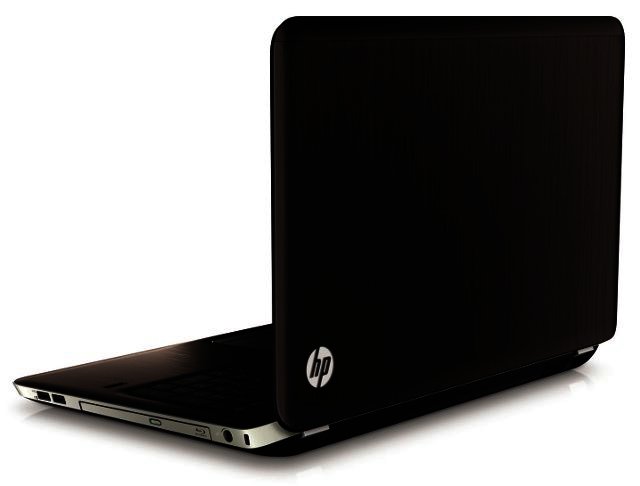 The brownish tint of the brushed aluminium is very stylish.
The dv7 proved to be a very powerful beast indeed, clocking up an excellent 10991 in 3D Mark 06. It compares very favourably to the
Asus N53SV
, which scored 9433 (Nvidia GeForce GT 540M GPU onboard), while also outclassing the
Toshiba Qosmio X500's
9590 (Nvidia GeForce GTS 360M, although first generation i7). In Heaven Benchmark v2.0 the HP scored 377, performing slightly below the N53SV's 399, but not coming close to the
Alienware M11x's
(first generation i7) 517.

Relating this to real-life performance, we managed to play the latest Battlefield 3 on the dv7 with texture quality set to ultra, with the rest of the settings mostly on medium. Although it cannot be described as a flawless experience, the dv7 performed very well indeed. You can hear the fans going to work as soon as the game fires up, and it did a good job too, keeping heat from emanating from the palmrests, although the steady warm stream of air did heat up the area in the vicinity of the fans.

Notable is the fact that if you unplug the notebook, the dv7 switches to the less power hungry Intel graphics, helping to extend battery life. It works fine for less intensive tasks; just don't try to take on work where lots of graphics are involved. In general we thought the battery life was good for a machine of its size, providing 3½ hours when only playing movies and connected to the Wi-Fi network.
More than enough for media
The one thing you need not worry about with the dv7 is storage space, seeing that you have not 1 Terabyte (TB) of storage, but rather 2 x 1 TB (5400 rpm) just to make sure. This leaves more than enough space for an extensive library of digital music and movies.

These can be viewed on the 17.3" LED backlit screen, offering a resolution of 1600 x 900, which is HD ready but unfortunately not full HD. It's a shame really since the dv7 comes with a Blu-ray player too, although an HDMI port is ready to connect the notebook to an HDTV. Slightly more saturation on the screen would not have gone amiss either.
Also onboard are 2 x USB 2.0 ports and 2 x USB 3.0 ports (making up for no eSATA), ensuring that data transfer is future-proof and blazingly fast. A full HDMI port is present, so too a LAN port and VGA connection.
Now with Beats Audio
The Pavilion dv7's multimedia capabilities are rounded off by a very important feature found on some of HP's new notebooks, namely its integrated Beats Audio. Beats by Dr. Dre is currently responsible for some of the best headphones on the market, while the company is also now providing sound on HTC's higher end phones. On the dv7 you'll find three regular speakers arranged just underneath the screen and below the palm rests, while a subwoofer is located underneath the machine. This configuration, along with Beats Audio, means that you don't have to worry about tinny or underwhelming sound at all if you are looking to play movies or listen to music via your notebook.
For playing games or watching movies the sound is perfect. Sound comes across more refined on the dv7, although a bit more volume would have come in handy. Just like Dell's
Studio 1558
, the dv7 provides two earphone jacks. Additionally, the Beats Audio graphic equalizer allows for different pre-set sound arrangements, for example when listening via earphones or through the onboard speakers. You can also differentiate the sound settings according to whether you're watching a movie or listening to music.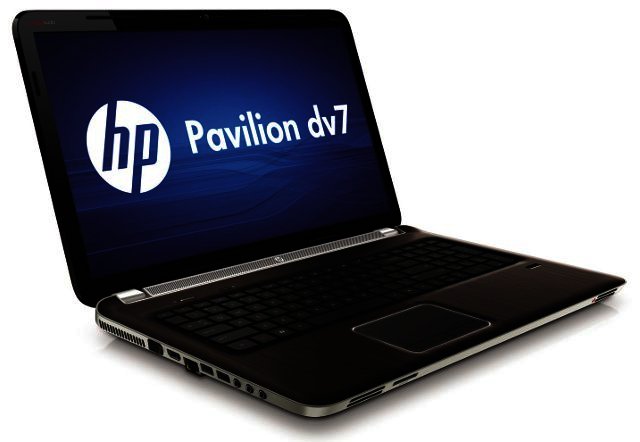 The HP Pavilion dv7 makes for a very tempting proposition.
Keyboard and mousepad

The chicklet styled keyboard is not the most comfortable we've worked on but it does the job, while the included number pad makes an important addition for anyone who needs to handle a lot of spread sheets. We wished the keyboard was slightly raised, which would have provided a more comfortable typing experience. Although the brushed aluminium surrounding the keyboard and lid is particularly attractive, it also accumulates fingerprints quite easily.

One useful addition, often found on Macs and Dell notebooks, is that the F-keys are automatically set to the 2nd function. This means you don't need to press Fn + the appropriate F key to, for example to adjust the brightness or volume, only the F-key. It makes for quick and easy adjustments, and helps HP keep the surrounding design very clean, with only a small power button, browser launch button and fingerprint reader making an appearance.

The mousepad was large enough and had sufficient edges to distinguish between it and the palm rests. We did not have a problem with it being centred too much to the left, but if you find that your palm is hitting the pad, it can be quickly and easily turned off by pressing the top left-hand corner. The fact that the mousepad's edges are lit-up makes for a nice, but basically useless addition, and the dv7 would have benefitted much more from a backlit keyboard. Not to come across as picky but the mousepad's buttons' loud "click" makes for an irritating soundscape when working. Luckily most of your work will be done via a dedicated mouse.

Conclusion
With two Terabytes worth of storage, a blazingly fast processor working hand in hand with a powerful graphics card, and Beats Audio providing better-than-the-rest audio, the HP Pavilion dv7 is a massive multimedia powerhouse wrapped up in a very stylish package. Its retail price of R16 999 does not come unexpected, and it is available from Incredible Connection, Dion Wired and the HP Experience store in Sandton City.
Pros: Very solid performance from both CPU and GPU, stylish brushed aluminium looks, 2 x 1 TB hard drives, Beats Audio.
Cons: Screen not Full HD, keyboard not backlit, Blu-ray tray a bit flimsy.
Very solid performance from both CPU and GPU, stylish brushed aluminium looks, 2 x 1 TB hard drives, Beats Audio.
Screen not Full HD, keyboard not backlit, Blu-ray a bit flimsy.