Over the years I have come to realise there are two types of mouse users – those who love the larger, full featured pointing devices and then others for whom a small, compact and lightweight is top of their requirements. The Logitech MX Anywhere 2 mouse firmly caters to the latter.
The reasoning behind a compact wireless mouse is obvious: that of accommodating road warriors and users who tote their notebook from one location to the next. Having a small mouse on hand that can be easily slipped into a notebook bag, with no wires to worry about, is clearly a draw.
However, beyond this, small mice can and do appeal to other users too, such as those who have smaller hands or for whom a lighter peripheral will always take the win.
Push the button
As with its bigger brethren, the mouse is solid and well made. It's light at 106 g and made of hard plastic, but the Anywhere 2 doesn't feel cheap.
In terms of buttons, it's mostly the usual fare – your left, right and middle buttons, with the latter being integrated into a particularly speedy scroll wheel. This is complemented by back and forward buttons just beneath your thumb when used in the right hand, for, you guessed it, navigating backwards and forwards in your browser.
Alas, this is a clear indication that the mouse has been designed for the right handed in mind; sorry lefties, you get the shaft again.
Incidentally, while these are the default functions, you aren't limited to them. Installing Logitech Options software (which you need to download) enables you to customise the mouse further, assigning alternative keystrokes or applications of your choice to the buttons.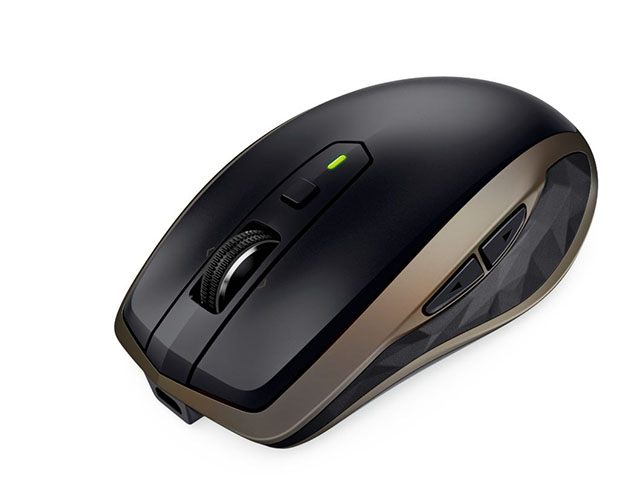 Strange surface? No stress
Where the rubber meets the road for a mobile mouse in particular is how well it performs on a variety of surfaces. Glass especially, taunts mice with the similar malevolent glee that Hannibal Lecter toyed with Clarice (if you don't know to what I am referring, stop what you are doing right now and go watch Silence of the Lambs).
To its credit, when confronted with glass and a myriad of other tricky surfaces, the mouse responds with the same degree of poise and self control as Jodi Foster's agent. This, apparently is thanks not to rigorous training by the FBI, but the Darkfield Laser sensor, which is intended to provide for tracking on virtually any surface.
Bye bye batteries
While the mouse is small, it does pack quite a few nifty features. The first of these is versatility; you can either connect it by plugging the tiny included dongle into a free USB port or using Bluetooth Smart.
Worth mentioning is that the mouse has eschewed replaceable batteries for a built-in rechargeable one, should this run low, you can recharge it via a USB port. The likelihood of you needing to do this frequently is very low though, as Logitech claims users will have two months on a single charge before they need to feed the mouse power again.
That being said, opting for a rechargeable solution obviates the problem associated with some other wireless mice, which need batteries to continue working and can send you hunting for penlight or triple A batteries in an airport when you discover your wireless mouse has lost its get up and go. Supporting yet another device's needs for expensive batteries may power the device in question, but it can easily drain one's cash when you have a small army of peripherals, remote controls, console controllers and the like to keep well fed.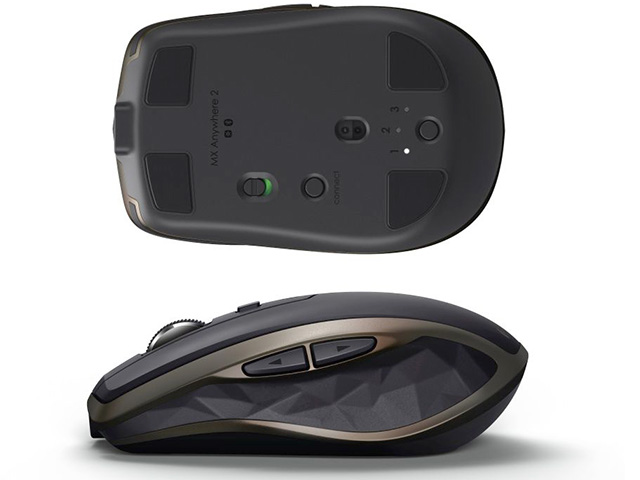 Worthy additions
The other feature of the Anywhere 2 I particularly liked is a small button resting just below the scroll wheel, which, at a press, brings up all open windows. Pressing this button again cycles through the open windows, and makes for a quick and easy way to flip between multiple applications.
Additionally, as has become a staple feature with Logitech, the mouse allows you to pair with three devices, and switch between these by pressing a small button on the back and base of the mouse.
All of this adds up to a mouse that is an easy recommendation for those seeking a small peripheral, whether it's to accompany their wanderings or do duty on their desk. It has a pricey RRP of R1 600.
Comfortable and compact, Tracks on a myriad of surfaces, Easy to install and set up on multiple PCs
Expensive