With the release of the next new iPad (the fourth generation iPad) Stateside, which hopefully will be launched locally shortly, Belkin's Pro Colour Duo TriFold Folio is an excellent adjunct to those anticipating who have bought a new iPad 2 or 3, as well as those who are anticipating buying Apple's latest and greatest tablet when it arrives here locally.
The cover firstly looks smart (our review version was an elegant duotone of grey and black with a red strap) and is clearly crafted from some quality materials, with only an opening on the back for the camera being evident.
The iPad itself sits snugly and securely in its own inner plastic mount, via rubberised grooves at each of the four corner. The mount though, is slightly recessed within the full footprint of the case; a good thing since the sides of one's iPad are otherwise exposed.
The inside cover is made of a soft material, which felt almost vellum-like to the touch. While the case is secured shut via a strap, it nonetheless did allow for the waking and sleeping of our tablet when opened and closed respectively. Equally as convenient is the foldable positions the screen can morph into – one for typing and a second as a stand for watching movies.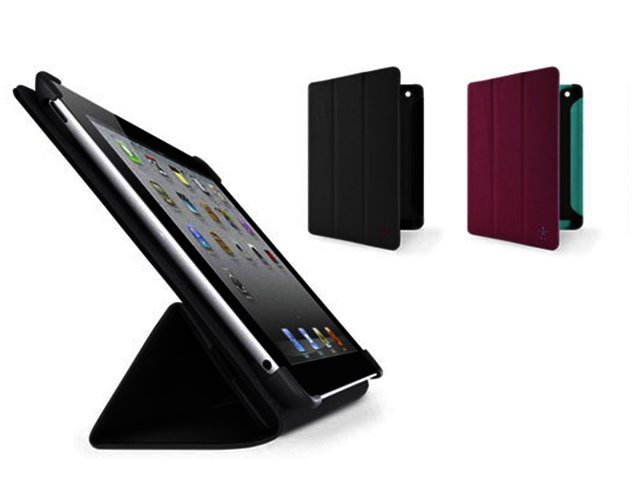 The folio can be folded up to sserve as a stand for watching movies.
Hold on tight
Nonetheless, we had few worries when slipping our iPad 2 into the case, as the tablet was held firmly at its corners and exhibited no slippage.
That being said, it did feel like the right hand side of our tablet when in portrait orientation wasn't recessed as fully inside the case as the other sides of our tablet. On the up side, this also meant that the volume controls and orientation lock was easily accessible.
Also worth noting is that the Folio currently caters to both the iPad 2 and 3, and thus we suspect will just as easily accommodate the 4th generation iPad well.
Particularly important is that the Folio did not materially affect our iPad's weight or thickness, making our iPad only marginally heavier, but not to the extent that it was uncomfortable to hold or carry.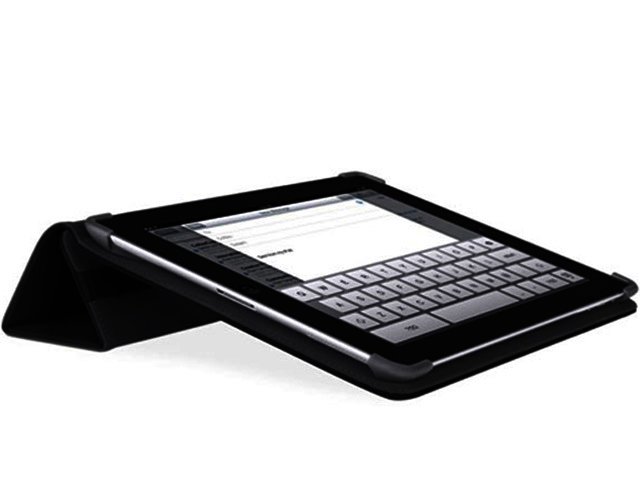 Folding it another way elevates it slightly, ideal for touch typing.
To the point
In essence, the Belkin Pro Colour Duo TriFold Folio is a good quality, attractive and convenient solution for housing and caring for one's iPad, and that is really all it needs to be. It has a RRP of R440.

Pros
Constructed from quality material
Inserting and removing one's iPad is easy
iPad held snugly in place by inner plastic mount
Accommodates two most used positions
Cons
Adds a little bit of weight and thickness
Requires strap to be secured shut
Constructed from quality material, Inserting and removing ones iPad is easy, iPad held snugly in place by inner plastic mount, Accommodates two most used positions
Adds a little bit of weight and thickness, Requires strap to be secured shut