We have long been impressed by Synology's Network Attached Storage (NAS) solutions and with the latest DS220+ that arrived on our desk for review, that streak has continued. Not everyone may be familiar with NAS devices and why they are useful.
In essence, the DS220+ is akin to a mini server, with a 2-core 2.0 GHz processor, up to 6 GB of RAM, and ports. It is designed for a particular purpose, and that is to be your own personal, private and secure cloud and media manager by connecting whatever you store on it to your network. It is then available to you from anywhere with a decent connection.
Hitting the ground running
As with previous NAS Disk Stations from Synology, setting up the DS220+ is easy. You do need to have a hard drive formatted and ready to be included, though thankfully this can be a 3.5" or a 2.5" drive, to install the dedicated operating system. From there you just plug in into your router via its ethernet port and run through a quick setup wizard on your PC on the same network, in which you will choose a username and (hopefully strong) password.
Once done, all content stored on the NAS become accessible through a web-based interface, though we must add, that there are dedicated apps for iOS and Android which enable you to access it from mobile devices as well.
In terms of how it looks, the DS220+ is inconspicuous, compact and can easily fit into a small nook or cranny. You do get a display and a little auditory notification when the device is turned on and properly connected, along with LED lights that let you know that the installed hard drives are functioning as they should be.
There are a few scenarios where NAS like the DS220+ come into their own – first, when you are travelling, and secondly, when you need more storage than your notebook/tablet/smartphone can comfortably handle. Admittedly, travel has been scarce for the past 18 months, due to the pandemic, but indications are that it is gradually opening up again.
An even more significant arena where the DS220+ will likely prove useful is in hybrid work – where many companies are looking to combine work from home policies with some back to the office scenarios. Even as the argument can be made workers will just store their files on their notebooks, and that is true, the DS220+ is terrific for a backup solution, which is always recommended.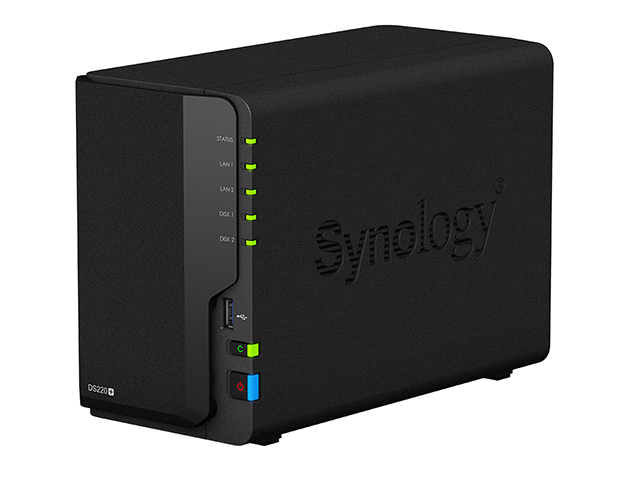 Caveats and compelling reasons
By including two hard drive slots – note, you have to buy the hard drives separately, they are not included with the device, incidentally, my main criticism of the device – the DS220+ also addresses the issue of storage on mobile devices, which somehow, end up never being quite enough, especially if you take videos or store a lot of content.
While you can buy the top tier of smartphones that have maximum built in storage – with the iPhone 13 Max Pro recently introducing a 1 TB model for example - they are highly expensive, easily exceeding the R30 000 mark.
It is considerably more economical to just offload your large media files. For example, an 8TB hard drive costs around R3500, and with the DS220+, which costs around R5500, you can get 8 TB of storage without breaking the R10 000 mark. That, we might add, is a third of the price of a smartphone that has the maximum built in storage, while getting eight times the capacity.
Squaring up against the competition
Like most NAS's, the DS220+ has two competitors from a storage point of view – portable external hard drives and cloud providers. While the former are certainly viable backup solutions, and ones we use frequently, the problem is that when you have several portable hard drives, it can become very easy to forget which drive you backed up an important file to. And going through three or four (or more) external hard drives looking for a particular document/photo/video or important work related content is not fun. At all.
Furthermore, if you transport your portable hard drives with you when travelling or commuting and happen to have had the experience of having a hard drive, filled to the brim with important content fall out of your backpack and crash to the floor, you know how gut wrenching that can be.
However, the NAS doesn't mean you have to throw away your portable hard drives, rather, it offers two USB 3.0 ports (one on the front, one on the back), into which you can just plug external hard drives and they are fully accessible from a central, safer source.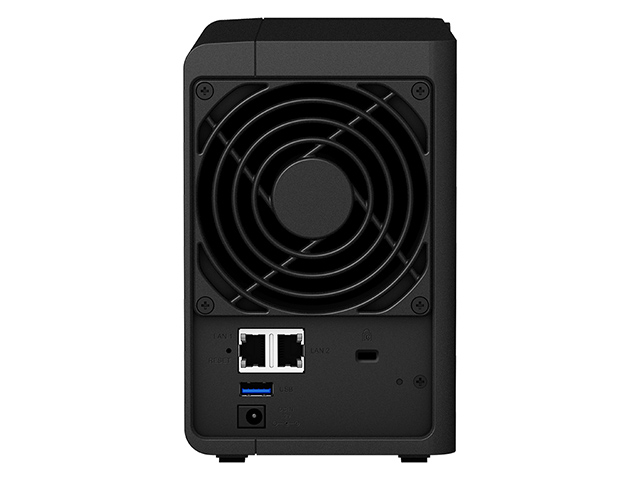 Extensibility
Ok, you might be asking, sounds great, but why should I bother when I can just upload my files and folders to Dropbox/Google/Amazon/iCloud? The reason, especially for small business owners, is a compelling one. With cloud providers, forget for a moment the monthly cost, more importantly, you may need certain sensitive data to reside locally, and not be comfortable with it resting on another country's servers.
Additionally, the DS220+ has a few other tricks up its sleeve. With its dedicated Audio Station and Video Stations apps, you can set up your own personal music and video library which can then be streamed to Google cast enabled devices. Even as Spotify has answered the desire to have a music library in the palm of your hand, it doesn't account for all those videos you take with your phone. These can be offloaded to the NAS and streamed to a variety of devices, via Video Station, without clogging up your smartphones' precious and limited storage.
Additionally, there is an extremely extensive app store for the NAS, which can extend the device's functionality far beyond the scope of what we have covered here. Suffice to say, as with previous times we have setup a device from Synology, this compact, inconspicuous device has proved its value over and over again. It costs approximately R5500 - R6200 although we recommend looking around a bit online to find the best price.
Full Disclosure: The DS220 was provided by Synology to review as a seeding unit and was not returned.
Compact, Powerful, Expandable
Hard drive not included