Saving and maintaining the world's supply of fresh water is one of the most important and critical conservation tasks presently at hand. While global climate change and our over-dependence on oil tends to grab the headlines, the fact is that without fresh water no human being could survive on our deceptively watery planet.

As a matter of fact, the UN estimates that by the year 2025 some 2.8 billion people from 48 nations will experience fresh water scarcity.

While the problem is of a massive scale that can only really be tackled by overwhelming conservation and desalination measures (converting salty ocean water into fresh water), you can help do your part by utilising the Efergy ShowerTime water saver, one of many new gadgets intended to help people conserve and monitor their water usage.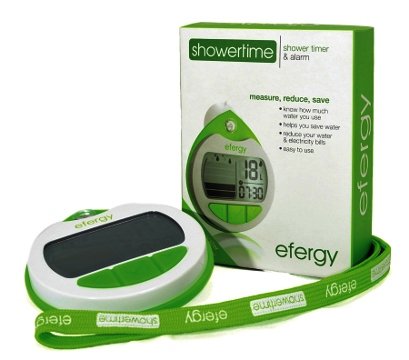 On average, some 40% of a household's water usage stems from the bathroom, with an average five-minute shower using more water than a person from an impoverished community uses in an entire day. Therefore monitoring your showering times more strictly makes for a useful and easy first step into curbing a much wider problem.

The ShowerTime includes a number of useful features which makes it much more than a simple shower monitoring device. This includes a digital clock and a clear albeit basic visual graphic display and a useful suction cup mount for easy fastening to glass or tile surfaces. The device is also relatively compact and can be easily carried around with you, allowing consumers to use it for a variety of different water saving needs, from washing the car to watering the garden.

Only three buttons can be found on the ShowerTime, making things very easy. These rubberised buttons includes a central button with a 'tick' sign emblazoned on it, while the left and right buttons contain arrow keys.

After setting the time on the device users will need to set the alarm, which will sound once you've reached your desired showering target. Efergy recommends no more than 35 litres be used (or less than 4 minutes) per shower, however changing the settings is up to the user. After establishing the desired amount of water to be used, it's just one more step until the ShowerTime is ready for action.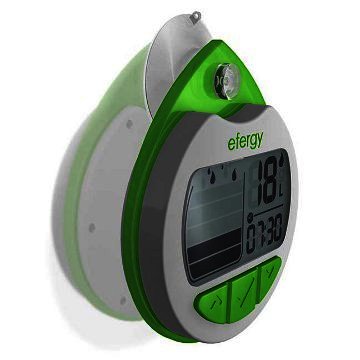 This final step requires the device to be calibrated to fit with your unique shower setup. To do this users simply utilise the supplied measuring bag to calculate how much water your showerhead displaces. Simply hang the clear plastic bag over your showerhead, press the central button and open the tap. Once the water reaches a certain point (clearly demarcated on the bag), users press the 'tick' button again upon which two beeps will signal the completion of the calibration process.

With the calibration complete users can start monitoring their water usage and take controlled showers. Simply press the 'tick' button as you enter the shower to start the timer and once you have reached the set amount of water the alarm on the ShowerTime will sound. The alarm can be cancelled by pressing the button again if you so wish.

By correctly utilising the power of the ShowerTime, consumers can save thousands of litres of water every year, saving on water and electricity bills at the end of the day, in addition to helping conserve our precious earthly resources. The ShowerTime can also be used to teach children of the importance of water saving, and can really be an eye-opener on how much water we use on a daily basis.

The device is powered by a standard Lithium battery and is (quite obviously) water resistant.

The Efergy ShowerTime is a very good device to have, especially for South Africans, with our relatively dry country not being the greatest in retaining its water. In fact, experts have predicted that South Africa may be facing a critical water shortage as early as 2020, so best we start saving now rather than never.

The device retails for a recommended R135 from Efergy Technologies, visit www.efergy.co.za or contact Mark Corry on 011-367-0626.
Useful suction cup and calibration functions to suit your shower setup.
Getting out of the shower when the alarm sounds.