If you own an iPad, chances are you have come across a good variety of covers, and an equally plentiful variety of external keyboards. Following on from its excellent keyboard accessory, the K810 Bluetooth illuminated keyboard (review), Logitech also has another alternative on offer: its Ultrathin Keyboard Cover.
This does double duty, as both cover, and Bluetooth connectible keyboard. But, in comparison with other keyboard-cover solutions, which bring a fair share of additional weight and thickness to the cover, this keyboard cover manages to avoid both pitfalls.
Cover me!
Instead, the cover simply attaches to one's iPad magnetically, and certainly seemed satisfyingly and firmly connected.
Additionally, the Ultrathin Keyboard Cover's build quality is solid; when closed, the entire unit it attractively robed in the same solid aluminium found on the back of the iPad, with only a small Logitech logo and the manufacturers name appearing on the front. The keyboard itself is glossy black plastic; to be honest we would have preferred if Logitech added some stylish distinction to this too, rather than going with the bog-standard aesthetic.
Closed, it is also no thicker than the Knomo smart cover that usually houses our iPad. As with many covers, merely closing it is enough to send the iPad to sleep, and waking the device when opened.
Although you can open the keyboard cover quite wide, you cannot fold it back behind the iPad, as this detaches the keyboard cover completely. This means that if you plan to read, watch movies or play games on your iPad, more than likely the keyboard will spend a good portion of its time disconnected and separated from the iPad.
This aside, the accessory succeeds as a cover, but what about as a keyboard?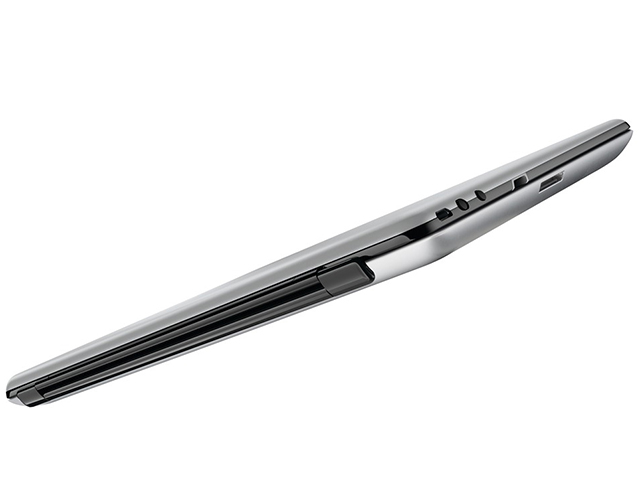 As a cover, Logitech's Ultrathin Keyboard Cover is thin, light, attractive and provided good protection; in short, it ticked all the right boxes.
Keys to success
To start with, some concessions have been made to the keyboard to ensure that this accessory can do double duty and retain its thin profile.
The first of these is key depth and general spaciousness of the keys themselves. Don't get us wrong, this certainly does not detract from the keyboard's usability much, but it just doesn't offer the same degree of typing comfort as the larger, stand-alone K810 Bluetooth illuminated keyboard did. To be fair, we didn't really expect it to, given the larger size of that keyboard, it certainly has more room to play with.
Also, about a third of the keyboard's base is dedicated to a groove that accommodates the iPad in landscape mode.
To its credit, slipping your iPad into this groove is similarly met with a magnetic securing of the iPad to the keyboard, accompanied by a satisfying click to prove that the two have been wed. Also, it angles a slotted-in iPad at about 30- 40 degrees, which makes for a comfortable viewing angle when typing, as well as for when watching movies in landscape orientation.
Pairing the keyboard with your tablet is accomplished using Bluetooth, and was a no fuss affair. This though, didn't require a pairing code, simply pressing the Bluetooth button and enabling Bluetooth on our iPad sufficed.
Selective memory
The keyboard also had a few interesting and nifty features, most of which were accessed using the function keys. These included volume control, play and pause, for when watching a movie or playing music with the keyboard attached, as well as a select key which more easily enables one to select text, and then cut or copy text, sans finger.
Given how hit-and-miss selecting portions of text or URLs can be on the iPad using sausage-like fingers, this offered an elegant alternative that we really liked.
Another button handled pasting text that had been copied, nice to have as an actual, pressable key.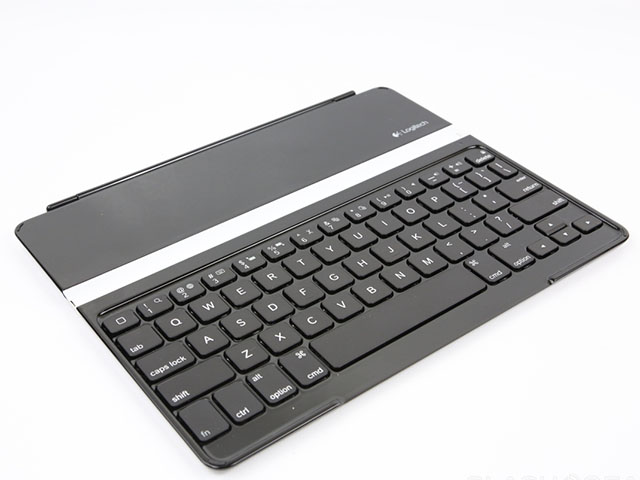 The keyboard itself, found on the inner lining of the cover, is decent enough, even if its thin profile means that key presses aren't as deep as one would find on a thicker keyboard.
Small niggles
The keyboard recharges using a microUSB port; although the box contents promise this cable, our review unit didn't come with it in the box and sent us scurrying to find another cable that would do the job.
Admittedly though, this keyboard doesn't boast backlighting; a pity, since Logitech has already proved it knows how to implement excellent backlighting in its accessories.
To the point
These minor gripes aside though, Logitech's Ultrathin Keyboard Cover certainly lived up to its promise. For those who are seeking a cover for their shiny new iPad (and you really should), or another typing alternative for their not so new tablet, this is one solution we have no problems recommending. The fact that it adds little thickness and weight to the tablet, while offering a convenient keyboard and stand for consuming media, makes it a winner in our eyes. It has a RRP of R1036.
Pros
Thin and light
Solidly built
Convenient keyboard works well
Attaches securely and magnetically
Cons
Cover separates when folded back, leaving iPad unprotected
Shallow key press
Thin and light, Solidly built, Convenient keyboard works well, Attaches securely and magnetically
Cover separates when folded back, leaving iPad unprotected, Shallow key press