It has been said that you never truly know the value of a light until you have been lost in the dark, and this expression holds particularly true for flashlights. A good flashlight, whether it is for use outdoors, when camping, stranded on a dark road or indoors in the midst of a power cut, can prove invaluable. However, not all flashlights are created equal. Some offer average illumination, others that do not are heavy, bulky and frequently a nuisance to transport.

Shining Features

The P14 LED Lenser suffers from none of these deficiencies. It is exceptionally bright, offering a light output of 210 lumens, and easily illuminated a large room and larger garden at night, even handling complete darkness in Hartebeespoort at night with aplomb. Additionally, the P14 offers the benefits associated with LED light, namely of a longer life of the bulb as well as improved power consumption, which means having to replace the batteries less frequently.

The flashlight also offers a telescopic design and focusing prism, which enables one to open it to its full extent to illuminate a wide area, or narrow the beam down to a small spotlight with one hand. Either way, the beam's range encompasses 280 m. While the Maglite flashlights are solid and durable enough to seemingly withstand any fall, we found our three battery model to have a dark spot in the centre, which only magnified when the telescopic feature was used, which produced a 'ring' of dimmer light.

Additionally, the P14 offers two settings, a high and low beam, which is activated by pressing the power button once and twice respectively. Rather than the expensive large A size batteries, the flashlight requires four penlight (AA) batteries, but generously comes with two sets (eight batteries).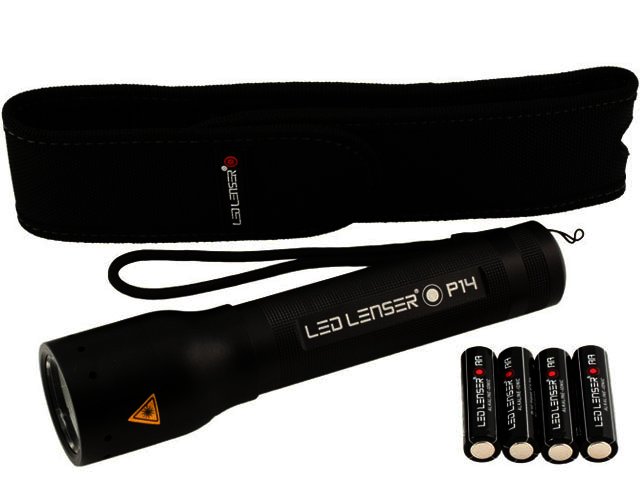 The LED Lenser comes with a decent pouch and extra set of batteries
Pocketable Protector

At 205 mm in length and 383.5 g in weight, the P14 is also pleasingly transportable, while an included strap further ensures the flashlight won't be accidentally dropped. The P14 also comes with a nifty nylon pouch that can be strapped to one's belt and which keeps the light protected when not in use.

One use of the P14 that is not heavily promoted but is worth mentioning is that of self-defence. Shining the light at high beam can be temporarily blinding, and something certainly to be aware of when directing the beam towards other people. However, the LED Lenser does not have the same heft as a Maglite, nor can it double up as a baton in a pinch in the same way the Maglite can.

To the point

The P14 LED Lenser is possibly the best, and the brightest LED flashlight we have used to date. It cleaves it way through darkness, shines with a pleasingly 'clean' white light, and is one gadget that has earned its place in our arsenal of gear. The P14 LED Lenser has an RRP of R600 and is available online here.

Pros

Exceptionally bright
Compact and sturdy
Portable

Cons

Expensive
Exceptionally bright, Compact and sturdy, Portable
Expensive