For shaver manufacturers, a smooth shaving experience is high on the agenda. For Philips it seems, so is a reduction in skin irritation. The company's latest comes with a very interesting new development - that of microbeads. Philips added these little beads on the coating of the rings around the shaving units of the Series 7000 in order to reduce friction on the skin.
For many, skin irritation occurs when you move from a regular razor blade to an electric one. While this problem might disappear as the skin gets used to the shaver, for others this remains a constant annoyance.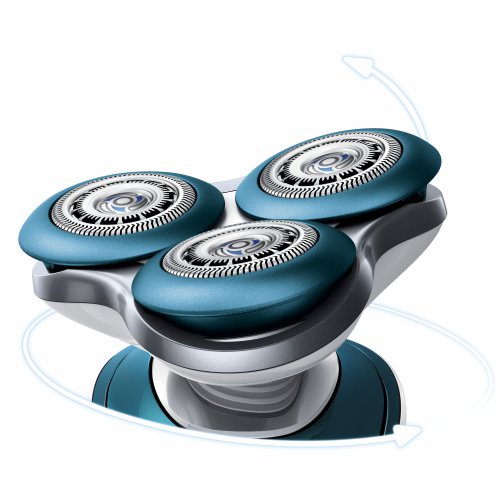 You can't see it but those blue rings contain microbeads
Micro power
In theory, the microbeads should help prevent skin irritation, since it reduces surface drag of the shaving unit along the skin. In practice? Well perhaps I'm not quite the correct candidate to fully test this. I've been using the impressive Philips Series 9000 for almost a year, so my skin is used to Philips' three head system. What I can attest to is that the Series 7000 actually feels different on the skin, almost stretching it out slightly more. It does as good a job as the more expensive Series 9000 for providing a smooth shave, although taking a slight bit longer to do so. One of the big difference between the two ranges, is that, apart from microbeads on the less expensive Series 7000, the Series 9000 offers an 8-way directional heads, instead of 6-way heads, hugging curves more effectively.
Daily shaving
The Series 7000 cuts through both daily stubble and that weekend growth you'll find yourself confronting on a Monday morning with ease. Philips notes that the blades are adept at picking up flat-lying hairs, but I didn't experience a particular proficiency.
As a wet/dry unit the shaver can also handle being used in the shower, or with shaving cream, with the latter being an especially pleasant experience. But, despite claims of it reducing skin irritation, if you are going to use the shaver to go over a particularly persistent patch of beard a number of times, I found that I still picked up blotches of that nasty redness.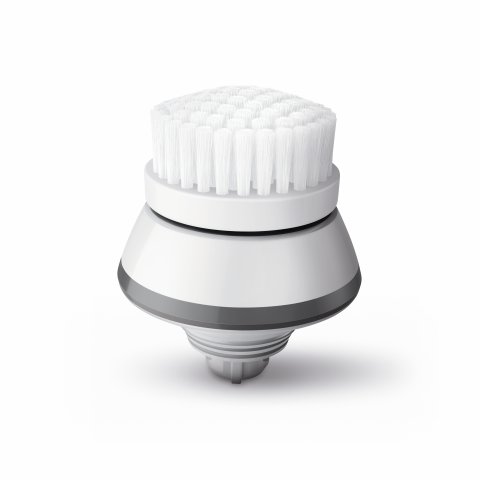 Trust us, you'll digg this cleansing brush
Also in the box
As with most high-end shavers, there are a few extras that are added in the box. In the test unit I received there were a face cleansing brush and a SmartClick Beard Styler with five length settings. If you're going for a stubble look, the beard trimmer works as well as can be expected, with the five length settings helping with choice.
The cleansing brush is an interesting prospect and I must confess that I indulged in its 32 000 individual bristles gently caressing my skin while my girlfriend was enviously eyeing me from the side. Worth noting though is that both units have to be clipped onto the head, so a bit of to and fro is required.
The package doesn't include the individual cleaning and charging kit that is present with some of Philips' shavers, but the head can be cleaned under the tap, important if you're using shaving cream. It does come with a nice hard travel case.
In regards to battery life, the Series 7000 rarely need the plug, with Philips noting that an hour's charge is worth 50 minutes' worth of shaving time. This seems about right, since collectively I rarely recharged it.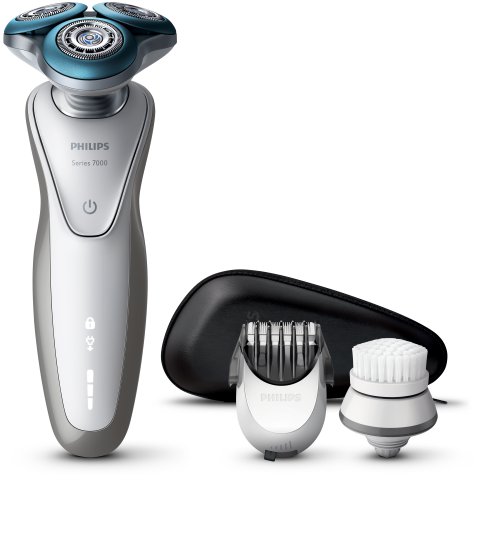 All this comes in the box
A good shave
This particular shaving set (with the beard trimmer and cleansing brush) is known as the Philips S7530/50 and goes for R2 600 at select Dischem and Clicks stores. If you do suffer from razor burn from other shavers, the microbead rings on the Series 7000 might just be the thing for you. But as far as vouching for that, I cannot do, since I don't really suffer from skin irritation.
What I can say is that the Philips Series 7000 is still a shaver that gets the job done, and should serve you well in the long run.
FULL DISCLOSURE: The Philips shaver was received as a seeding product.
Microbead technology to help skin irritation, battery lasts a long time, package comes with beard clipper and face cleanser
Doesn't pick up flat lying hairs much better than other shavers, not much else though