As far as the local wearable market goes, Jawbone has a fairly small share at the moment. The American manufacturer is looking to change all that with the release of its newly designed UP24, a 24 hour activity tracker designed to offer wearers a greater level of detail and information.
The wearable market itself has seen a litany of fitness bands being released, with no real end in sight, so how does the Jawbone UP24 rank in the ever increasing pile of offerings currently available?
Fixed Positioning
For one, the UP24 has a truly unique design aesthetic, compared to those of the Garmin Vivofit (review) and Fitbit Flex, and it's easily its most defining feature. This is down to the lack of any conventional fastening mechanism to secure the UP24 to one's wrist, instead favouring wrap around band that one is made to simply slip on fairly easily. This method of securing the band to one's wrist is on par with other methods, and offers no greater level of security or peace of mind while using it, but perhaps more importantly does not lessen this aspect either.
While using the UP24 when running, skipping and playing squash, it remained perfectly in place and causes no need for concern, nor did it impede our movement in any way. The one area however that should be considered before purchasing is its fit, as the review unit we received was slightly smaller than expected and caused some unwelcome irritation after a full day's use.
In order to give potential wearers a better idea of the UP24's fit, Jawbone has integrated a pretty handy sizing tool into its packaging, which allows one to make sure to get the right fit. This is particularly important as, the UP24 cannot be adjusted like other fitness bands. The UP24 is available in three size options, the small version is designed for users with wrists measuring between 140 mm to 152 mm, the medium is intended for 152 mm to 178 mm wrists and the large size caters for 178 mm to 203 mm.
Jawbone has also incorporated ridges to the UP24's hypoallergenic TPU rubber exterior, which adds a nice flourish to its overall design, especially so in brighter colour options such as Lemon Lime or Persimmon (red).
Sync and Get Going
Setting up the UP24 could not be easier, and centres around a fantastically designed UP app from Jawbone. It is however important to note that this application is only available for iOS and Android devices, with BlackBerry and Windows Phone carriers left in the lurch. Jawbone is apparently looking for a solid developer to assist in porting the UP app to the Windows Phone space.
Once the app is downloaded, users must set up a profile with Jawbone, which takes down all important biological information including height, weight and current level of fitness. Syncing is facilitated via Bluetooth 4.0, which means users with older devices might not be able to connect their UP24's, so careful attention to your own phone's specs must be paid before purchasing this fitness band. The UP24 is listed as compatible with the iPhone 4s (review) are higher, as well as Android 4.3 (Jellybean) and above devices. To find out if your device is compatible, click here.
It cannot be overstated just how important the UP app is to the performance of the UP24, since this fitness band does not feature a visual interface to provide the wearer with important information. This is where the app comes in, offering a quickly accessible reference for information like percentage of daily goals reached, total steps taken and calories burned throughout the day. The app has a screen showing the peaks and valleys of activity throughout the day, offering wearers a better idea of their most productive parts, as well as areas they need to improve in.
The UP app is further supported by a host of applications to enhance the wearer's experience, such as Runkeeper, Map My Fitness and Lose It!. All of this adds an enhanced layer to the fitness functionality and facilitates sharing and connection with other UP24 users.
One app that really piqued our interest was UP Coffee (iOS only), which requires users to log all caffeine intake throughout the day, and then provides a readout for when they are ready to sleep, with rest forming an essential part of the UP24's functions.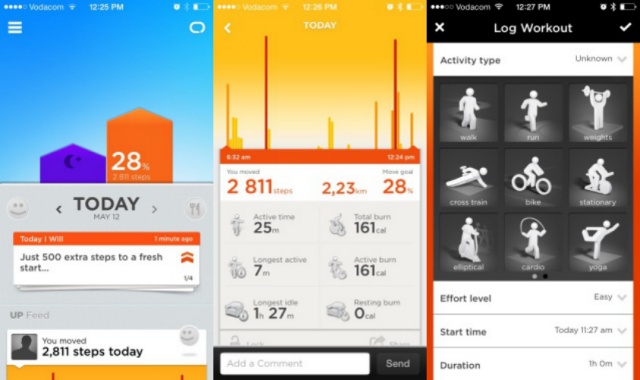 All day, Every day
On either end of the UP24's wraparound band, Jawbone has fitted a button to change modes, and a 3.5 mm jack (concealed) respectively. The former is used to alternate between sleep and awake modes, as well as activating the app enabled stopwatch and power nap functions. This is indicated via two LED-lit symbols, with a crescent moon indicating sleep and sun symbol for awake. The headphone jack is used to connect the UP24 to a USB charging adapter or synced device. Internally the the UP24 utilises a 32 mAh battery that offers up to seven days worth of battery life before another charge is required, which takes an estimated 80 minutes to complete. Wearers are further alerted via the UP24's built-in vibration when battery life is low.
In order to measure one's activity, the UP24 makes use of a tri-axis accelerometer which is extremely accurate in terms of discerning the difference between superficial and actual movement. The tri-axis accelerometer is supported by MotionX wearable technology, which ensures that the information captured from activity tracking is as precise as possible. This aspect is most evident in sleep mode, as the UP24 is able to register which movements made at night are natural and those that are a result of restlessness. Added to this is its ability to keep record of how many times you wake up during a night's sleep.
Compared to other fitness bands, the UP24 is in the upper echelons, as far as activity tracking accuracy goes, the one area that it struggles is water. Jawbone list this unit as being splash resistant, giving the added warning it cannot be fully submerged in water. This makes showering as well as swimming with this device an absolute no-go, which was slightly disappointing. Especially considering the fact that the UP app can be programed for a range of different sports activity, with the most notable exclusion being water-based ones.
Final Verdict
On the whole, the UP24's styling is a refreshing change to the array of fitness bands currently available, and offers a tight enough fit to ensure it stays fixed to one's wrist. The one strike we must place against its design however, is that it does not afford any adjustability for wearers. Although the UP24 may not feature an gyrometer and accelerometer duo, which many fitness band manufacturers favour, the tri-axis accelerometer featured on this unit more than compensates, and in many regards offers a greater level of detail than other activity trackers.
Priced at roughly R1 990, the UP24 falls on the more expensive side of the cost spectrum, with its lack of visual interface perhaps warding most consumers away. But the level of detail and information it is able to capture, as well as fantastic app ecosystem, make it a worthwhile purchase for those looking to take their active lifestyle to the next level.
High level of accuracy; Fantastic app ecosystem
Lack of on-band visual interface; Price is slightly high