As the fitness wearable market has developed over the past year, we've begun noticing a specific segmentation as far as types of offerings go. The one is designed to provide a connected solution for users who workout often and lead a very active lifestyle, the other is for users looking to enhance the functionality of their smart device experience, with the added benefit of tracking activity.
The recently unveiled SmartBand from Sony, falls in the latter category, and is designed to extend the technological application of a users' Xperia device, according to the Japanese manufacturer. We took the Sony SmartBand for a spin, in order to test out Sony's bold claims.
Xperia For Your Wrist
As with most fitness band and activity manufacturers today, the SmartBand favours a more refined aesthetic, with the sole embellishment being the silver metal tag used to fasten the band. The circular tag, is also embossed with the Sony logo, should interested onlookers wish to find out the band's designer. Sony has also incorporated thousands of fingerprint-like diagonal ridges, etched into the surface of the SmartBand's rubber strap. This design detail offers a slight change to other smartbands, but we found that it also attracted a fair amount of dirt and dust, all of which nestles in the aforementioned ridges.
This means that a little time every two to three days will have to be made in order to give your SmartBand a good wipe down. The wrist strap itself is available in a large and small size variant (both included in packaging), measuring 250 mm and 215 mm respectively at their widest settings. Sony has also designed nine different coloured wrist straps for purchase, which is suppose to entice fashionistas into co-ordinating the straps to match their ensembles. For us the black wrist strap suited just fine.
The Core Issue
The interchangeable wrist strap features brings us to the next component of the SmartBand - its removable core unit. The SmartBand core is NFC-enabled and features a miniUSB port on its side for charging, the core also features three LED lights to inform the user of when it requires charging as well as incoming calls and messages. This notification feature is also extends to vibrating, which we will deal with a little later. The core unit takes roughly three hours to reach full charge and delivers five full days worth of use, before another charge is required.
Although removable, the core unit is waterproof (IP58 rated), in an effort by Sony to match the durability and build quality of other Xperia devices, the likes of the Xperia Z2 (review). This therefore means that users can use the SmartBand in the shower, as well as not worry about sweating all over it during an intense workout. It is not however built for prolonged use in a swimming pool, so those wanting to be the Chad le Clos will have to stick to dry land when using their SmartBand.
Near Field Syncing
When it comes to setup, the Smartband is hands down the easiest wearable we've encountered to date. The first step is ensuring the core unit is fully charged, which requires connecting it via the miniUSB to USB charging cable (provided). Once that's taken care of, the core unit is placed inside the wrist strap and held near a NFC-enabled and Bluetooth 4.0 sporting Android device. This means that connectivity is not solely limited to Xperia devices, and Samsung Galaxy S4 (review), HTC One (M8) and LG Nexus 5 carriers can also use the SmartBand.
Syncing requires one to hold the SmartBand up against the back of the device, users are then prompted to download the Lifelog app, and/or Smart Connect application. Once this is done, log in via a Sony Entertainment account is required, those with a PlayStation account can use that instead. This entire process takes all of five minutes, given a strong Wi-Fi connection, and then you're good to go.
Logging Your Life
The Lifelog app, like so many other applications for activity trackers, is essential to the entire SmartBand experience. During the initial log on, the usual host of biometric information is captured, and once completed, users are greeted by an easy-to-read and intuitive infographic.
This interface has two unique designs, the first is a sliding projection of a user's daily Smartband use. This is used a graphical representation of all the activities and actions performed throughout any given day. Icons to denote social media use, photos taken, videos made or viewed as well bookmarked events are also present. The second aspect is a series of differently coloured boxes, each with a specific unit of measurement, such as steps taken, minutes spent running, sleeping, connected to social media and playing games.
The accuracy of these readings is spot on, and syncs regularly thanks to the NFC-enabled connection. Further added to this, the SmartBand has application as a device and function controller. For example, the SmartBand can be setup for the device's music player, with single tap for play and pause, double-tap for skipping to the next track and triple-tapping to go to the previous song. This functionality can be extended to other aspects of the device such as the camera, messaging and mail, thanks to downloadable smart extension apps.
Some of the other handy features integrated into the SmartBand include a vibrating function, to alert users when they receive a phone call, SMS or e-mail. This feature also kicks in when one strays too far away from their device, vibrating three times when out of syncing range. This is a welcome addition for those users who suffer from absent-mindedness on occasion.
If there is one criticism to be levelled against the SmartBand, its the fact that it's functionality is contingent upon the device its sinked to. As a result there is no way for the wearer to know how many steps have been made in relation to their daily goal. This is something that a similarly designed activity tracker like the Fitbit Flex (review) is able to accomplish, giving it a leg up on Sony's Smartband. Another issue is the drain that the constant Bluetooth connection has on your device's battery. Although Sony states the connectivity is low-energy, it still increases battery power use by at least 10% more, than an unpaired device. This may not be a dealbreaker, but is still something to keep in mind when using the SmartBand.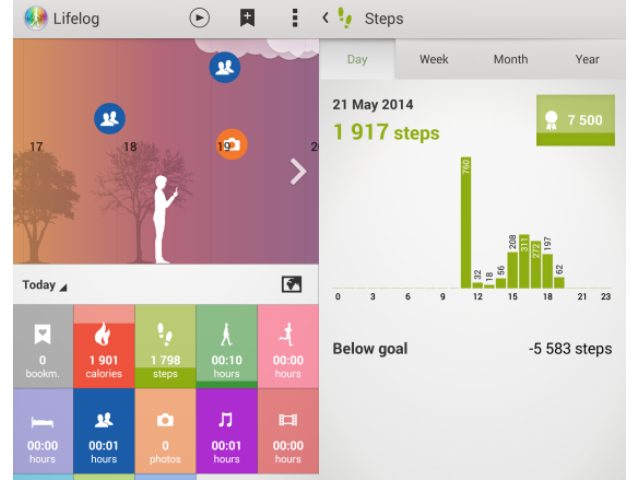 Final Verdict
The Sony SmartBand is not a fitness wearable in the truest sense of the word, instead its best described and utilised as a smart device companion and low-level activity tracker. From this standpoint, the SmartBand performs extremely well and helps in further extending the Android smartphone user's experience.
At R1 400, the Sony Smartband is slightly cheaper than other activity trackers currently available on the South African market. It's only limiting factor in this regard, is the fact that iOS and Windows Phone users cannot make use of the SmartBand.
Compared to other activity trackers, the Sony SmartBand is one of the best we've tested to date, with the ability to accurately record daily information, as well as presenting it in an easy and intuitive way via the Lifelog application.
Quick and easy setup; High level of activity tracking accuracy; Fantastic Lifelog app
Heavily dependent on smart device interface to work; Attracts a fair amount of dust