BlackBerry has long been a friend to the modern working man (or woman). Even before the brand started gathering critical acclaim for being solid, well thought out smartphones, businesspeople the world over were using BlackBerry devices to receive email, connect to the internet and make calls on the go.
As a result, BlackBerry holding company Research in Motion (RIM) has had a lot of time (think fifteen years) to think about what the average business user may need. This time around RIM has released the BlackBerry Presenter, which allows users to replace their laptops with a small, wireless interface which integrates with their BlackBerry smartphones while giving presentations.
How it works
Simply put, the BlackBerry Presenter is the 'middle man' for display presentations. Users are required to plug it in via a mini USB jack and connect a television screen, computer monitor or a projector to the device (which looks a little like a stylish cigarette box, circa 1960) via a VGA or S Video port.
To make life a little easier RIM also thought to incorporate a PAL/NTSC switch. This allows globetrotters to adapt to the different display standards used around the world.
Once the user has downloaded the BlackBerry Presenter application, which is available on BlackBerry App World, the device will integrate wirelessly via Bluetooth with any BlackBerry smartphone and will be able to display Microsoft PowerPoint and Adobe PDF files and control slides.
this means that users can load PDF or PowerPoint files onto their BlackBerrys and display and control them (after loading them into the Presenter application) wirelessly.
It is important to note that setting up a presentation may take a while, due to the fact that the Presenter automatically caches the entire presentation on the device instead of transferring the file slide by slide. This works in the user's favour when the presentation begins due to the fact that both the application and the Presenter itself lends towards pristine integration while displaying documents.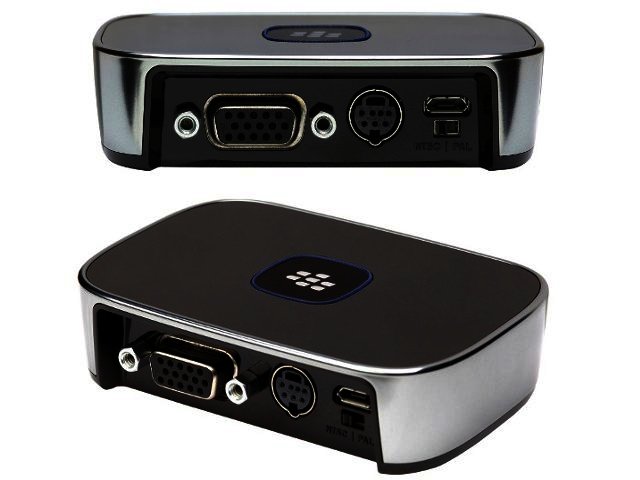 Features
One of the greatest things about the Presenter is that it isn't packed with features. We get the impression that RIM kept things deliberately simple while designing the device in order to make it quick and easy to use, and it is.
The device has a maximum resolution of 1024 x 768, which is somewhat limiting, but will automatically adjust itself according to display size. It is also equipped with Bluetooth 2.0 with EDR support and ships with a handy leather carry case.
Another strong feature is the Presenter's size. At just 86 x 60 x 23 mm it is small enough to fit into most suit pockets, which keeps things light and easy on the road.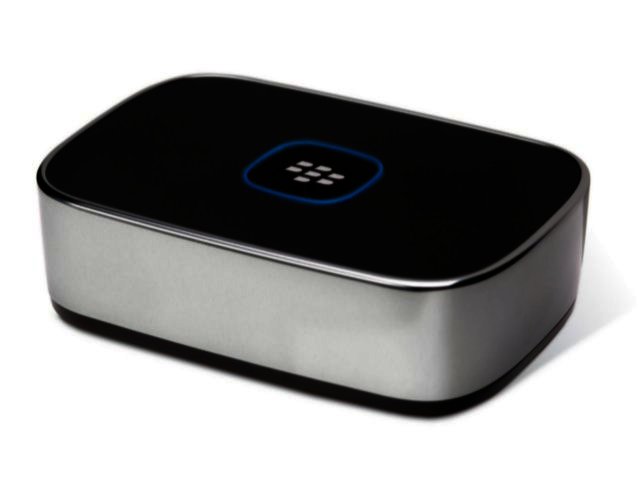 Conclusion
The BlackBerry Presenter is a very strong offering from RIM for any executive who makes frequent use of slide shows and displays while travelling. Our only gripe may be the limited options with regards to screen resolution but, considering what users are getting from such a small device, this hardly seems much of a sacrifice.
The NTSC/PAL switch is a nice addition
May take some time to cache presentations on the device