After Nokia showcased the Redmond way forward with the Lumia 800 smartphone, the Finnish firm's second smartphone within the Windows Phone OS-powered Lumia range, the Lumia 710, becomes available in South Africa. With this mid-range device, the company aims to offer the same functionality as the Lumia 800 but at a more affordable price point.

Design

Although the mid-range Lumia 710 isn't quite up to the design standard of the gorgeous Lumia 800, it still comes across as premium. This is due to the excellent build quality which utilises a glossy plastic front cover and rubberised back cover. Youthful users will also appreciate the fact that the back covers are interchangeable, with a myriad of colours and designs to choose from. These covers are sold seperately though and there aren't any included in the retail box.

The design of the 710 might not be as fancy as the unibody polycarbonate shell of the Lumia 800, but at least you are able to remove the back cover (and consequently the battery), which cannot be done on the higher-end 800. As is the case with the 800, the 710 utilises a micro-SIM, meaning many users that are upgrading to this smartphone would need to buy a new SIM card.

This mobile device measures in at 119 x 62.4 x 12.5 mm and weighs 125.5 g, which makes it comfortable in hand or in your trouser pocket. You access this smartphone's functionality via its 3.7" (480 x 800 pixels, 252 ppi pixel density) touchscreen, which is protected by Corning Gorilla Glass and features Nokia's ClearBlack display technology.

The display is very responsive to use, displays beautiful colours as well as a fair amount of detail on high-res images and also manages to effectively shield the user's eyes from glare when used outdoors in direct sunlight.

That said, Nokia opting to go with an LCD display instead of the costlier AMOLED as featured on the 800, meant that the colour saturation and viewing angles aren't as good as on that device.

Right underneath this display one finds the physical Windows Phone OS navigation buttons (back, home and search), which work well and virtually eliminates the occurrence of accidental presses that occasionally happens on devices that sport capacitive soft buttons.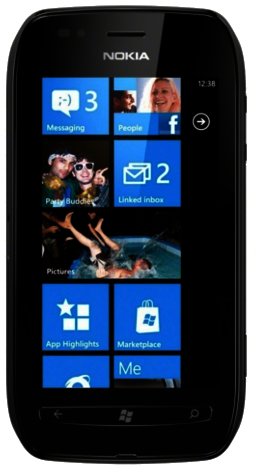 Under Espoo's midrange Lumia bonnet

Powering the Lumia 710 is the same Qualcomm MSM8255 Snapdragon chipset that does duty on the 710's big brother, which merges a speedy 1.4 GHz Scorpion single-core CPU with a Adreno 205 GPU. This combination will probably be scoffed at by mobile users that employ any of the latest band of quad and dual-core devices such as the Samsung Galaxy SIII, HTC Sensation or iPhone 4S. However, this single-core processor does a good job of keeping things smooth and snappy whilst running apps and navigating its mobile operating system (OS).

During benchmarking tests using WP Bench, the Lumia 710 delivered a respectable score of 89.04, as expected an earshot from the Lumia 800's 91.09. In the WP Bench battery test the Lumia 800's 1450 mAh battery lasted two hours and 25 minutes, whilst the Lumia 710's smaller 1300 mAh li-Ion battery died after just over two hours.

Mango flavoured mobile OS

The Lumia 710 runs on Windows Phone 7.5 (Mango), Microsoft's design-conscious smartphone platform that offers a different user experience to both Apple's iOS as well as Google's Android. This OS's user interface is both aesthetically pleasing and easier (in our opinion) for smartphone newbies to master than compared to Android for instance.

Within Mango, you get a Start screen dominated by movable "tiles", which represent anything from links to Internet Explorer, through to quick launch tiles for a user's favourite apps. If you swipe right (or click on the right arrow on the Start screen), you'll be taken to the main menu, which is basically a list of shortcuts to applications, games, settings and "hubs".

The latter incorporates a wealth of information as well as an expanded interface, that, once pressed, provides additional info. The "People" hub, for instance, opens up to your phonebook and also allows users to slide the screen right to recent contacts and your social networking feed (Facebook, Twitter and Linkedin).

Holding the back button opens the multi-tasking screen, which features all your recently accessed apps. Users are able to swipe through these and tap on one to continue right where you left off with it.

A long press of the Windows (home) key enables one to make use of voice commands. You can employ this functionality to make a call, SMS or search for info via the Internet Explorer mobile browser (unfortunately only via Microsoft's Bing search engine, a big drawback in our view). This system requires a data connection and works well, being as accurate and quick as Siri is on the iPhone 4S, but unlike Siri or Samsung's S-voice feature on the Galaxy SIII, you have to stick to set commands and cannot rely on natural speech.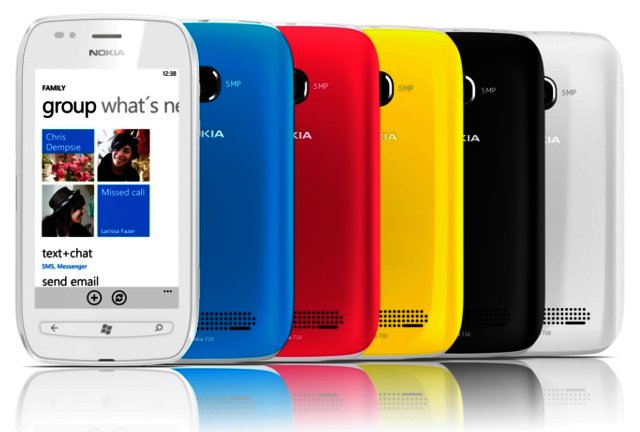 A couple of issues

The only real issues with Windows Phone OS are a lack of customisation and lack of apps.
Unlike Android devices, you cannot customise the look and feel of Windows Phone OS to such a large extent. Users are able to move tiles around, add shortcuts to the singular homescreen, change the colour theme of the tiles and background (black or white) used within the OS, while also setting a lockscreen background.

That is unfortunately it, compared to Android where you can add widgets as well as folders to as many as seven different homescreens, or even take things further by replacing the onscreen keyboard or the entire UI for that matter.

Microsoft's Windows Phone Marketplace is somewhat sparsely populated, since it currently boasts more than 100 000 applications. This does not quite match up to Google's Play Store's 500 000+ apps (smartphone and tablet total) and Apple's iOS App Store with its 600 000+ apps (iPhone and iPad apps).

There are a number of useful, well designed apps on the Windows Phone Marketplace including Skype, Whatsapp and Mxit, but not some highly desirable ones such as Angry Birds Space and Instagram.

Storage and Microsoft Office apps

It's not only the number of apps and customisation options that is rather limited on the Lumia 710 though, since this smartphone only features 8 GB worth of internal storage, compared to the solid 16 GB on offer on the Lumia 800.

As is the case on the 800, the Lumia 710 also does not boasts a microSD memory card slot so you cannot expand upon this, but users do get access to 7 GB of cloud-based storage via SkyDrive, Microsoft's online storage service. SkyDrive provides you with access to Office documents and multimedia files (music, photos and videos) uploaded to this cloud-based service from their notebook or work PC, and is most useful when you have a Wi-Fi connection to make use of.

Corporate users will appreciate the fact that Word, Excel and PowerPoint files can be viewed or edited, thanks to the inclusion of the Microsoft Office hub. This remains one of the best mobile document viewing and creation tools available. When it comes to composing documents and messages we found both the portrait and landscape keyboards a pleasure to type on.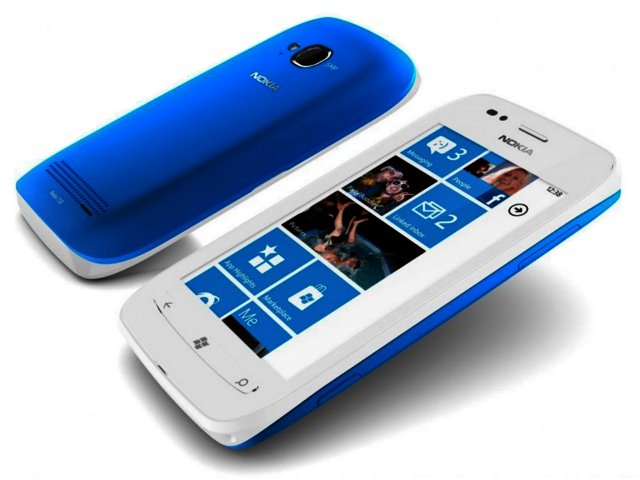 Other features

Also onboard is HSDPA connectivity offering download speeds up to 14.4 Mbps and upload speeds up to 5.76 Mbps, Wi-Fi 802.11 n, Bluetooth v2.1 with A2DP plus EDR, as well as GPS with aGPS support.

Nokia equipped the Lumia 710 with a 5 MP autofocus camera with LED flash that takes decent but not extraordinary looking stills. It can record HD-Ready (720p) videos at a lag-free 30 fps.

Although you can change the camera settings by tinkering with the likes of exposure, saturation, focus and even adding filter effects like negative and solarize, you are better off downloading Nokia's free Creative Studio app from the Windows Phone Marketplace. This intuitive app allows users to easily crop as well as edit their photos and even add fun effects.

It may have only lasted more than two hours during the benchmarking battery tests, but in terms of real world usage this smartphone's 1300 mAh li-Ion battery performed above average, lasting well over a full working day.

The app-etising Finnish difference

Besides the excellent camera and decent battery life, another big drawcard for local users will be Nokia's new Mix Radio service. This free (although data costs apply) mobile music-streaming application distinguishes Nokia's Windows Phone OS-powered smartphones from the rest of the smartphones that operates on Redmond's mobile OS.

Mix Radio works over Wi-Fi as well as 3G and enables music lovers to stream music tracks from Nokia's global catalogue of millions of tracks, including a large contingent of local artists. Users are further able to personalise their listening experience by selecting their favourite music genre or artists, which the app will then use to create a customised playlist. You can also download a playlist to your smartphone, to make it available for listening at a later stage whilst not in range of a Wi-Fi network.

Nokia's Mix Radio app is connected to Nokia's MP3 store, so if you come across a tracks you like, you can just click on the download icon which takes you straight to the music store to buy these for R8 a track using your credit card.

The other application setting Lumia devices apart is Nokia Drive, which offers free, turn-by-turn voice navigation, and Nokia Maps. Within Nokia Drive and Nokia Maps, the set of free maps are well laid out and the quality of the voice-guided navigation works incredibly well and is really reliable as well.

You can view the maps in either 2D or 3D, adjust the screen contrast for night driving and even download maps over Wi-Fi to use these in offline mode. If you find the female UK voice a little too boring, it is possible to replace it by downloading a new navigation voice, with an Afrikaans female voice also being available.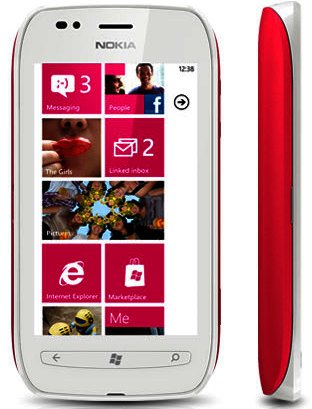 Final word

Nokia's Lumia 710 offers smartphone buyers the exact same user experience as can be found on the more expensive Lumia 800 (R7000) at a more affordable recommended retail price tag of R4000.

It sports a good looking, grip-and-pocket friendly design that might not be as eye-catching as its big brother in the Lumia range, but is more practical in that you have access to the battery. The responsive touchscreen sports a very good pixel count for a midrange device, whilst the quick 1.4 GHz CPU will keep things running smoothly.

In short, Nokia's Lumia 710 smartphone is the perfect mobile device for users that like Windows Phone, but whose budgets don't quite stretch as far as the Lumia 800's asking price. Anyone looking to make the move from feature phones to their first smartphone will also love the easy to use and snappy experience within Windows Phone OS.

For the rest looking for a mid-range smartphone at the same price point, but aren't fans of Windows Phone OS, can consider rivals such as the Huawei Honor U8860 (R3600), LG Optimus Black P970 (R4500) and BlackBerry Curve 9380 (R3799).

Pros

Great fit and finish; very good touch-enabled display; Nokia Maps and Drive works well; Nokia Mix Radio is excellent.

Cons

Only 8 GB of onboard storage; no microSD memory card slot; limited customisability of the OS, limited app count on Windows Phone Marketplace.
Great fit and finish; very good touch-enabled display; Nokia Maps and Drive works well; Nokia Mix Radio is excellent.
Only 8 GB of onboard storage; no microSD memory card slot; limited customisability of the OS; limited app count on Windows Phone Marketplace.