The successor to the Sony Ericsson (SE)
Xperia X10
has arrived and this stylish new smartphone is aiming to take top spot on your most wanted tech list.
There's no denying that this is one of the sexier devices out there, featuring a stylishly slim design with a curved back cover, measuring a mere 8.7 mm in thickness at the centre and 10 mm at each end. Add to this the fact that it weighs a mere 117g, 20 g less than the
iPhone 4
(137 g), and you already have yourself a stand-out device.
This thin and light design is complimented by a 4.2" (480 x 854) capacitive Reality Display with Sony's Mobile BRAVIA Engine that, according to Sony Ericsson, delivers better visual clarity, and we tend to agree. Photos as well as videos look gorgeous, featuring bright and vivid colours.
Gingerbread goodness
With Qualcomm's MSM8255 Snapdragon system-on-a-chip boasting a snappy 1 GHz Scorpion CPU and Adreno 205 GPU doing the processing, things on the computing side went smoothly. Google's Android 2.3.2 (Gingerbread) does the operating and this latest smartphone version of the mobile OS sports new features as well as a redesigned keyboard allowing for faster text input and editing.
Some of these keyboard improvements include performing copy and paste functions using a press-hold. You do this by pressing and holding down your finger on a word or phrase, dragging the ruler to highlight the entire word or sentence, and then tapping on it to copy and paste where you want it. This is useful for entering data, such as your email address as a login name for various sites, as you can merely paste the text rather than having to enter it over and over again.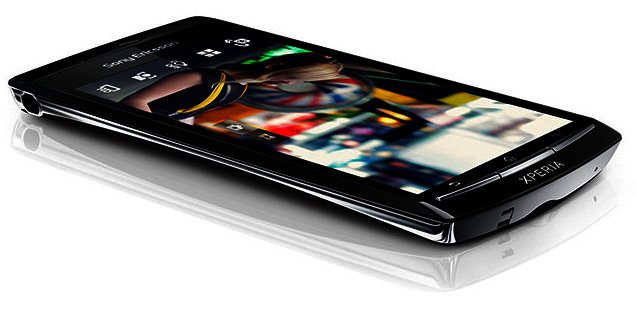 New Android Gingerbread enhancements include improved power management, allowing you to see which components (or apps) of this smartphone are consuming the most power and do something about it. For example if you're Wi-Fi connection is the most power hungry (responsible for 38% of total power consumption), you can turn this connection off right from the "Battery use" section under "Settings".
What isn't new with this version of Android, is the ability to populate five home-screens with your chosen apps and widgets. You can swipe through these, or alternately can make use of the Overview mode. You simply perform a pinch-to-zoom on one of the home-screens and all five displays will be viewable onscreen simultaneously. Then you simply click on one of these to quickly take you to that particular home-screen.
Besides Android running the show, SE has provided its Timescape user interface, which links contact details and messages across a number of social networks like Facebook and Twitter. It shows you these along with your SMSs in a continuously updated and visualised stream of info.
Happy snapper
Helping to fill the media gallery with images is the phone's 8 Mega-pixel camera with capable LED flash and auto-focus, a department that SE always shines in. Due to the partnership of Sony's Exmor R for mobile sensor and the f/2.4 lens this camera can capture good quality images and videos.
The colour representation is more accurate than some of the other Android devices we've tested and the same goes for the level of detail. But the pictures do succumb to a high level of noise though. The latter left some of the colours in photos (when you've zoomed in) appearing very pixelated. Overall, the quality is good and the camera performs much better than the one on the Google Nexus S for example.
Just like the
Nokia E7
,
C7
and
N8
it can record HD-ready videos (720p@30fps in this case), with an HDMI port to display all your high-resolution photos and HD videos on your HD monitor or HDTV. Unlike the Nokia E7 and N8 though, SE doesn't include a mini HDMI cable in the box. In general you won't be disappointed with the arc's media capabilities.
Final word
SE has kept what was good about the Xperia X10 and taken it to another level with the slim and stylish Xperia arc. Compared to other phones with similar specs, such as the Samsung Galaxy S or Google Nexus S, we couldn't believe that Sony Ericsson crammed everything in such a thin body. It goes for a recommended of R6599.
Thin body, styling and gorgeous display.
Some of its high-end competitors have dual-core processors, noise level on photos.