There is no place for passengers on a yacht competing in the Clipper Round The World Yacht Race. All hands have to be on deck in this gruelling trial. Each of the twelve Clipper Race yachts take on the daunting challenge of a 40,000 nautical mile route that crosses the globe, stopping at six continents, including Africa.
But unlike other nautical races, the Clipper Race yachts are crewed by non-professionals who have a love for adventure. Though rigorously trained, these crews show that passion and willpower are vital in facing the power of the oceans.
To help the crew, the Clipper Race has partnered with Dell for the 2017-18 edition of the race. As an Official Fleet Partner globally, Dell has fitted Latitude Rugged laptops and tablets to each Clipper Race 70-foot ocean racing yacht.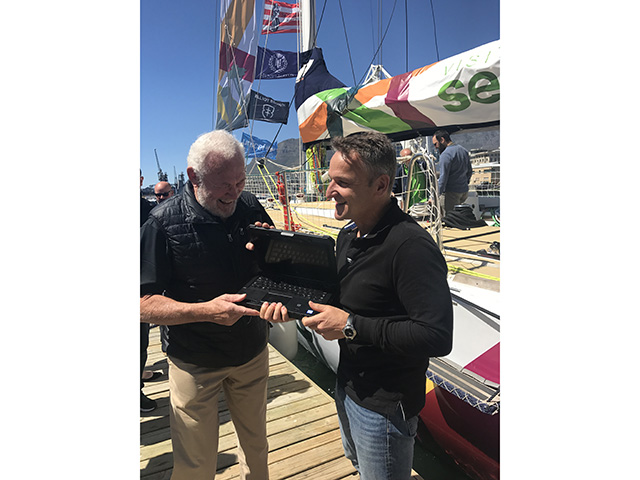 Sir Robin Knox-Johnston, Clipper Round the World Yacht Race founder with Chris Buchanan, director, client solutions for Dell South Africa.
Ready for an ocean voyage
Clipper Round the World Yacht Race Founder and Chairman Sir Robin Knox-Johnston said: "I have been incredibly impressed with the technology and durability of the Dell Latitude Rugged Laptops during the Clipper Race so far.
"The race and its crews experienced some tough conditions during the South Atlantic crossing from Punta del Este, Uruguay, to Cape Town. The often-damp conditions and shocks experienced in a yacht, traversing oceans is the toughest test for computers, so having the very best rugged performance technology on board each yacht helps the teams perform at their very best."
Cape Town's famous harbour is the second port of call for Clipper 2017-18 Race crew, offering an opportunity for yacht enthusiasts, endurance fans and curious media to meet the Clipper Race teams personally, as well as tour their stripped back ocean racing yachts.
This was also a chance to see the technology on board these magnificent yachts, including Dell Latitude Rugged Extreme notebooks. Independently MIL-STD 810G tested and certified, these devices are engineered for some of the most extreme environments on earth, including the no-holds-barred open ocean where salt, corrosion and water are constant threats to anything but the toughest technology.
"Anyone who has even sat a small boat knows that being on water isn't easy," said Chris Buchanan, Director, Client Solutions, Dell South Africa. "But to face nature head on and sail around the world is beyond imagination. We're proud that Dell can play a role in this race - it shows our products are as world-class as the crew who dare to dream and take part in the Clipper Race."
Taking it to the extreme
Each Latitude Rugged Extreme notebook is not only made to last, but also to perform. Lighter and more powerful than their predecessors, the Latitude 14 Rugged Extreme and Latitude 12 Rugged Extreme still offer more battery power and improved cooling. They are backwards compatible for older equipment docks, boast dedicated GPS communications, and come standard with agnostic 4G LTE to ensure access to any available LTE network. 600 nit Gorilla Glass anti-glare displays are as tough as they are easy to use, while the innovative touch interactions will still work with gloves and wet hands.
Each of the twelve Clipper Race yachts have been fitted with Latitude Rugged devices, in addition to rugged battery chargers and docking bays. The laptops on board are used for a variety of purposes by the Skipper and crew, from storing and editing images and footage shot while racing across the world's oceans, to tracking and providing weather and navigation data.
However, these are not custom-built systems. The same Dell Latitude Rugged devices are available to businesses and individuals, with the new generation arriving in South Africa early next year, so anyone can access the same onboard tools of crews circumnavigating the globe, even if they are just going for a Sunday cruise.
The sea does not distinguish between Olympians or novices. In the Clipper Round The World Yacht Race, everyone is equal. But when equipped with Dell's Latitude Rugged devices, the Clipper Race crew can be confident their technology won't let them down.