While digital Single Lens Reflex (dSLR) cameras are known for good quality pictures, they're definitely not small and compact. The Micro Four Thirds standard, as found on the retro Olympus Pen E-PL1, showed that good quality pictures can now come from a smaller body. More recently Sony has made the move to a smaller, mirror-less standard, present on their impressive NEX-3, while Samsung has also gone petite with their NX10.
Small body, big sensor
The NX10 looks a lot more like a dSLR, with the NX10 sporting a black compact body and nicely rounded edges. It achieves its small size thanks to omitting the mirror box and pentaprism found in dSLRs. Although the size achieved by doing this is a clear win, the drawback is that you lose the optical viewfinder.
Not to fret though, since the NX10 comes with one, although it's an electronic view finder (EVF). Neither Olympus nor Sony offers a built-in viewfinder on its smaller models, and although we've had some bad experiences in the past with EVFs (clarity is usually a problem, especially when doing macros), the one on the Samsung was surprisingly good.
Despite the small size of the camera, the NX10 retains a full APS-C sensor (23.4 x 15.6 mm) found for example on dSLRs from Nikon and Pentax. This means excellent picture quality sans the weight and bulk usually associated with dSLRs.
The electronic viewfinder displays the exact same detail as found on the 3" AMOLED screen at the back, comprising of a good resolution of 640 000 pixels. The screen is nice and clear, although it can't touch Sony's NEX-3's 940 000 pixels on a tiltable screen.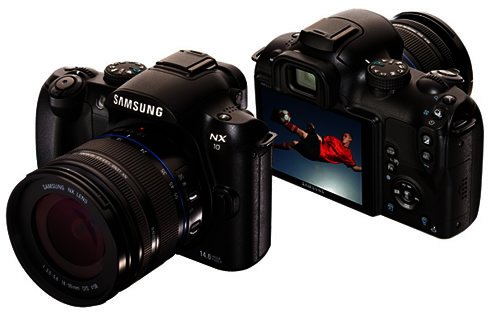 Easy to work

The NX10 is easy to work with, although slightly more complex than similar offerings from Olympus and Sony. This is not necessarily a bad thing, since the problem with the Sony was that it was oversimplified, making you dig through the menu system if you want to change any settings. If you spend a bit of time with the NX10 you'll quickly learn the difference between the menu button and the function button, making it easy to change settings on the fly.

Video recording in 720p

This 14.6 megapixel camera is also capable of 720p video. Although video quality is good, the camera can't autofocus once recording, so you better be handy with the manual focus. Be careful when handling the camera during recording too, since the onboard microphone is highly sensitive to any noise. Other manufacturers have also spoiled us with a video record button at the back, which allows one to simply press the button to start recording. With the Samsung though you have to first set the mode dial to video recording before you can start filming. For the price range 720p video recording is standard, but models like the pricier D600 offering from Canon comes out with full 1080p recording.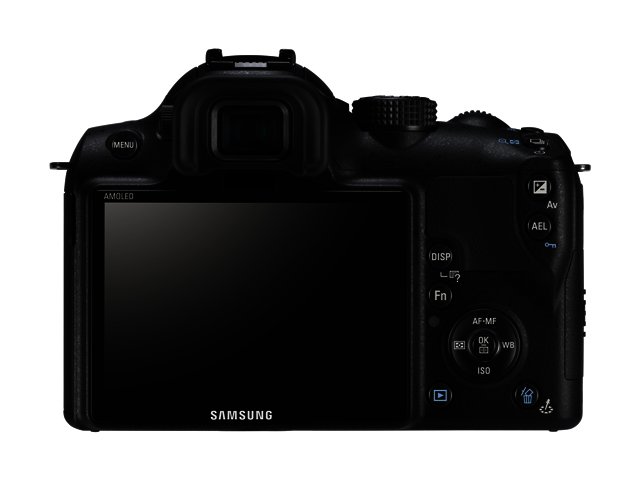 Different settings
Just like the Olympus you get different types of artistic settings on the Samsung. This can be found in the Picture Wizard, providing preset colour settings such as Soft, Vivid, Forest, Autumn, Misty, Gloomy and Classic. You won't use them all the time, and most probably give many of them a go only when you check them out for the first time, but some of them do provide a nice effect and can be carried over when recording video.
As we've seen on
Samsung's EX1
compact camera, there's also an extensive list of White Balance options, with the ability to adjust the colour temperature of your picture via manual Kelvin control.
Pros and Cons
Some of the pros on the device is the inclusion of a full HDMI (1.3) port, allowing you to connect the camera up to your HD TV, although an HDMI cable is not included.
Furthermore the NX10 had excellent battery performance. When testing the camera we started by recording video and progressed to capturing pictures. After shooting for more than an hour there was hardly a dent in battery life, so we simply set the drive mode to continuous shooting and held in the shutter. We managed more than 2000 pictures and still the battery just kept going.
Also good is the 3" AMOLED screen at the back, which performed well under SA's glaring sun. It comprises of a good resolution of 640 000 pixels, but can't touch the Sony NEX-3's 940 000 pixels.

Unfortunately there's also a fair amount of criticism that can be levelled against the device. One of the first things you'll notice is that a sensor cleaner is activated on start-up. Fair enough, a clean sensor is important, but it might just prevent you from capturing that special moment when you're still waiting for it to get going. Although auto-cleaning can be turned off, it would have been better if the NX10 did this on shut-down like many other cameras.

We weren't too impressed by the flap covering the HDMI input. It seemed a bit too flimsy, and our test models did not want to close properly. But overall build quality was good, and we preferred the NX10's dSLR feel compared to the more square designs from Olympus and Sony.

In general the NX10 also felt a bit slow, both in shutter lag and when focusing. The quick response when working for example on Canon's entry level models, is simply not present.

Conclusion

Despite our qualms, Samsung's NX10 gets our vote above the same small-body offerings from Sony and Olympus. We had easy access to the most important functions; a good body design; onboard flash and an electronic viewfinder (both not present on Sony's NEX-3, while a viewfinder is missing from the Olympus PEN); while picture quality is really good, even in the higher ISO ranges.

Since the NX Mount is still in its infancy, you won't find the same amount of lenses or accessories for the NX10 as you would for dSLRs. Apart from the 18-55 mm standard zoom lens it comes bundled with, Samsung SA currently has two other lenses available for the NX10 – a 50-200 mm telephoto zoom lens and the 30 mm fixed focal length pancake lens.

The Samsung NX10 retails for a good R5999.
Pros: Compact body, HDMI port, excellent battery life, full APS-C sensor, EVF.
Cons: Flimsy flaps, no video record button, sluggish shutter lag, sensor cleansing on start-up.
Compact body, HDMI port, excellent battery life, full APS-C sensor, EVF.
Flimsy flaps, no video record button, sluggish shutter lag, sensor cleansing on start-up.