In FIFA Street, you get to leave Old Trafford and Anfield behind, in favour of rooftops, graffiti-filled underpasses and parkades. This for a game of football in which style and flair matter as much as (and sometimes more than) scoring goals.

You get to display your eshibobo skills in over 35 different venues, all of which look superb and amazingly detailed. There are iconic real life locales such as the favelas of Rio de Janeiro, as well as more exotic locations, such as a rooftop in Shanghai and London city square.

Controls

As with previous Street titles, a variable encyclopedia of tricks can be discovered and mastered at these venues using the game's pick up and play control scheme. The control scheme is a little different to that of FIFA 12's and involves pressing L1 to sprint (run faster) and R1 to perform juggling skills, whilst the analogue sticks are employed when pulling off skilled moves and tricks.

This simplified control scheme means that the game much easier to pick up and play, compared to both PES 2012 and FIFA 12 with its tactical defence system and precision dribbling. It also makes FIFA Street more suited to quick challenge games with your mates, as opposed to choosing your favourite real world team and playing a whole season with all the league and cup games associated therewith.

As you become more adept you can get to work adding more beats, faking skills and combinations to your arsenal, that will both dazzle your friends and make it possible to get past your opponents quicker.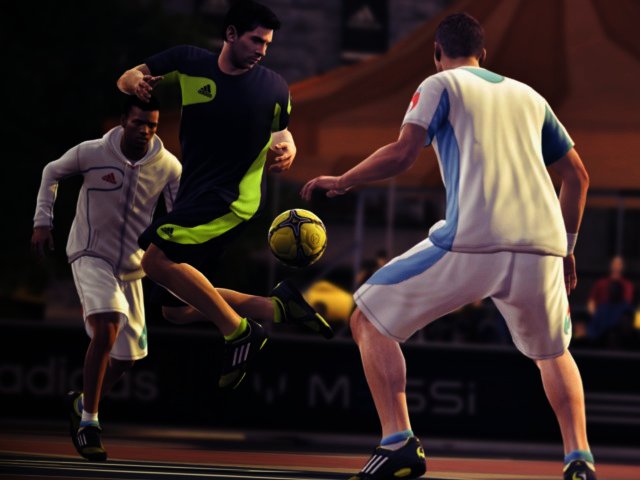 World Tour mode

FIFA Street's main mode is called World Tour and allows players to create a virtual footballer, or import their FIFA 12 virtual pro, if they wish. Next, gamers build their own team and head on out to the journey that will eventually culminate in their collection of street stars becoming the best street soccer team in the world.

To achieve this goal, you must compete in local and regional tournaments and complete challenges to progress from these tournaments to the Street Football World Championship, held in the mecca of street football, Rio de Janeiro.

Along the way you will face amateur outfits as well as professionally licensed clubs from the likes of Real Madrid, sporting players such as Sergio Ramos and Cristiano Ronaldo, and Barcelona with stars including the great Lionel Messi (the game's cover star and ambassador) and Andrés Iniesta in toe.

As you progress through the tournament you can add more skilled players to your team's roster. Each win also unlocks new clothing items and provides you with points that you can use to buy these. There are three difficulty levels, namely bronze, silver and gold and obviously winning a game or tournament at a higher difficulty obtains better items.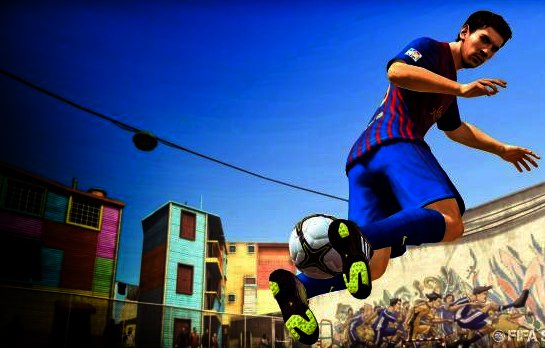 A match type to suit your creative playing style

Within FIFA Street's main World Tour mode, you progress through a region on the global map by competing in rounds that feature a number of different match types.

The main match types are 5-a-side, whereby the winning team is the one which amasses the highest goal tally, while Last man standing has your team losing a player (no goalkeepers allowed) every time one finds the back of the opponent's net. When you score a goal with the last remaining player you win.

One of our favourite modes is Panna rules, a points-based match with a point being awarded for getting past an opposing player with a beat move including faking left, but going right. Beating an opponent with an aerial move such as a rainbow flick (flicking the ball over his head using both heels) nets you two points.

A panna move involves putting the ball through an opponent's legs - quite challenging to pull off; succeed at it and you'll be rewarded with three points. The team with the highest point count at the end of the match wins. If the opposing team scores a goal first, players lose the points that their team has banked up until that point.

Finally we have Futsal mode, a 5-a-side match played in an indoor arena, that doesn't sport any handy walls to bounce the ball off of during those tricky one-on-one situations.

If you aren't very good in certain of these match types, you can play the Hit the streets mode and choose to play any type of match for more practice, before resuming the World Tour.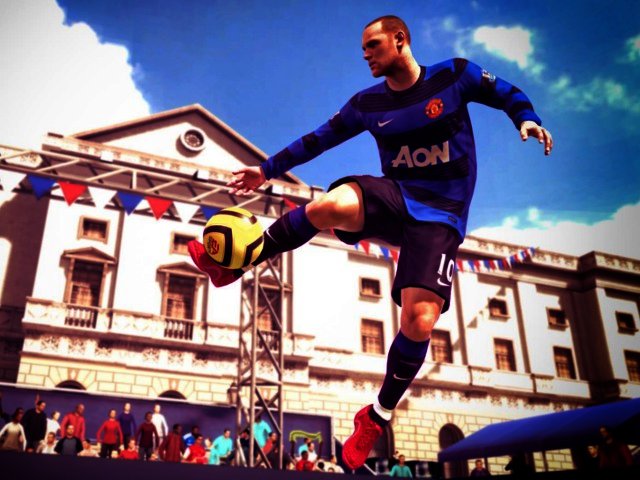 Final word

With its arsenal of tricks and challenging game modes, FIFA Street offers an alternative soccer experience to EA's true to life FIFA series and Konami's PES range. The venues look amazing and the title features the gameplay to match. You probably won't spend the same amount of time per session on FIFA Street as you would playing FIFA 12, but those quick bursts will definitely be more entertaining.

Fans of FIFA 12 will want to get FIFA Street, because it offers a very different playing style and challenge to the most authentic representation of the beautiful game. However, unlike FIFA 12 and the PES range, FIFA Street also holds an addictive appeal for casual gaming soccer fans. This is due to the large roster of tricks, skills and aerial manoeuvres on offer that look magnificent and are rewarding to master, especially in a tight game against friends.

A ticket to this football extravaganza goes for R599.

Pros:

Well designed arenas; simple and rewarding gameplay; easy control scheme; plethora of skills on offer; and compelling main mode (world tour mode) with various game modes deliver variety and at least some measure of longevity.

Cons:

More geared towards a quick couple of games with friends and short term entertainment than FIFA 12's long lasting appeal.
Well designed arenas simple and rewarding gameplay easy control scheme plethora of skills on offer and compelling main mode world tour mode with various game modes deliver variety and at least some measure of longevity.
More geared towards a quick couple of games with friends and short term entertainment than FIFA 12''s long lasting appeal.