When it comes to games based upon sport franchises, soccer and car racing fans are spoiled for choice. Superbike fans however have only a singular option in Milestone's MotoGP 13. Is it good enough to land a podium place in your racing collection or does it spectacularly crash out of the running?
Sights and sound of MotoGP 13
Unlike big budget racing titles such as Forza Horizon, MotoGP 13 will most definitely not entice players with amazing graphical eye-candy. The game does not just lack the graphical punch of most racing games released lately including Grid 2 (review), but is also not a match for older titles such as 2010's Gran Turismo 5 (review).
This is down to outdated shadow and lighting effects, and semi-realistic backdrops on race tracks that boasts many low resolution elements. A lot of the advertisement boards on tracks for instance look horribly pixelated, and in the event that you misjudge a corner and venture off the track, you actually drive through them as though they were futuristic holographic projections.
Like supercars, superbikes can be identified by their exhaust notes. Many SBK series fans can tell the difference in the auditory soundtrack of a deep burbling engine of a Ducati and high-revving symphonic notes of a Kawasaki Ninja powerplant. Don't expect the same almost palpable sense of auditory stimulation via MotoGP 13, as the bikes all sound very similar and totally underwhelming.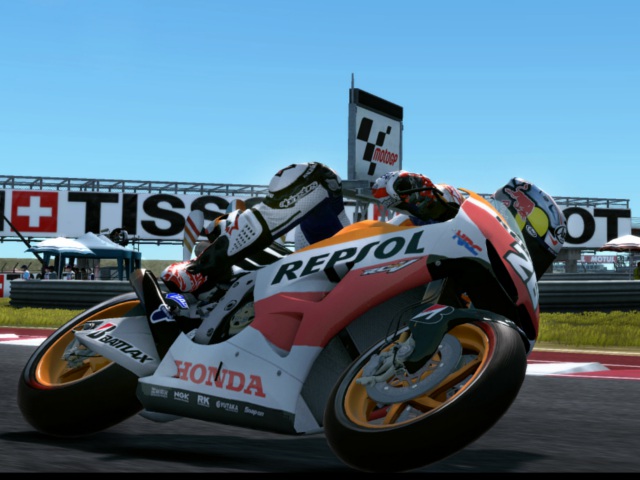 Landing a permanent spot with a top motoGP team means landing plenty of podium finishes.
Setting the stage for racing
Despite the underwhelming graphical and auditory prowess of the game, MotoGP 13 actually sports an engaging presentation. The latter involves videos of the tracks and surrounding city area being shown before each race. Gamers are also able to view a weather report, check the prevailing track conditions, and get track info including the number of right- and left-turn corners, while the race is loading.
Within the game's main mode, Career (splitscreen and online racing also available), players find themselves in a barebones, but easily navigated changing room area that serves as a kind of race command centre. In this room, you can check news paper reports on past races, view the championship standings, change the look of your virtual racing persona, and access race events from the calendar.
In Career, players are tasked with gaining an excellent reputation with teams as well as upping their fan base, in order to land a permanent spot with one of the MotoGP teams. You begin by doing duty as a wild card entrant for Moto3 (250 cc single cylinder class) teams that are not able to fill their driver roster on race day. If you land a permanent spot on a team and win races, you will be able to climb the ranks and make the move to Moto2 (600 cc superbike class) and finally MotoGP (the summit of superbike racing, 1000 cc main class).
Despite the severe lack of graphical polish, the challenging and involving gameplay as well the drive to reach superbike racing's highest echelons kept us motoring on.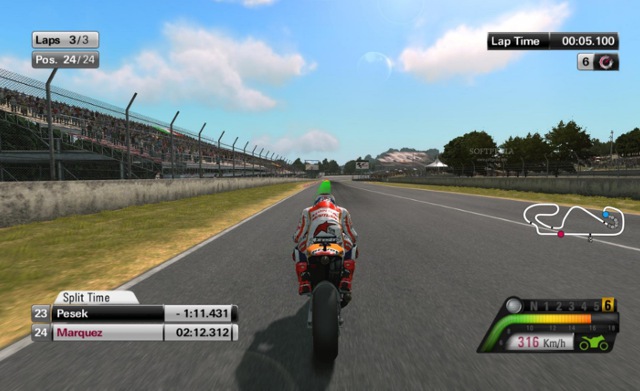 Within MotoGP 13 it's not a case of following the yellow brike road, but following the green line.
Mastering the two-wheeled stallion
When you start MotoGP 13 the driver aids are turned on by default, and these assists players with their acceleration, steering, braking, gear changes and riding position on the bike. This makes it easy for new players and arcade fans to quickly and easily get into the game.
You will, however, need to put in plenty of racing hours before being able to race with the aforementioned aids deactivated. Doing so, is not only more realistic (more simulation than the arcade-like experience you get with these turned on), but also much more rewarding since ditching the riding aids really is the only way that you are going to land a spot on the podium.
This is due to the fact that the braking aid brake far too early and heavily, while the acceleration aid kicks in a little too late for our liking. The end result of this is slower top ends, lacklustre acceleration and competitors that you worked hard to pass, only to have them easily breeze past you on longer straights or hairpin corners.
Turning the aids off though should be done in stages, as the unassisted bike literally blasts down straights at immense speeds. You need to know where the right racing line and braking zones are in order to avoid unintentional offroading or being tossed like a ragdoll by your steel steed.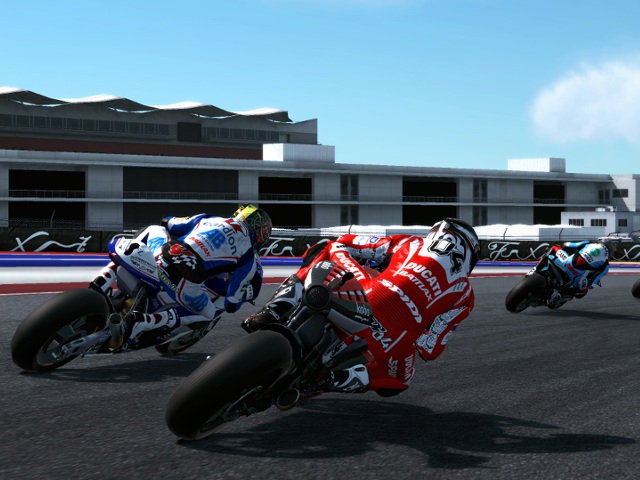 Cutting through race traffic like a hot knife through butter cost plenty of hours' practice.
To the point
MotoGP 13 actually manages to be a lot more entertaining than its outdated graphics and lacklustre audio would suggest. This is down to the gameplay being challenging and, more importantly, plugged into the sense of competitiveness gamers feel when they are challenged to master the handling of the bike as well as beating their AI controlled opponents.
If photo-realistic graphics is not your main motivation for buying games and you are a real motoGP fan who needs to race the socks off of Marc Marquez and Valentino Rossi, then forking out R600 for the PS3 (Xbox 360, PS Vita and PC versions also available) copy of MotoGP 13 should be worth it. Everyone else should rather enter the acquisition pit lane and give this title a miss.
Pros:
The racing is entertaining and challenging.
Suitable for pick-up-and-play arcade gamers and simulation fans alike.
Packs all the real world teams, racers, and superbike brands.
Clean and barebones presentation that is engaging nonetheless.
Has a good amount of replay value - if you are into superbikes.
Cons:
Sub-par graphics.
Monotonous exhaust notes does not convey the excitement of mounting a two-wheeler.
The racing is entertaining and challenging; suitable for pick-up-and-play arcade gamers and simulation fans alike; packs all the real world teams, racers, and superbike brands; clean and barebones presentation that is engaging nonetheless; and has a good amount of replay value - if you are into superbikes.
Sub-par graphics; and monotonous exhaust notes does not convey the excitement of mounting a two-wheeler.