The latest iteration within THQ's popular WWE series enters the virtual ring, boasting a major new drawcard in The Attitude Era mode that will have fans reminiscing about the golden age of the WWE. Is this enough to Rock your gaming world or will WWE '13 leave you Stone Cold?
Firstly, WWE '13 sports the biggest roster ever, boasting more than 70 WWE superstars, 41 of which are selectable from the start. These are not just limited to current generation wrestlers, as divas and retired legends also feature prominently.
All of the regular playing modes are onboard, including one-on-one, triple threat, and King of the Ring, along with the usual match types such as the steel cage or ladder match. But what sets '13 apart is the engaging Attitude Era mode, which replaces the Road to Wrestlemania found in previous iterations.
Attitude Era
Within Attitude Era, gamers relive a golden period in the history of the WWE which kicked off in the mid '90s. The story is told from six different perspectives, with players filling the massive wrestling boots of some of the most legendary WWE superstars, including
The Rock
,
Stone Cold Steve Austin
and the dynamic group known as
D-Generation X
founded by
Triple H
and
Shawn Michaels
amongst others.
You are tasked with completing a series of significant matches that follow the exact storyline of these wrestlers. For instance, D-Generation X's timeline starts with Shawn Michaels' match against
Mankind
, which revealed his partnership with Triple H for the first time. The 12-chapter journey culminates in the battle between
Dude Love
and D-Generation X member
Billy Gunn
, marking the end of the group's dominance within the WWE as well as the end of the Attitude era.
Adding to the nostalgia, as well as the game's replayability, is the fact that you are given a primary- as well as a historical objectives to achieve, the completion of which results in unlocked items.
For example your primary objective might be to win a match that will result in you unlocking a new outfit for a wrestler. Your historical objective, however, will be to win the match in exactly the same manner in which your chosen wrestler won his real life match during the Attitude Era. This could include anything from triumphing by submission only, through to knocking your opponent out with a steel chair before pinning him for the three count. Historical objectives aren't only more challenging (and thus more rewarding), but completing them will also unlock much better extras such as making a new wrestler available as a playable character.
The presentation style within Attitude is incredibly engrossing, with audio recordings of some key moments playing as you navigate the menu system and videos shown in between matches. It does a great job of rousing you for each upcoming match-up, for instance whilst playing D-Generation X's timeline you will hear the voice of the legendary
Bret "The Hitman" Hart
playing in the background and see videos of him in the build-up to his titanic championship clash against Shawn Michaels (chapter 10 of the twelve part D-Generation X journey).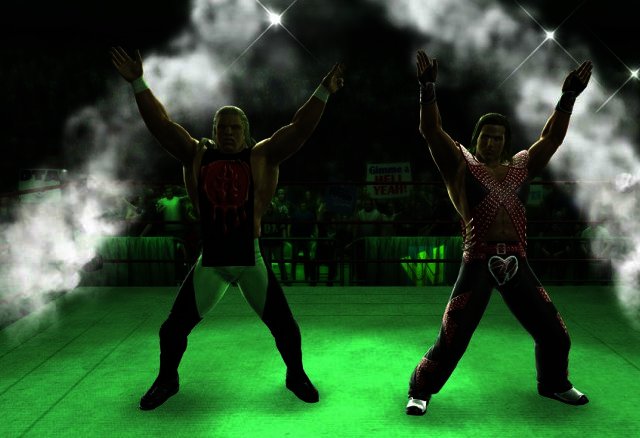 Forget Gundam Style and do it D-Generation X Style.
Graphics and gameplay
Graphically, WWE '13 does not really dominate its predecessor. Wrestler models and stadiums still look great and the crowd models used in this series are still better than other sport game franchises such as FIFA 13 (
review
) and PES 2013 (
review
).
Beyond the inclusion of Attitude Era, WWE '13 also offers a more refined control system, with the reversal system being slightly more forgiving than in WWE '12. Onscreen indicators will inform you when you tap the reversal button too late or too early, assisting novices in getting their timing down.
You will however still need to put in the effort and hours playing WWE '13 before you will be able to reverse attacks like a pro, which keeps things challenging and makes it very rewarding to pull these moves off.
Is there anyone in the audience who knows how to give mouth-to-mouth, 'cause my lips aren't getting close to this Hannibal Lecter looking dude.

To the point

It is the inclusion of the fantastic new Attitude Era mode that makes WWE '13 worth every penny of its R600 asking price, as this mode helps blur the lines between the game and the popular TV show. This new mode mode makes for a far more involving experience than the Road to Wrestlemania mode that it replaced.

WWE '13 might not be a huge improvement over WWE '12 in terms of graphics and gameplay, but offers a lot of additional value and replayability for wrestling fans, especially for those struck with nostalgia, who find themselves hankering for an age when the WWE had a lot more attitude.

Pros:

Attitude Era mode is superb.
Solid graphics and gameplay.
and a large roster of wrestling superstars that includes divas, legends and current wrestlers.

Cons:

Novices may be put off by the skill required to master reversal moves.
Graphics not a significant step-up from '12.
Attitude Era mode is superb, solid graphics and gameplay, and a large roster of wrestling superstars that includes divas, legends and current wrestlers.
Novices may be put off by the skill required to master reversal moves. Graphics not a significant step-up from ''12.