One would think that by this time the Nintendo Wii would have a large enough arsenal of party games at its disposal, but that's no reason to dismiss Nintendo's new Wii Party. Wii Party is a collection of mini-games that is guaranteed to bring a fun new social gaming experience whether you're playing with family or with friends.
One of the first thing one will notice when starting up Wii Party is the game's similarity to the popular Mario Party games which follows a similar style. In Wii Party however players are represented by Miis, in-game avatars that can be customised to resemble a player's likeness.
Mini-games
Wii Party has a whopping 80 games for players to engage in and while every single one might not tickle your fun receptors, the majority of these offer fun and sometimes very innovative games for you and your friends to enjoy.
One of the core aspects to keep in mind is that Wii Party was designed to be a social multiplayer experience. The games can be played with AI opponents, but it's the accompanying laughter of friends or family that make the games that much more enjoyable. Wii Party is all about spending some quality time with the family or holding a Wii Party evening with some friends. Most of the games also support a full four players.
As we previously mentioned there is an abundance of games available with Wii Party, a few of these include a Mario Party-style board game in which players rolls a dice to move across spaces, taking bonuses or penalties as they go along and competing in quick mini-games dependant on where on the board they landed.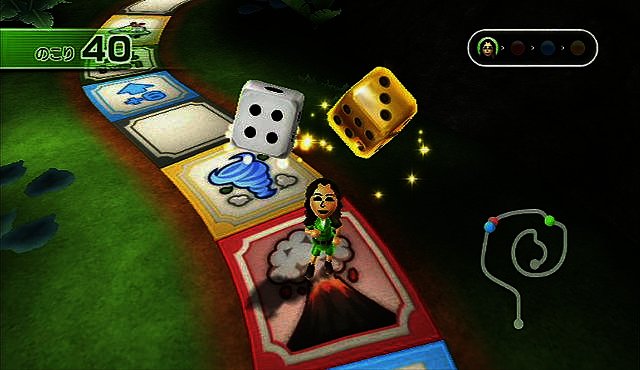 A globe-trotting board game is also available where the board is spread out across a world map and dice throws are replaced with a basic card game. The globe-trotting mode requires a little more strategy to win, with players having to put on their thinking caps every once in a while.
There are also two game show inspired modes. Bingo lets players throw balls imprinted with Mii faces into a giant tumbler, with players having to form rows across, down or diagonal based on when their matching Mii appears. When a game ball appears players are sent off to compete in a mini-game.
The other is a Wheel of Fortune inspired game mode where players spin the giant wheel to build up cash, with the winnings going to the victor of a randomly chosen mini-game.
Some other enjoyable titles include a two player boat balancing game, kart racing and a game where you have to run away from zombified Miis.
A couple of solo games are included in the package, and for us the most enjoyable was a puzzle game which tasks the player with guiding a group of Miis along snaking paths so they can water plants, a mode slightly similar to the nostalgia inducing Lemmings.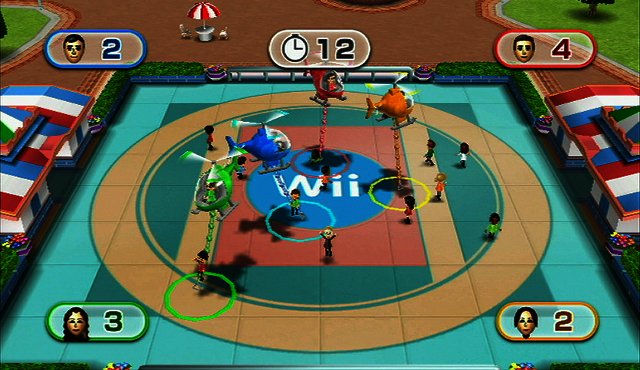 Controller gaming
Developers ND Cube also put a lot of emphasis purely on the Wii's controller technology, with a few games utilising this in very innovative ways. One of these is a hide-and-seek game in which one player hides Wii remotes across the room with the others being tasked to find it. They're aided by the integrated speaker inside the Wii remote, emitting a sound every ten seconds to aid the finders in their task.
The second turned out to be one of our favourite games, purely because of the tension involved. The game has players passing around a single Wii remote as if it was a bomb. One person holds down a button while passing it to another player, with the next person having to press a button as they receive it whilst being careful not to move it around too much. The remote actually picks up how much a player's hands are shaking, and if they can't hold the 'bomb' steadily enough it explodes, sending their poor Mii flying in a puff of smoke. This game proved a lot of fun simply due to the adrenaline induced fun of passing around the rigged hot potatoes.
When purchasing Wii Party users will also receive a bundled Wii Motion Plus controller, outfitted with all the latest technology to enjoy the games offered.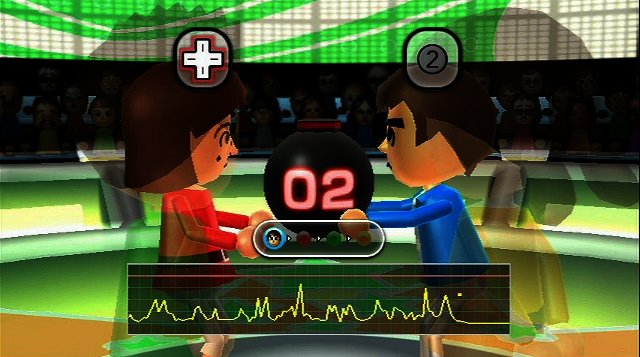 Presentation
First and foremost, Wii Party isn't about graphics, it's about having the most fun possible in a friendly, interactive environment. The game won't wow your high definition spoiled photo receptors, but its colourful and fun graphics style serves its purpose perfectly. Music in the games are light hearted, providing a grin inducing backdrop to your Wii shenanigans.
Conclusion
All-in-all Wii Party offers players a great new library of fun social mini-games which are incredibly enjoyable if approached with a bunch of friends and the correct attitude. The game won't appeal to anyone's 'hard core' gaming tastes, but it reaches its desired mark almost perfectly. A great new party title for the Wii which is bound to result in a string of light hearted banter.
A huge assortment of games will cater to multiple tastes
Some games can get a bit boring and it''s essential to have other players joining in