There has been periodic debate of late about whether we are already in a post PC era, whether desktop PCs are dead, and whether that old tower that many PC enthusiasts grew up with are going the way of the dodo.
We suspect that rather, PC's are changing form, liberating themselves from under or on the desk and instead, migrating into the living room.
Acer's Revo PC appears to bear testament to what the fate of the trusty desktop PC may well look like.
Shape of things to come
In the appearance stakes, the glossy black octagonal shaped PC looks futuristic enough. Distinctive shape aside, it still managed to be fairly inconspicuous next to our TV, thanks to an all black finish, and a stand which clipped on to the base of the Revo. This enabled us to choose from laying the device flat on its side or standing it up vertically.
Despite its apparent small form, the Acer Revo is actually a pretty impressive piece of kit. Approximately the size of a small box, and almost half the size of a PlayStation 3, the Revo is a compact PC plus home media centre that needs little space to deliver oodles of functionality.
To start with it is a full PC, running Windows 7 Home Premium and Windows Media centre, while relying on an AMD E-450 APU with Radeon HD graphics, clocked at 1.65 GHZ, along with 4 GB of RAM, as well a capacious 500 GB hard drive.
As such, it can accommodate anything that most PC's can, while requiring significantly less desk real estate.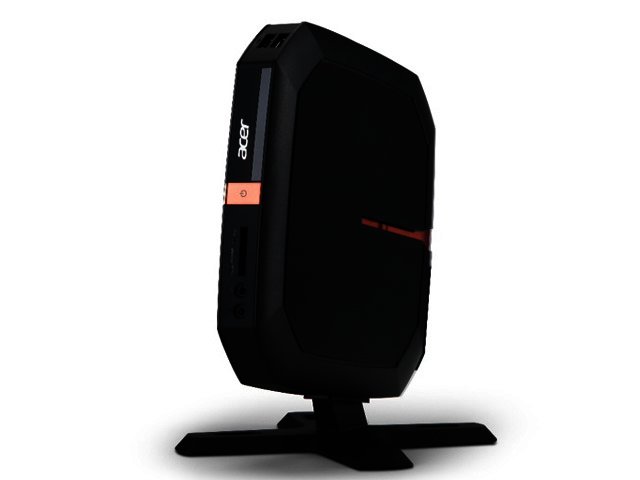 The attractive oblong shaped device can either be laid flat or stood upright in its included stand.
Key additions
Of course, joining the smart and glossy black box, is an equally slick wireless keyboard and mouse combo. The former though, is a little bit more compact than other desktop keyboards, and while it eschews a num pad, the chiclet keys offered excellent depth and responsiveness when typing.
We suspect the slightly more compact form is intended to cater more to typing and web browsing from the comfort of one's lap on the couch, though there is nothing to stop it from being equally at home on a desk as well.
The glossy black mouse is a little less to write home about; it does the job while being comfortable enough to hold. Despite playing host to the included USB transmitter needed for both the keyboard and mouse in its battery compartment, the mouse does what it needs to without any fanfare.
Pass the remote
The third companion, and one that deserves particular mention, is the included remote control, which accesses the TV, movies, photos and music available through Windows Media.
The big difference between this one and your run of the mill remotes (which in our homes at least seem to breed, multiply and climb on top of one another at an alarming rate, mostly likely in a desperate attempt to hide the all-in-one remote), is that the one for the Revo flips over to reveal yet another smaller QWERTY keyboard on its opposite side.
While both the normal sized keyboard and the keyboard on the remote worked as advertised, it was the latter that was particularly more novel, and something we have no doubt those who love their smartphone keyboards will cotton onto very quickly (we would have loved to have seen a bit of backlighting on each though).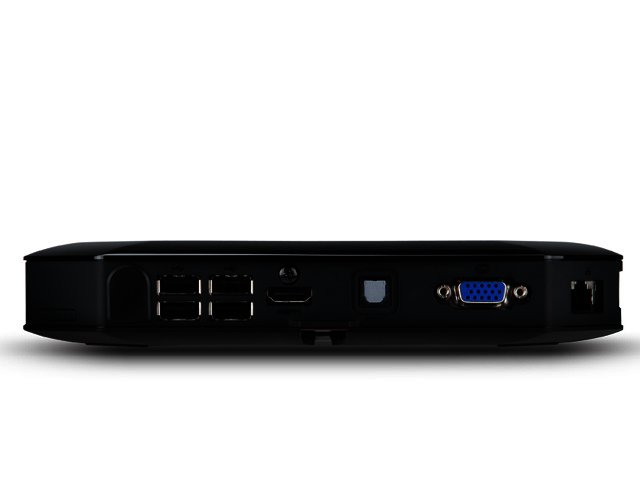 The Revo's variety of ports include an ethernet port, USB and HDMI, a coaxial port as well as a VGA out.
Important distinctions
Nonetheless, the Revo offers an abundance of ports and connectivity options, including HDMI and VGA outputs (we choose the former to connect it to our HDTV), no fewer than six USB ports (although you need to bear in mind one of these will lay claim to the mouse and keyboard's wireless dongle), a TV antenna connection, an SD card slot and an optical cable for providing 5.1 and 7.1 sound with external speakers. Coming along for the ride was also a slot loading Bluray drive.
Effectively, this means that the Revo can do double duty as a traditional PC, as well as function very ably and inconspicuously, as the centre of one's home entertainment setup.
In our experience with it, it did just that; we could find no fault with neither the picture, nor the media experience in general as offered by the Revo. Windows Media Centre worked flawlessly for displaying our pictures, playing our music and watching TV, and could have served as a DVR for TV programmes as well.
To the point
Bearing in mind that the model we reviewed was an engineering sample, we suspect that the version available in stores will be free of the glitch we initially encountered. More importantly though, we dare say that the Revo challenges the assumption that 'PCs are over'.
To the same extent that the compact device will have little problem finding a space to fit within a home entertainment centre, we believe that there is equally as much space for PCs like the Revo in the broad technological landscape. It has a RRP of R5500.
Pros
Compact
Excellent regular keyboard with plenty key depth
Innovative remote
Relatively inexpensive
Cons
Isolated issues when setting up
Compact, Excellent regular keyboard with plenty key depth, Innovative remote, Relatively inexpensive
Isolated issues when setting up