There is still much to be said for large, desktop replacement notebooks, particularly for office workers who want a powerful notebook that is also relatively transportable.
On both these fronts, the Aspire V3 is certainly an attractive offering.
The notebook is robed in a glossy black finish with the exception of the keyboard, which stands out against a chrome background. Together, it certainly makes for an attractive combination, and a classy looking machine.
Build wise, the notebook is half-impressive. The bottom half is solid and appears to be very well constructed; but the 17.3" screen housing lets it down on the solidity front as it does exhibit a modicum of flex, and wavers a bit under pressure. This detracts from what would otherwise be exemplary build quality.
At 3.2 kg though, the notebook can certainly be carried on short jaunts (like to and from the office) although we would not necessarily recommend touting it around on one's back for a full day on the move.
Thankfully, the power brick is not massive, but does still need to be factored in considering the fact that at just below four hours of battery life, the notebook is not going to roam too far from a power source for an overly long period.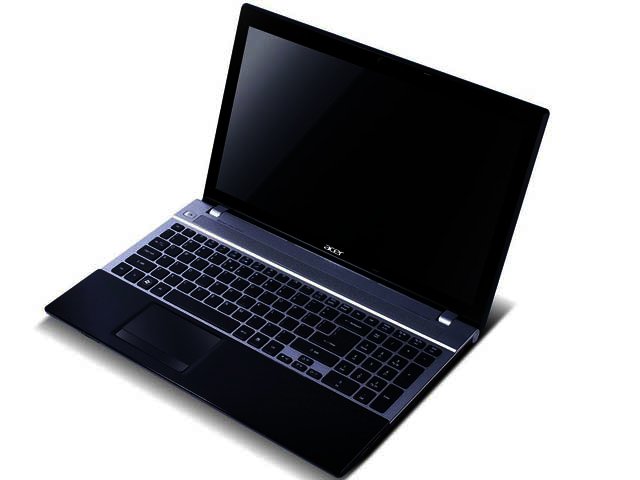 Display details
Moving on though, the 17.3" HD+ LED screen is otherwise very attractive to look at, and pretty impressive in its own right. Firstly, like some of Acer's other notebooks (the Timeline X comes to mind), it boasts some impressive brightness (220 nits), particularly when pushed to the maximum, while a resolution of 1600 x 900 keeps text and graphics sharp.
Additionally, utilising this maximum resolution gave us a pleasing amount of screen real estate; which no doubt those who are familiar with posting Windows 7's sticky notes, numerous documents and folder shortcuts on their desktop will appreciate.
To the V3's credit, the screen is accompanied by some very good contrast, and faithful colour reproduction that leans towards offering satisfying richness. While the screen is a little glossy, it's not to the extent of blasting one with overwhelmingly distracting reflections.
Additionally, the V3's viewing angles are actually quite impressive; a fact we appreciated considering how enjoyable watching a movie and some videos proved to be on the expansive screen. This was further complemented by some very good – and quite loud – sound on offer as well, thanks to the notebook's onboard Dolby system.
In short short, all these elements added up to a very good entertainment experience, most particularly when viewing photos or watching movies, while catering to general work most ably as well.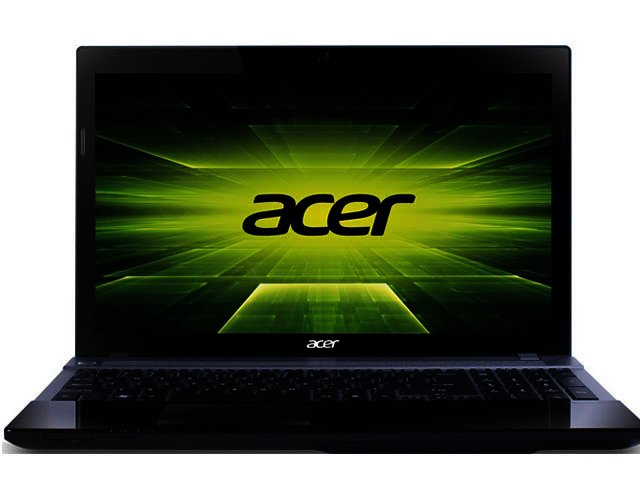 Keyboard comforts
The full sized chiclet keyboard felt just as generous and expansive as the screen, as full sized keys and a num pad are on offer. Indeed, key press was pretty satisfying, offering decent depth and travel which made typing on the notebook quite a pleasant experience.
The palm rests are also nice and roomy, making it very inviting to simply rest one's hands and type to one's heart's content (although, if you are like us, you are going to want to peel off the large specification sticker on the right hand palm rest at your first opportunity).
The multi-touch trackpad though, is decent, even though we noticed some fall off of responsiveness on the far left of the trackpad when scrolling. However, we suspect that for those for whom this is a desktop replacement, this issue wouldn't be a deal-breaker, as the notebook would more than likely be accompanied by a mouse.
While the trackpad is also positioned closer to the left hand side of the notebook's base, Acer managed to leave enough room that we didn't feel as though our left hand was constantly on the verge of falling off the palm rest (a pet peeve with notebooks that sport num pads).
If you were hoping for some backlighting on the keyboard, you would have to look elsewhere. Admittedly, on a desktop replacement this is not as critical as it is on a notebook or ultrabook destined for constant, on-the-move use, but backlighting has become something of a feature that we still appreciate when we do see, and miss when it is absent.
That being said, in most respects the keyboard still succeeded at being up to the task, and was certainly imminently usable for long periods.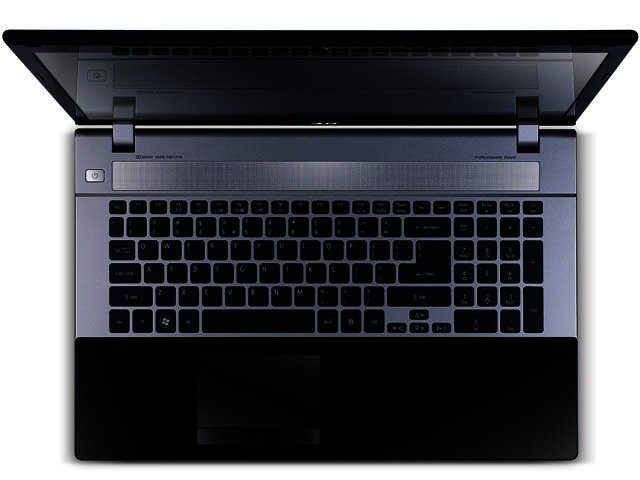 Performance potential
Beyond its appearance and the more visible features of the notebook, the V3 has some respectable 'blood, guts and heart' which power its all important performance.
These include a second generation Intel Core i5 2450M processor, clocked at 2.5 GHZ, which can be turbo boosted to 3.1 GHz. The i5 processor has won our admiration and respect time after time, and in the V3, it unsurprisingly managed to do just that yet again.
In our 3D Marks 6 benchmark, the V3 racked up a decent score of 3780, slightly better than the
Lenovo ThinkPad X1's
score of 3620, but not reaching the same heights as
Asus' U36S
, with its score of 4857. At a score of 1138 in our Passmark test though, it bested both the ThinkPad and the U36S, which returned scores of 1091.8 and 1059.9 respectively.
How this translated into general usage was predictable – good, smooth operation in general tasks; programmes opened, and closed speedily, and a smooth operation across the board became the norm.
While there is an acceptable 4 GB of DDR3 of memory onboard, we expected to see a little bit more, considering the notebook's formidable size. Even more curiously though, was the presence of Intel's integrated graphics 3000, rather than a discrete graphics solution.
While the integrated graphics solution is 'good enough', the notebook practically begs to do double duty as a gaming machine, or at least play games at above average levels. However, a true gaming machine this is not, even if it is up to some light to moderate gaming.
A 500 GB SATA hard drive is onboard, for storing photos, documents, videos and the like, as is a DVD drive.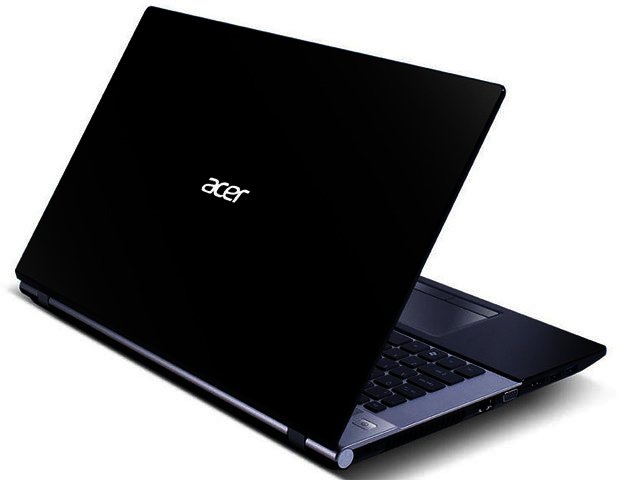 Ports, ports, and more ports
What the V3 can boast though, is a generous smattering of ports. This included two USB 3.0 ports, two USB 2.0 ports, an HDMI port with HDCP support, a VGA port and an Ethernet port.
Naturally, headphone and speaker jacks can also be found here, along with a four-in-one card reader. Happily, these ports are evenly spread across the left, right and front sides of the machine.
Nestled just above the screen is another feature that is worth mentioning – an HD webcam with a 1280 x 1024 resolution and which is capable of recording 720p video. For Skype (or other video conferencing software) this is certainly convenient, and a welcome addition to what is a general, well rounded offering from Acer.
To the point
Admittedly, the V3 is not a perfect notebook. It has its issues (screen flex) and its omissions (no discrete graphics). However, taken as an overall package, most particularly with its strengths (beautiful display, comfortable keyboard, generous ports), ruling it out or dismissing it would not do it justice.
Beyond the eagle eye criticisms, in general terms, the V3 is still an able, attractive desktop replacement notebook in its own right, that most certainly deserves a look for someone looking to do general computing but who needs ample screen real estate. It has an very reasonable RRP of R5999.
Pros
Beautiful display
Comfortable, spacious keyboard
Plentiful ports
Reasonable price
Cons
Screen wavers under pressure
Responsiveness falls off on left hand side of trackpad
No discrete graphics
Beautiful display, Comfortable, spacious keyboard, Plentiful ports, Reasonable price
Screen wavers under pressure, Responsiveness falls off on left hand side of trackpad, No discrete graphics