Gigabyte's notebooks have time and again won us over and proven to be lustworthy machines. Can its Windows 8 tablet hybrid, the S11M, carry on this fine tradition?
The machine starts off by impressing, offering build quality that felt every inch a Gigabyte product, which is to say, solid, durable, and premium quality.
Despite its solidity, the 11.6" tablet wasn't overly heavy in the hand, although you would more than likely find yourself using two hands when holding it for long stretches. It also does offer a couple of nifty features that lend it to being held and operated predominantly in landscape orientation by both hands. For example, on the left hand side of the tablet when held horizontally, you can find two buttons that function as left and right mouse, while on the right hand side of the tablet, there is a rather nice little trackpoint nib for guiding your cursor.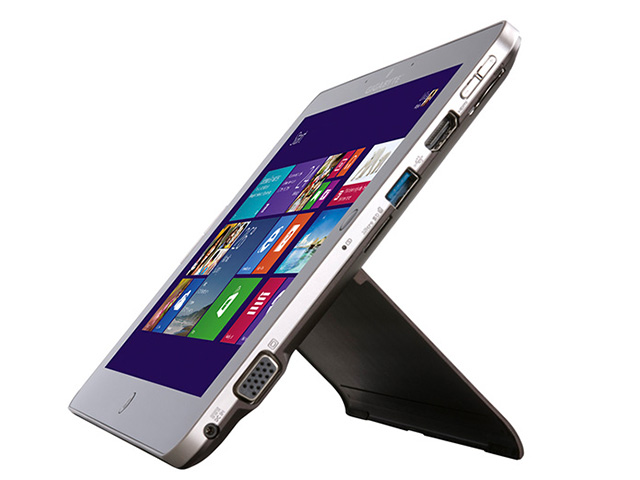 While you can hold and work on the S11 as you would a tablet, the presence of USB ports adds to its versatility, particularly if you tend to plug in external hard drives or flashdrives on a regular basis.
Get a grip
Naturally, holding the tablet in portrait mode all but obviates their use practically. However, the sharp and beautiful touchscreen, which boasts a 1920x1080 resolution is very responsive, and we found ourselves fluidly alternating between using the tracking nib in landscape orientation to navigate to PDFs and then switching to portrait mode to read them.
We have no complaints about performance on the tablet, which is very good across the board, thanks in no small part to an Intel Pentium 3555U processor (1.7 GHz) and 4 GB of memory. Also onboard are a 64 GB SSD, microSD card slot, USB 3.0, USB 2.0 and HDMI ports. However, there are some issues that the tablet's size and design present. Firstly, in order to type using both thumbs, you would likely switch to portrait mode as the 11.6" size makes typing with both hands difficult, unless you have hands the size of Dwayne Johnson's bigger brother.
Horns of a dilemma
The problem is that the touch keys in portrait orientation are very narrow and close together, making accurate fast typing almost as challenging as trying to win a wrestling match with The Rock. However, you can employ the included keyboard cover/dock instead and kick out the tablet's backstand for support. The rub is that you will ideally need to find a solid surface (like a table or desk), since using the S11 notebook style on your lap isn't as comfortable as a regular notebook.
On the plus side, the attachable chiclet keyboard is very nice, with satisfyingly deep keypresses for a cover. Additionally, this keyboard snaps to the tablet section willingly and firmly. We do wish though that the magnetic strength of the cover when closed was a little stronger and not so easily shifted off the screen.
That said, the S11 is still a strong contender as a Windows 8.1 tablet, particularly if you just intend doing a little bit of content creation and primarily content consumption. RRP: R12 400.
Terrific build quality,Great performance, Beautiful touchscreen
Awkward to use onscreen keyboard in landscape orientation, Mouse nib and buttons obviated when using in portrait mode