Given how impressed we were with the P14 LED Lenser, we were curious to see how other entries in LED Lenser's line-up performed. The latest product to land on our desk from the company is the H7, a deceptively small and portable headlamp that packs a serious lighting wallop. With an output of 170 Lumens, it's not quite as bright as the P14, but that matters little, as rather than being brilliant, it is instead dazzling.

Comfort

Important in a headlamp is how comfortable it is to wear, and in this case, the H7 proved itself admirably, offering a strong, yet flexible elasticised headband that was easily adjustable and felt distinctively designed for outdoor sports. If headlamps conjure images of being weighed down by heavy equipment in deep and dark mines, the H7 could not be further from this disturbing picture.

Features

Essentially the device is comprised of two parts – the lamp, which is roughly the size of a 50c piece and which sits on the front, and a small control module, the size of a box of matches, which is fitted at the back.

The lamp itself, like the P14, has a telescopic prism that can be opened up to offer a wider field of illumination, or closed to emanate a focused spotlight. Additionally, the on/off switch is conveniently placed just above the lamp, which made it easy to access with one hand. The lamp could further be adjusted 90 degrees, to point straight ahead, straight down, and at any angle in between. This is particularly useful for hikers, climbers or cavers who want to illuminate their feet, body or backpack without needing to move their heads to do so.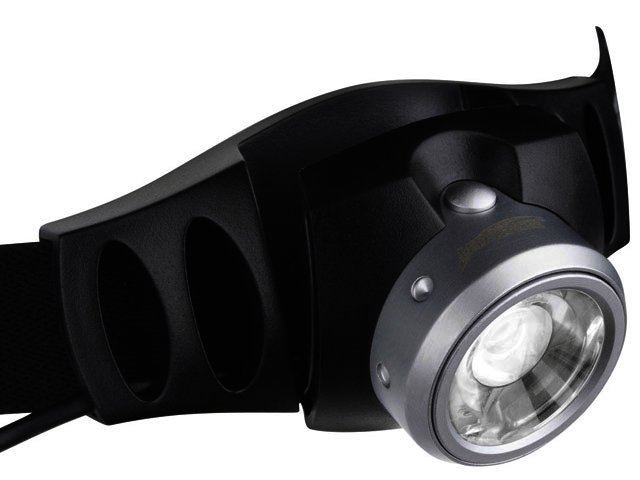 The on/off button is conveniently located above the lamp.
All of the above worked as expected, and in that regard, was very similar to the performance offered by the P14 (which was, in short, outstanding).

The control module, which houses three AAA batteries, is also home to another interesting feature.This is a rheostat lever which enables one to adjust the brightness of the light itself, from very dim, to average light, up to full brightness, by reaching one hand to the back of one's head and simply adjusting the lever-like switch.

Light matters

Along with its 170 lumens, the light has a reach of 180 m, and, as we have come to appreciate with LED's, is a clean and clear white light. As with all LED technology, it offers better battery life due to its energy efficiency, while remaining cool to the touch.

Carry case

We were glad to see that the H7 comes with a very nice carry case with a belt loop. What surprised us is how compact the H7 folded up into the case proved to be, and was a touch that we have no doubt those who are trying to keep weight down will appreciate.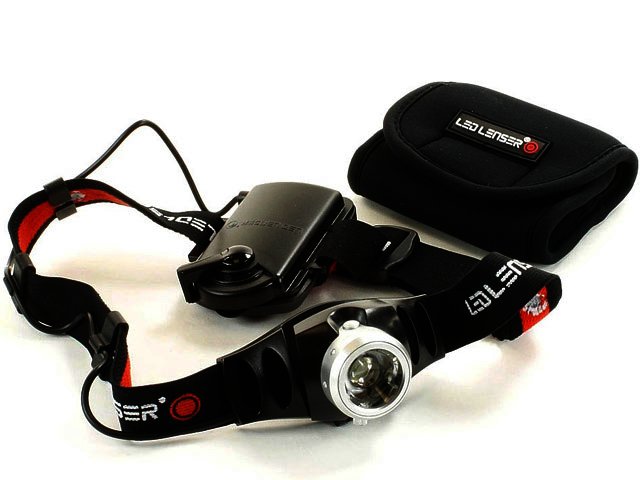 The H7 comes with a nifty and highly compact pouch.
Conclusion

The main advantage of headlamps is that it leaves one's hands free to attend to other matters. While it is convenient in most circumstances, it is often critical when in adventure or extreme sport situations. This alone makes a good headlamp a valuable gadget for outdoor adventurers, rescue workers or those engaging in work or hobbies which require free hands at all times.

Due mainly to the adjustable light intensity and variable beam focusing, we have to conclude that the H7 would fit very easily into any outdoor or extreme sportman's or sportwoman's range of gadgets, while likely proving its worth from one adventure to the next. It retails for R375 from www.ledlenser.co.za.

Pros

Comfortable
Bright
Compact

Cons

None that we could discern