During the past few weeks, we've waxed lyrical about the growing wearable market that has invaded the tech world over the past six months, and it appears as if this trend has finally hit the southern most tip of Africa, with a host of manufacturers now competing for a coveted spot on your wrist.
One such manufacturer is Fitbit, who entered the wearable game fairly early on, with a host of different activity trackers to target different markets and needs. Some readers may remember that Fibit has been fighting a PR battle regarding its Fitbit Force wristband, which many users complained about, due to skin irritation issues. Since then a number of Fitbit Forces have been recalled, but let us put you at ease, as the Fitbit Flex, which spent a solid week with, suffers from no such issue.
Low Key
The Fitbit Flex is the lesser of two wireless wristbands offered by the American manufacturer, with the aforementioned Force sitting above the Flex in terms of price and functionality. From an aesthetic perspective, the Flex has a fairly innocuous and low-key design, with a mono-coloured band and single plastic strip that houses a set of five LED lights.
The face of the band also features a slight sloping angle to it, which is a pleasing design integration, but offers no real functional value to speak of. At the backend of the band, its straps are secured via a two-pronged button setup, which seems to be the method favoured by similarly designed devices like the Garmin Vivofit (review) and Sony Smartband.
The band itself is available in two different size options, both of which are included in Fibit's packaging. The large band measures 157 mm and 208 mm at its smallest and largest adjusted settings respectively. The small band conversely measures 140 mm and 175 mm at its smallest and largest adjusted settings respectively. This may seem like an inconsequential feature, but is vitally important considering other manufacturers tend to offer only a single band for use. The bands themselves also come in a kaleidoscopic array of colours, tangerine, lime and violet, which is a welcome departure from the usual darker colour palette most manufacturers make use of.
Syncing Feeling
Setting up one's Fitbit Flex takes a little longer than most conventional fitness bands, as users are first prompted to setup the device on their PC before syncing it with their smartphone or tablet. Firstly, users are required to remove the activity tracker housed within the band itself; this tracker is key behind all of the Flex's functionality, including battery, accelerometer and bluetooth connectivity. The activity tracker is then connected to one's PC thanks to a specially designed USB cable, this cable if further used for charging the Flex's activity tracker unit. A full charge takes roughly three hours, with an approximate usage time of five full days. When the Flex requires a charge, the band will vibrate.
As mentioned earlier, the Flex makes use of Bluetooth connectivity to sync with app enabled devices. When syncing the Flex, users are asked to complete biometric information, which is the norm among fitness bands, capturing the usual information such as weight, height, age and level of fitness.
Power Of The App
Once the housekeeping aspects are taken care of, users can start enjoying all the features that the Flex boasts, most of which are linked to the smart device operated app. At this stage, the Fitbit app only extends to iOS and Android users, once again leaving those that favour Windows Phone and BlackBerry flailing in the wind. There are however a range of unofficial apps compatible with the Fitbit Flex for users to try out.
The Fitbit app itself is very easy to negotiate, with the main profile screen displaying information such as steps taken, distance covered, calories burned and active minutes, all of which featuring daily goals that can be edited in-app. Users also have the added function of logging food and water intake, the purpose of which is to provide a personalised diary of eating habits.
This type of interface is something that fitness wearables have begun integrating in most of their devices, as it is a well-known fact that people who record their daily intake, have a greater chance of losing weight and being healthier than those that do not. But, as with many applications, its utility is only as strong as the effort put in by its users. Provided you have the discipline to record all your meals, this aspect of the Fitbit app can be very useful.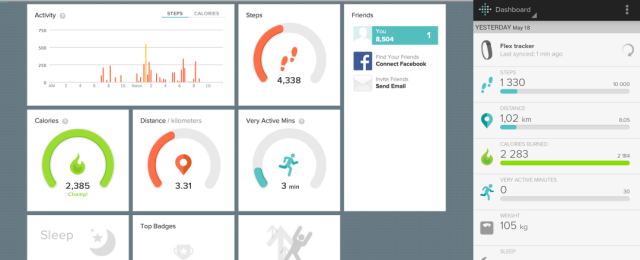 Dependency Issues
As integral as the Fitbit app is to the overall user experience of the Flex, it is also let down by the lack of on-device interface available to users. This is because there is no real way for people to obtain an accurate reference of their daily progress on the Flex itself. Fitbit has opted to use five LED lights to provide a reading for how many steps have been accumulated throughout the day, with each light representing 20% of a user's daily step goal.
If for example, your goal is 10 000 steps a day, each light will denote 2000 steps. The issue however comes into play when a user passes the one of the 20% thresholds, so if you have only walked 2050 steps, two lights will illuminate, which is not a true reflection of how many steps one has taken. Therefore, from an accuracy standpoint, the Fitbit Flex falls a little short. The LED lights themselves also do not stay illuminated throughout the day. In order to get a reading of one's daily steps, a to double-tap on top of the band is required.
Final Verdict
As a fitness band, the Fitbit Flex is not ideal, this is partly because its activity capturing capacity is limited to steps taken alone, making it feel a lot a glorified pedometer. Its one saving grace however, is the smart device enabled Fitbit app, which gives users a host of information. This makes the Flex ideal for users looking to make healthier life choices and track their activity in a very simple way.
For those looking to use the Flex as a tool for crossfit style workouts or sessions in the weightroom, it is probably best to search elsewhere. With all that being said, the Fitbit Flex feels perfectly suited to being a handy activity tracker, accompanied by a useful application capable of supporting both itself and its user.
At R1 390, the Fitbit Flex is also a well-priced option, ranking among most mid-range fitness wearable devices and is available for purchase on Orange Store.
Accurate pedometer function; Solid smart device application
LED daily goal indicator inaccurate; Lack of true on-devce interface