FULL DISCLOSURE: Shoes were received from Apollo Brands, distributor of Under Armour in South Africa, as a review pair and not returned.
Under Armour's HOVR Machina running shoes have been on my feet for the past month and a bit, proving to be a strong companion to post-lockdown long runs. Although it should be considered first and foremost a decent pair of neutral running shoes, Under Armour adds some spice to the Machina thanks to a built-in sensor that tracks your cadence and stride length (more about that later).
Fit and feel on the road
My size 10 Machina fitted snuggly, helped along by the foot being held in place by elastic straps from the tongue downwards. The mesh upper is not padded (except round the comfy heel counter) and breathable, meaning no post run smells, even after a month of use. They came in at just under 330 g a shoe, pushing the Machina towards the heavier side of the spectrum.
On the road there are few things that are immediately noticeable. Although a stiff shoe, the Machina is a comfortable ride. With an offset of 8mm, I found myself striking the midfoot rather than the heel (unlike the Puma Hybrid Ozone), from where there are two features that go to work from there.
Firstly, Under Armour's HOVR cushioning tech provides energy return on the bounce, much like Adidas' Ultraboost and Nike's React. Secondly there is a two-pronged Pebax propulsion plate which helps the shoe snap-back for a bit of added propulsion. To me, the propulsion plate was more noticeable when going a bit faster, although other reviewers noted that they felt it working when doing longer distances.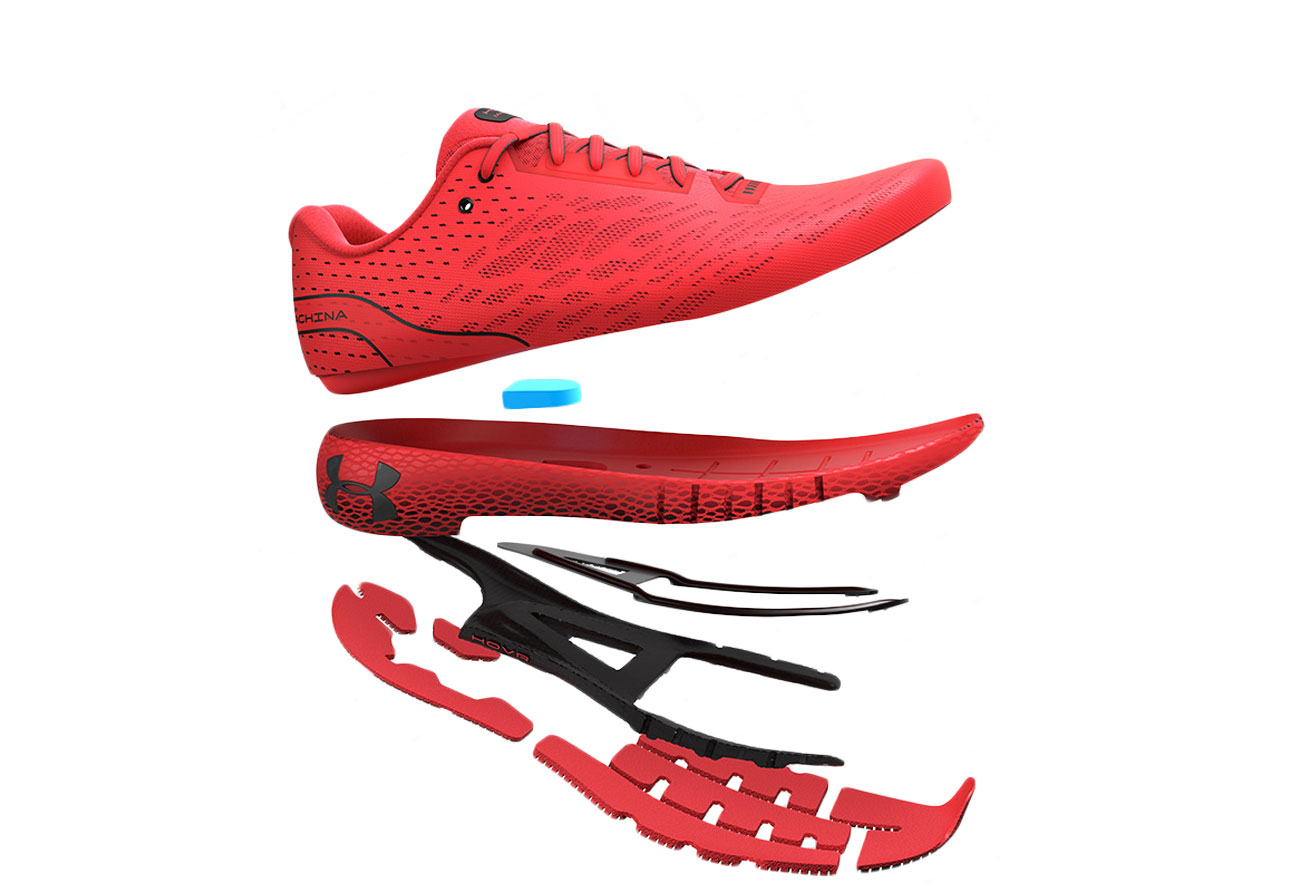 Although the midsole might look thick and bulky, it is not really since what you see actually curves around the edges of the heel and helps to hold your foot in place. This is helped along further by the heel counter which adds stability, offering an overall firmly cushioned ride over longer distances. The Machina is a stiff shoe, providing almost no bend in the midsole.
Although using these mostly on the road, the Machina can occasionally travel the trail too. That said there is a spot on the outsole at the centre of the heel that is quite thin, making me believe that if you strike a rock or stick it might lead to injury.
At 93 kg I'm carrying a bit too much weight, which becomes concerning when striking the ground really hard on fartleks or on a pacey downhill. With the Machina I felt that it had enough cushioning underneath the heel to support this.
The picture below shows wear on the outsole after 180 km, with about a third of that on a dirt trail. There were a couple of comments on Under Armour's product page which noted the outsole wearing fairly quickly.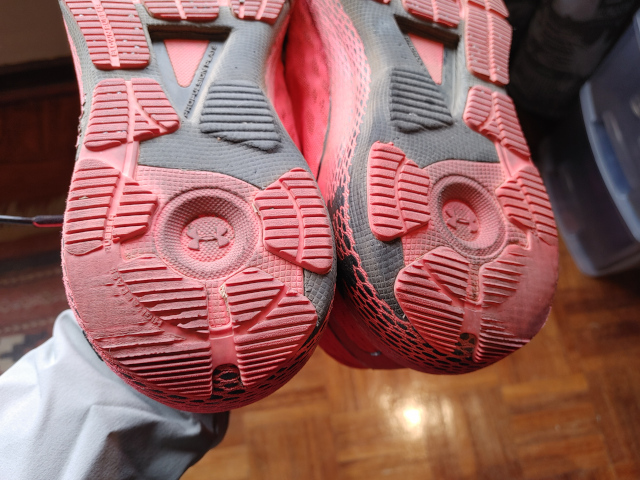 The difference is the sensor
The added benefit to the Under Armour HOVR Machina is definitely the Bluetooth sensor embedded in the midsole, which connects to your phone via UA's MapMyRun fitness app that tracks your runs. It was dead easy to get the shoes paired with the app, with a connection quickly established every time you start a workout on the app.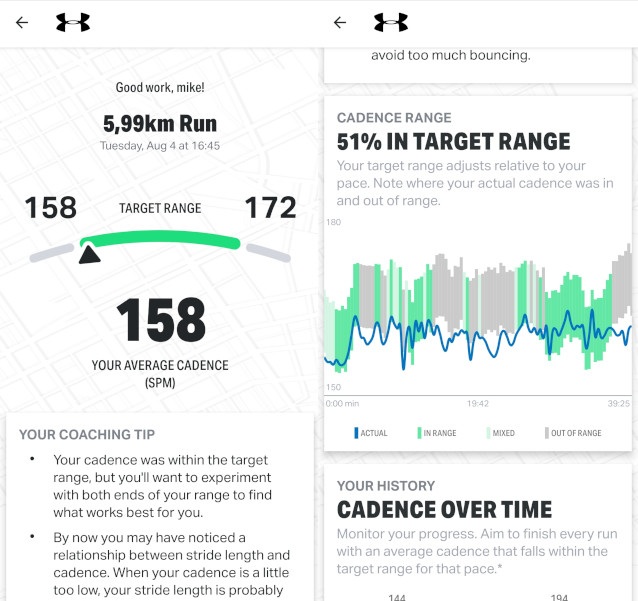 The inclusion of the sensor helps specifically with cadence (your number of steps per minute) and stride length. The company notes how their calculation for ideal cadence is based on your age, length, and weight, so be sure to fill in the correct figures in the app beforehand.
During your run, form coaching is provided by the app's audio telling you if you are hitting cadence target or not, offering suggestions on what to do.
You can turn form coaching on or off, depending if you like being interrupted ever so often with cadence info. The primary screen on the app also has a little meter that shows if you are over, under or in the green zone when it comes to cadence.
Once your run is over and your workout saved, Under Armour's offering truly shines. The app provides different coaching tips regarding cadence and stride length, plus shows you your history over time. There is also a further deep-dive that data from the in-shoe sensor provides, including ground contact time, foot strike angle (heel, mid or toe) and of course cadence and stride length matched over pace.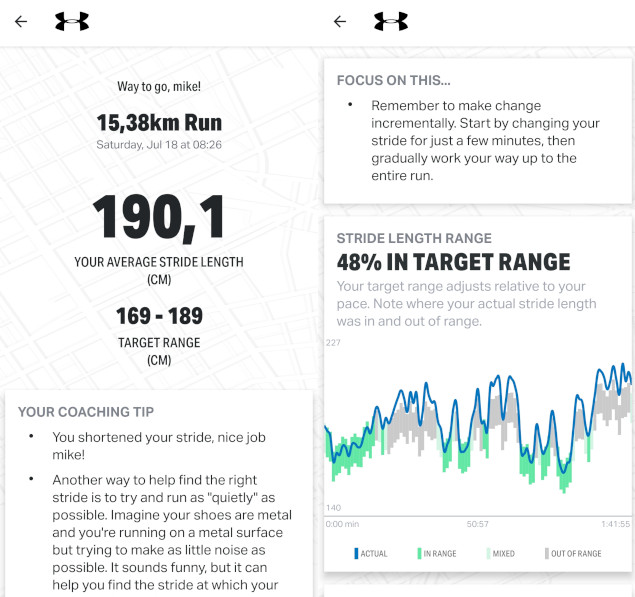 Sensor on the road
When I just received the Machina's for review, I started with the live form coaching but in subsequent runs I turned it off since it came too frequently in my opinion (I could not find a setting to adjust it).
Initially, I was concerned that I missed my cadence and stride length targets by quite a bit. That is until I adjusted my weight and height, which was incorrect from when I started using the MapMyRun more than a few years back. From there I hit them more frequently but doing so took a decent amount of effort.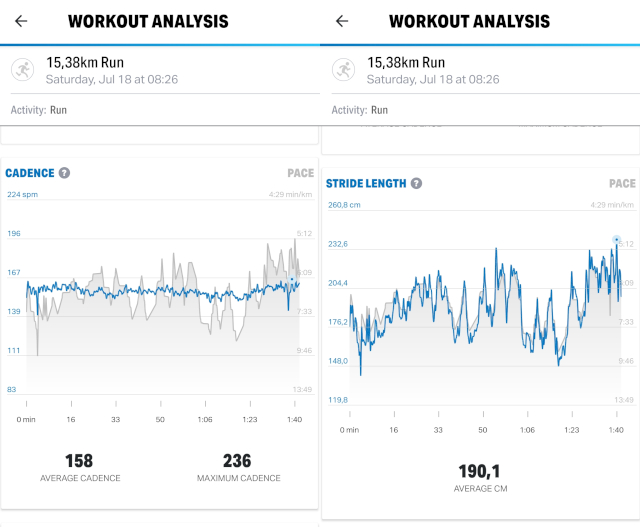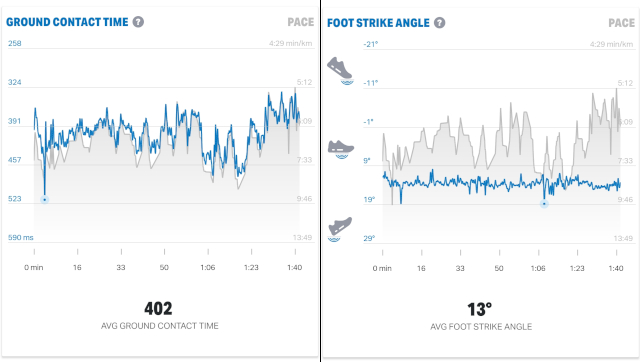 I realised I am perhaps too lazy a runner to try and really push cadence, finding it especially difficult on longer runs. But the Machina's certainly alerted me to the importance of it, and now I have incorporated training runs once a week focussed solely on getting cadence right.
Final thoughts
With the HOVR Machina, Under Armour have managed to create a neutral runner which provides a cushioned and stable run over longer distances. The real dealmaker is the embedded sensor that provides feedback around cadence and stride length, which I realised I paid almost no attention too if it was not for these shoes.
Without the sensor the shoes are a good choice for those going 21 km and up. With the sensor it is an essential item for those after the kick that correct cadence and stride length can provide. My opinion is that the HOVR Machina shoes can actually make you a better runner, and it's not many shoes that can do that.
The Under Armour HOVR Machina running shoes come with a recommended retail price of R2 999, which is more than average.
Built-in Sensor great for providing cadence data, stable shoe fit for longer distances, decent midsole
Heavy, bright colour might not suit everyone, voice-training can be interuptive